A Personal Plea For "Princess Diaries 3"
2004 was a truly glorious year to be alive. So much happened: Mark Zuckerberg launched Facebook for the first time, Brad Pitt and Jennifer Aniston were Hollywood's hottest couple, and both Simpson sisters were pop superstars. Life was good, and the movies were even better.
I don't remember much of 2004; after all, I was seven years old. But, a couple of years down the line, I was introduced to the best gift 2004 had to offer: the artistic masterpiece that is The Princess Diaries 2: Royal Engagement. I was obsessed immediately – who could resist Mia's lifestyle, being a princess and a regular girl at the same time? So, when I read this week that Gary Marshall, the director of the first and second Princess Diaries films, had been chatting up Anne Hathaway and discussing the possibility of filming a third movie for the franchise, my nostalgia levels went through the roof.  The twelve year hiatus from these heartwarnming Disney classics was brutal. There are so many reasons why a new Princess Diaries movie would be an instant hit and absolutely must happen; check out why I loved these movies and relive some of your favorite moments too!
Amelia Mignonette Grimaldi Thermopolis Renaldo is totally relatable…
Whether she was struggling to learn how to drive or style her thick locks, Mia was a totally realistic role model in a time where perfectly manicured women were the norm. She was quirky, awkward, and clumsy, and just like us (minus the whole royalty bit).
She knows how to handle a hater or two
Although I do love Mandy Moore, watching Mia completely drag Lana in the first movie was so satisfying. It showed us all just how much confidence Mia had gained, and we loved her for it. Growing into her own and her role as a princess helped Mia learn to stand up for herself, encouraging younger viewers to do the same.
And she was a feminist ahead of her time
Remember when she took to the pulpit at her own wedding to reassure the people of Genovia that she didn't need to be married to be a proper queen? Having the courage to assert yourself and demand respect was a lesson Mia taught us, making her a feminist inspiration to us all.
We all want Dr. Christina Yang as our high school principal
While its weird to watch Sandra Oh in a role that doesn't require scrubs, we miss her on Grey's Anatomy and deserve to have some of her characteristic sass back in our lives.  I vote that they allow her to reprise her role, even if it just entails her announcing the queen's arrival.
And Maria von Trapp as our royal grandma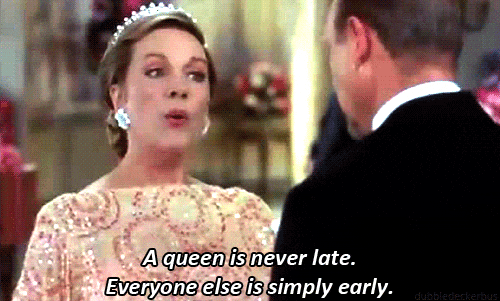 Speaking of queens, Queen Clarice Grimaldi was the true epitome of style and grace throughout the Princess Diaries movies. From her seemingly infinite amount of wisdom to her adorable romance with Joe the driver, Clarice was always the embodiment of class (And who could forget when she sang a song with Raven Symone?).
Anne Hathaway could bring serious acting chops to a more adult sequel
With the third movie likely taking place over a decade after the second, our friend Mia Thermopolis has had a lot of room and time to grow. Our girl Anne has as well; after starring in more dramatic films such as The Devil Wears Prada and Interstellar and winning an Academy Award in 2012 for Les Misérables, Anne is totally poised to take on a more grown-up Mia.
Chris Pine
No further comment necessary on that one. I mean, look at him.
Here's hoping this film becomes a reality. In the meantime, here's wishing you lots of love and movie nights!
Follow HCND on Twitter, like us on Facebook, Pin with us and show our Instagram some love!