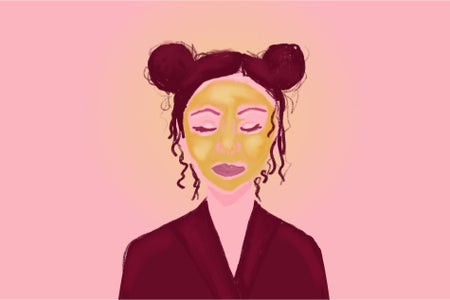 Megan Charles / Her Campus Media
Let's Talk About Skincare!
Let's talk about everyone's favorite… acne! For 20 years, I had great skin. Little to no breakouts and hardly any redness was my normal, and I loved it. I was used to waking up and walking out the door, without worrying about a pimple or bump on my face. This paradise changed very quickly during my winter break (and I still have no idea why). 
It started out as one very angry pimple on my forehead. This progressed to whiteheads and enlarged pores. Next thing I knew, I woke up with what seemed to be a new pimple every morning and I was freaking out. Why was this happening now? 
I frantically scrambled to the dermatologist's office and simply said "please, fix this" as I pointed to my forehead. This was only ten days before I had to come back to campus for the beginning of the spring semester. It was crunch time and I was prepared to do anything. 
My dermatologist prescribed me many things. I walked out of the office with Epiduo Forte gel, a salicylic acid spot treatment, a niacinamide cream and a green tea cleanser (from her own skincare line...shameless plug? maybe). I was excited to finally have some items that could help and clear my acne fast!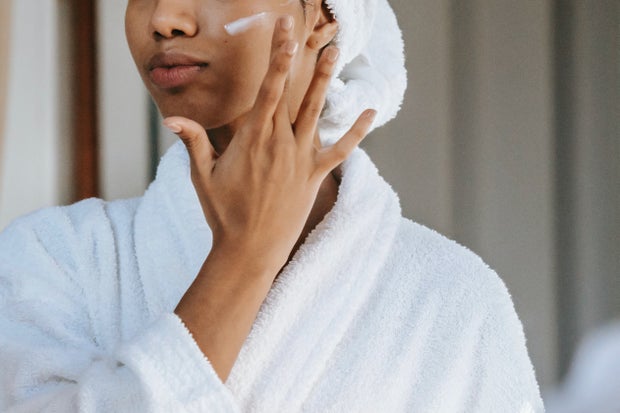 Photo by Sora Shimazaki from Pexels
Fast forward a month. I am on campus and I have been using my new skincare routine for weeks now, but I am seeing NO results. It honestly seemed to be getting worse. I knew some skincare items, especially with active ingredients, could cause a purging period, where your face basically freaks out and rids itself of all things bad. However, this purging seemed to last forever and I was fed up. 
After over a month of frustration with my dermatologist-approved skincare routine, I decided to stop it completely. I would transition to a simpler routine with products of my own findings. I found that this simpler routine, curated by me, for me, would do exactly what I had been waiting for. This new routine would clear up my skin, maybe not completely, but definitely enough to see and acknowledge the improvement! 
My favorite cleanser at the moment is KraveBeauty's Matcha Hemp Hydrating Cleanser. I find that it does not strip my skin, leaving it with that dry and dull feeling after cleansing, but instead provides a gentle and hydrating way to rid my skin of impurities. It has a jelly texture that foams up a bit as you wash your face, which I love!
For the night time, I use Cerave's Resurfacing Retinol Serum, which is a great retinol for my sensitive skin. When I used Epiduo, which contains adapalene (a retinoid), my face started to burn and became extremely red and dry. I was very hesitant to use Cerave's formula because of this past experience, but I was pleasantly surprised that it did not irritate my skin at all, and instead helped with post-acne marks, as well as new blemishes. 
On nights I do not use the retinol, I like to use my newfound viral TikTok product, Paula's Choice BHA Liquid Exfoliant, which has done wonders for my skin. This active exfoliant unclogs and minimizes the appearance of pores, as well as sheds dead skin cells, leaving you with a youthful glow. It has helped prevent any new breakouts and leaves my skin looking smoother!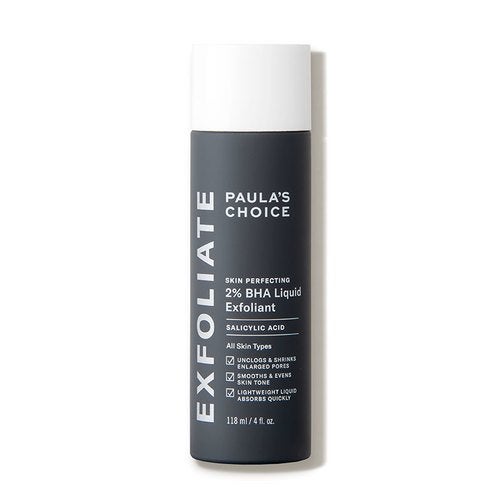 Dermstore
My favorite moisturizer for the night time is Cerave's PM Facial Moisturizing Lotion, which has always been a staple in my routine, even before the breakouts. It has a lightweight formula that soothes and protects with hyaluronic acid.  
For the daytime, I like to use Cerave's Daily Moisturizing Lotion, which I also use on the rest of my body. Once again, it is a super lightweight moisturizer that never flakes off and does not clog my pores. 
Additionally, I am no longer opposed to the idea of sunscreen and have hopped on the KraveBeauty Beet Shield bandwagon, which is now a staple in my morning routine. I have always worn sunscreen in the summer, not because I necessarily wanted to, but because my mom would badger me about my sensitive Irish and Japanese skin (aka what seems like the worst combo for sun exposure), and its ability to burn and turn bright red with the most minimal exposure to UV rays. However, I now use sunscreen every day. Yes, even on the days when it is cloudy, or when it is snowing. The Beet Shield provides your skin with antioxidants and protection from the sun, as well as environmental pollutants. It does not leave a white cast, like the Coppertone sunscreens my mom would slather on my face as a kid, and does not leave a greasy feeling either.  
Although it took some time, I think I have finally found products that work for my skin and I am ecstatic about it!