7 Spooky Books to Read This Halloween Season
You've binge-watched all the horror movies on Netflix and Hulu, had your Halloween Spotify list on constant queue since September 30th, and already meticulously planned all your costumes for Halloweekend and Halloween… now what? You still have a whole week before you have to break out your Santa hat, so make sure to check out some of these spooky reads that will keep you up at night—and not just because you can't put them down!
For the True-Crime Fan
I'll Be Gone in the Dark: One Woman's Obsessive Search for the Golden State Killer by Michelle McNamara
A favorite new book of true-crime bloggers and podcasters everywhere, I'll Be Gone in the Dark is so gripping and terrifying you'll forget you're reading nonfiction. Author Michelle McNamara was only part way through finishing the book when she died, and her husband, television star Patton Oswalt, relentlessly worked to see her life's work to completion, finishing and publishing the book earlier this year. Not only is I'll Be Gone in the Dark crazy good in and of itself, but it also helped to finally catch the Golden State Killer decades after he terrorized California.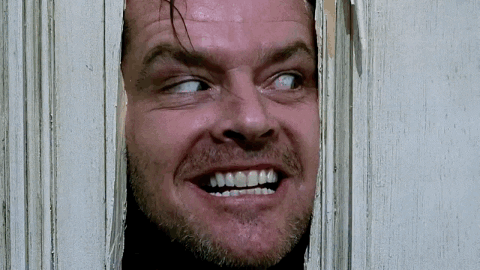 For the Classic Horror Buff
The Shining by Stephen King
Honestly, you could put anything by Stephen King here, including It, which gained popularity because of the recent blockbuster release of the remake. I picked The Shining, though, because between all the popular scenes that have been turned into gifs, the creation of the creepy twin trope, and that whole moon landing conspiracy (I see you, Stanley Kubrick) The Shining, years after the movie, is still a huge part of our popular culture. Even if you've seen it a hundred times, the book's plot differs a little from the movie's and King's writing is to die for, so pick it up!
For Those Who Like it Short & Spookily Whimsical
The Graveyard Book by Neil Gaiman
If you're looking for a book you can read in a couple hours on a free night, scroll no further! Imagine Harry Potter, but instead of being raised by his aunt and uncle at 4 Privet Drive, Harry is raised by ghosts in a graveyard. In The Graveyard Book a boy named Nobody escapes the murder of his entire family by an enigmatic killer as an infant, only to be taken in by the ghosts of a neighboring graveyard, who raise and befriend him until the killer returns in search of the young boy he failed to kill years ago. Gaiman's style of writing is unlike any other, and it makes The Graveyard Book as funny and heartwarming as it is spooky. 

For the Adventure Seeker
The Terror by Dan Simmons
This novel tells the (based on a true) story of the 1945 Franklin Expedition, in which all of the adventurers disappeared during their search for the Northwest Passage in the Arctic circle. Simmons, in a blend of historical fact and horror-inducing fiction, details their struggle for survival, as supplies and sanity dwindle and temperatures drop. When an unknown beast begins to hunt them, the crew begins to lose hope. A good pick for those who like survival horror movies or appreciate a well-researched historical novel that isn't lengthy, The Terror is sure to keep any reader on the edge of their seats.
For Those Who Like a Good Ol' Fashioned Gothic Ghost Story
The Turn of the Screw by Henry James
If you've been reading this list in anticipation for the moment I finally tell you about a book where the main scares are ghosts in a big Gothic mansion, this one's for you. A young governess takes a job watching over two young orphaned siblings at Bly House, and it isn't long before she's being haunted by the ghosts of the former help, who died under mysterious circumstances. One of the reasons this book is so good is the ambiguity James leaves you in at the end. Was it all real or was it madness? is the question that has been plaguing the readers of The Turn of the Screw since 1898. Pick this book up and see if you can answer it yourself.

For the Lover of the Unconventional
House of Leaves by Mark Z. Danielewski
This one's probably the toughest read I've included here so far. Weighing in at a whopping 700+ pages, at first glance you might think the length would be the biggest obstacle, but you would be sadly mistaken. Reading House of Leaves is unlike reading any other novel; it truly is an adventure from start to finish. With hardly a page that doesn't have some oddity to it (trust me, google search it), Danielewski will keep you engaged from start to finish with the struggle of a family who moves into a house which is bigger on the inside than the outside and the terrifying consequences that follow.
For The Throwback Fiend
Twilight by Stephenie Meyer
I already know what you're thinking. Twilight? Really?!? Yes, really, so sit back, pretend you haven't traded all your old Twilight merchandise to your local Goodwill yet, and crack open this funky little piece of high school nostalgia. And if that isn't enough to convince you, here are some other reasons why Twilight is a good choice: Are you the sort of person who regularly bumps early 2000's jams in the shower or while they're working out? Are you tired of all the bulky college reading assignments you're getting right now? Do you just want to relax and relive simpler times when the impending doom of finals season wasn't a constant threat to your sanity and all you had to worry about was whether you were Team Jacob or Team Edward? If you said yes to any of these questions, put down your needless Twilight hate and pick up this book!  
Follow HCND on Twitter, like us on Facebook, Pin with us and show our Instagram some love!