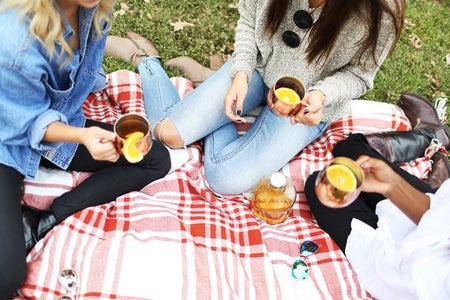 Planning the Perfect Picnic, Just in Time for Spring
The sun is finally coming out and that means we are ready to leave our dorms and spend some time soaking up Vitamin D. If you are looking for a boost of serotonin, then just step outside to see dogs playing at the lake, rollerbladers, a game of Spike Ball, and of course picnics. The lakefill is the perfect spot to put down a blanket and meet your friends. In our still virtual world, it is so important to get outside and be social. In my opinion, a picnic is the best way to do it. Below are some tips and tricks to make your next picnic both instagrammable and memorable. 
1.

Scout Out the Location

The spot is the most important part of any picnic. The campus is gorgeous so there's no shortage of nice areas. The lakefill is of course the go-to option. On nice days it can get hectic though. The best option is to grab a spot early in the day, think brunch on the lake. If you're open to an adventure, follow Lake Shore Drive and head into the city for a different backdrop. If you want to keep it simple, claim a spot right outside your dorm for a casual meal with friends. 

Nothing can ruin a day like getting rained out of your plans. Always look at what is going to happen a couple of days in advance as well as the day off. You need a nice clear day. If you are going to be by the lake, don't round up with temperature. It will be windy so a sundress might not be the best option. When in doubt, grab a couple of blankets. 

Now for the most exciting part, the food. MOD or Blaze Pizza are both easy to grab, or you can plan something more involved. Before you make a list, decide whether or not you want to have a theme. Our favorite trends right now are having cake with wine glasses, charcuterie boards with candy or fast food, and monochromatic spreads. Once you decide that, it is easy to decide on the items and split between the group. Keep in mind how you will keep and transport the food. Not everybody has a basket. 

All that is left is to breathe in the fresh air, soak in the sun, and dig in. Good time to snap some cute photos of your friends with a polaroid or a disposal camera app. Make sure to get a couple of shots of the picnic spread. We're obsessed with Target's new $1 dishes as a picnic setup. Once you're finishing eating, lay back and enjoy the quality time with friends. Keep in mind Chicago winter is always around the corner so take it in while you can.