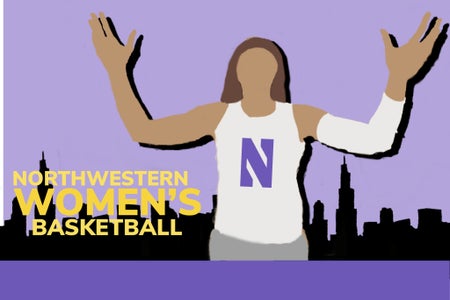 It's Time to Support Northwestern's Powerhouse Women's Basketball Team
There has been a storm brewing this winter in Evanston. No, it's not another Polar Vortex. This storm comes in the form of 15 powerful athletes: the Northwestern Women's Basketball team.
These female Wildcats have been building a record-breaking season that culminated last weekend at their final game of the season against Illinois. Here at home, the 'Cats clinched the Big Ten Title for the first time in 30 years. That's right, the last time these ladies took home the conference title was in 1990.
These inspiring ladies have had one of the most successful seasons out of all Northwestern athletics teams all year. They are ranked No. 14 in the country and are predicted to have a strong showing in the postseason.
Whether it's their viral Tik Toks (yes, they made a video with 1.1 million views) or their astonishing performance on the court, this team is fun to watch. If you haven't already been following along, it's not too late to join their crusade as these athletes sail into the postseason.
Why these women are badass:
This team is straight up historic. They are cruising through a fiery nine game winning streak and are predicted to put on a show in the Big Ten Tournament this weekend. The team is 26-3 on the season, breaking their previous record of 24 wins from 1990.
Northwestern has won 16 out of their 18 conference games this season. They dominate on defense, holding their last eight opponents to under 70 points. On offense, four players boast an average of over ten points per game, with junior guard Lindsey Pulliam averaging 19.1 points a game. Yeah, those stats are big.
On top of all of this, the team is heading to the NCAA Tournament for the first time in five years. The 'Cats strong performance even put them in a position to host a home game. That means March Madness will most likely be here in Evanston at Welsh-Ryan Arena, a perfect spot for Wildcat fans to show their support.
Players to Remember:
Lindsey Pulliam: If you haven't heard of her yet, this Team USA Pan American Games Silver Medalist is set to be a household name. The junior guard was selected to the All-Big Ten Team unanimously and also earned ESPN Player of the Week honors. She is ranked No. 3 in the conference in scoring, averaging 19.1 points per game.
Veronica Burton: What Burton does best is defense. As a sophomore point-guard, Burton was named Big Ten Defensive Player of the Year, the second Wildcat ever to earn this honor. She was selected for the Big Ten All-Defensive and second Team. Burton leads the conference in steals, averaging 3.3 a game.
Abi Scheid: As a senior forward, Scheid joins her teammate as a member of the All-Big Ten first team. Scheid is the best three-point shooter in the country. That's right, Northwestern's own has the best three-point shooting percentage in the entire NCAA at 48.60 percent. Scheid is unstoppable as she has racked up 72 shots behind the three-point line this season. It's magical.
Abbie Wolf: Standing at six foot four, this center is a force to be reckoned with. Under the basket, Wolf averages 6.6 rebounds a game and has tallied 86 points against her opponents this season. Wolf earned an All-Big Ten honorable mention.
Who's leading this powerful group of ladies?
Behind this dream team is Joe McKewon, the winner of the Big Ten Coach of the Year for the first time since 1990. McKewon has been with the 'Cats for 11 years and is known as one the winningest coaches in NCAA Division I Women's Basketball history. Pretty awesome.
How to follow them:
The team is headed down to Indianapolis this weekend for the Big Ten Tournament. They have a bye in the first round because of their No. 2 seed, so they will make their debut Friday, March 6, at 6:30 p.m. CT against the winner of the Nebraska vs. Michigan matchup. If the 'Cats win, they will play in the semi-finals on Saturday. All games will be broadcasted on BTN.
The NCAA Division I Women's Tournament (aka March Madness) is scheduled to start March 20. The selection show is happening Monday, March 16, and this is when the official bracket will be released. There will be an official watch party at Welsh-Ryan Arena at 5 p.m. The latest NCAA rankings put the 'Cats in the No. 9 seed, which means they will probably be hosting a home game during the tournament.
Giphy Whether you are a sports fan or not, this month is going to be an exciting time for women's basketball at Northwestern. It's time to pay attention to our powerful ladies and support them as they continue to make history!