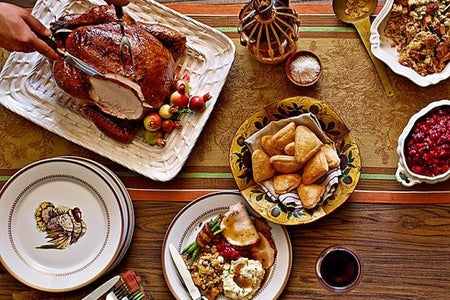 How to Celebrate Thanksgiving in the COVID Era
Thanksgiving is one of my personal favorite holidays. Usually, I am fortunate enough to spend the holiday with family and friends by watching the Macy's Thanksgiving Day Parade and eating lots of delicious food. However, due to the COVID-19 pandemic, this Thanksgiving is going to look a little different. If you're unable to make it home for the holidays or can't see your loved ones because of the pandemic, here are some ideas for celebrating Thanksgiving in a COVID-safe way. 
1.

Virtual or Outdoor Thanksgiving Picnic

One of my favorite parts of Thanksgiving is getting to sit down for a meal with my family or with my friends for Friendsgiving. With the power of Zoom, you can gather your friends or family and spend the evening eating and talking with them. Back in April, I used this method for my family's Passover seder. Although it was definitely different, I had just as much fun virtually. An alternative to a Zoom Thanksgiving dinner would be to have a small, COVID-safe, outdoor Thanksgiving picnic if you live somewhere warm or are willing to brave the cold. Each person can bring their own meal and you can enjoy them together! Of course, make sure you are taking proper precautions such as social distancing and wearing masks.

2.

Cooking and Baking over Zoom

If you're someone who loves Thanksgiving because you get to spend time with your loved ones in the kitchen, have no fear! You can create the same scenario by cooking with your friends and family over Zoom. It's always nice to have some virtual sous chefs who can guide you through the steps, especially if you're new to baking and cooking. You could even throw in a competitive aspect and see whose food turns out the best. 

During the spring months of quarantine, my extended family gathered every Saturday over Zoom to play three rounds of trivia together. It was always a good time, and we got super competitive. So, a great way to commemorate Thanksgiving this year is to find one other family member or friend and host a trivia game with a Thanksgiving theme. It can be about the holiday, traditions or funny moments that happened during past Thanksgiving dinners. This idea works for both virtual and in-person gatherings, and Zoom makes it very easy to facilitate.

4.

TeleParty "A Charlie Brown Thanksgiving"

My favorite Peanuts cartoon is "A Charlie Brown Thanksgiving," and if you've never seen it, then this activity a must. Use the TeleParty extension on Google Chrome and watch the special on Apple TV or Amazon Prime Video with your family and friends. You can, of course, watch any Thanksgiving TV or movie, but I look forward to watching this Peanuts special every year. You can even turn it into a tradition.

As a kid, I used to make Thanksgiving decorations by tracing my hands, making turkeys out of them and hanging them up around my apartment. Get creative this Thanksgiving and make some crafty Thanksgiving cards to let your friends and family know that you appreciate them and are thankful to have them in your life. You could also do this Secret Santa style: each friend or family member makes one card for another group member, so nobody knows whose card they will receive.

6.

Giving Back to the Community

Every year the night before Thanksgiving, my cousins and I would get a bunch of glow sticks and light-up toys and hand them out to the people walking down my street. I look forward to doing this every year because I love to see the smiles on the kids' faces who are beyond excited to wear their new light-up ring. This tradition reminds me that there are so many small things to be thankful for and is my way of giving back to my community. There are so many virtual ways to give back to your community this Thanksgiving. You can arrange a fundraiser with friends for an organization that you care about or donate food to those who might not have any to celebrate the holiday. Thanksgiving is always a good reminder about the importance of giving back to those around you.