It's finally the most wonderful time of the year, Moira Rose of Schitt's Creek's favorite season of all: Awards Season! With the announcement of Critics Choice, Golden Globes and Screen Actors Guild nominations, our top quarantine shows are finally getting recognized. The Globes will kick us off on Feb. 28, leaving just over three weeks to catch up on all the television we somehow missed when we were rewatching "The Office" for the third time. That may not be enough time to catch up on "The Crown" or "Schitt's Creek" (although you sure can try), but it should be plenty of time to watch some of these 5-8 hour one-seasoners gaining all the nomination buzz.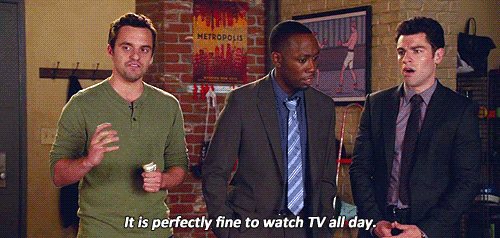 Ted Lasso: 10 episodes, ~30 mins

If you like: "Schitt's Creek," "Arrested Development"

Jason Sudeikis is somehow even more lovable than I remember him from his "Saturday Night Live"/"We're the Millers" days. His days as Ted Lasso, the softhearted, dimwitted Kansas soccer coach, began in 2014 as a comedic guest on NBC Sports. Now, we see him shipped to England and set up to fail as an English football team coach, cruelly nicknamed "Ronald McDonald" and mocked for his aloof coaching style. It isn't the easiest pilot to latch onto, but it's worth it to wait it out for some peak Sudeikis dad-joke humor.

Emily in Paris: 10 episodes, ~30 mins

If you like: "Sex and the City," "The Mindy Project"

Honestly, it's an impressive feat to have made it this long without watching this trending Netflix original. Although we can't all be living our best lives traversing Paris right now, we can vicariously live through the Lily Collins character. The girl-power-romance-friendship comedy was confirmed for a second season.

The Flight Attendant: 8 episodes, ~45 mins

If you like: "Dead to Me," "Big Little Lies"

We all know and love Kaley Cuoco from "The Big Bang Theory," but we have never seen her in a role like this. The 30-something party animal flight attendant finds herself caught in a crime scene after a one-night stand and embarks on a suspenseful, complex whodunnit mission. If you like this one, you'll love "The Undoing"… but that's not until #6. 

Normal People: 12 episodes, ~30 mins

If you like: "Love Life," "This is Us"

This in-depth look at an on-again/off-again couple's life over a period of five years is an emotional tug-of-war. Paul Mescal and Daisy Edgar-Jones' incredible acting chops create an indisputable bond that makes it impossible to not invest in their relationship. We watch Marianne and Connell mature and change over the course of their late teens and early 20s, making now the perfect time for us college students to watch. 

Hollywood: 7 episodes, ~50 mins

If you like: "The Politician," "American Crime Story" (Oh, Ryan Murphy)

This isn't the star of the 2020-2021 awards season, but if you're a Ryan Murphy fan, you have to watch. It's a captivating story, though its border of reality and falsity blurs to a historically frustrating level. It tells a story of a less racist, more progressive film industry with incredible performances by Jim Parsons and up-and-comer Jeremy Pope. While you're at it, you might as well check out "Ratched," too.

The Undoing: 6 episodes, ~1 hr

If you like: "Big Little Lies," "Law & Order: SVU"

Picture Nicole Kidman as an upper-class mother who gets involved in a murder scandal mystery through her son's elite school… Wait, you can? Okay, yes, on the surface, "The Undoing" is eerily similar to "Big Little Lies." The difference is the psychological turmoil that this one will cause you. Kidman is joined by the likes of Hugh Grant, Donald Sutherland and Zosia Mamet, and at each point, another character is the suspect. It may be difficult to fall asleep and not stay up until 4 a.m. watching this nail-biter (speaking from experience).

The Queen's Gambit: 7 episodes, ~1 hr

If you like: "The Marvelous Mrs. Maisel," "Peaky Blinders"

You might not know chess yet, but after watching this Netflix hit, you might be tempted to learn. Anya Taylor-Joy as Beth Harmon is the face of a strong female lead in the moving, fictional story of an orphan-turned-chess-master. The show may have flown under the radar had it not been for the emotional power Taylor-Joy brings to the role.

Zoey's Extraordinary Playlist: 12 episodes, ~40 mins

If you like: "Pitch Perfect," "Crazy Ex-Girlfriend"

Now airing its second season, this NBC series follows Jane Levy as Zoey Clarke (again, loving this strong female lead energy), a lead programmer who hears the thoughts of her friends, family and coworkers in song. The show tells a story of grief and family that could not be more relevant than it is now. Bonus points for the beautiful vocals of Alex Newell from "Glee" and a love triangle with "Pitch Perfect" heartthrob Skylar Astin.

Bridgerton: 8 episodes, ~1 hr

If you like: "Gossip Girl," "Pride and Prejudice"

Take those two shows and add "50 Shades of Grey" to the mix, and there you have the first season of this early 1900s royal romance drama. Any project with Julie Andrews as the narrator is bound for success, especially with the emotional vulnerability and chemistry between rising stars Regé-Jean Page and Phoebe Dynevor. The magic of this show extends far beyond its two main characters, comprising an ensemble that together creates a charming, modern rendition of the Regency era high society.
There are of course several other shows nominated this year, including HBO horrors "Lovecraft Country" and "The Outsider," both of which are quick 10-episode watches. Although longer than an 8-hour watch, "The Great" and "Pen15" are relatively short and gaining award traction. Now we have plenty on our watchlists for the next month. Next up… films!