The 2015 Pop Culture Costume List
Halloween is weeks away, but it's never too early to start thinking about your costume. You need something witty and original....an outfit that results in over 100 Facebook likes would be ideal.
Here are some of our favorite 2015 pop culture costumes that are guaranteed to save you from pulling out that Harry Potter robe again.
1. Donald Trump
What you need: a wig, a suit, self-tanning lotion and an inability to be politically correct. Should be pretty easy, right? 
2. Arianna Grande and the Infamous Doughnut 
What you need: a mini skirt, a crop top, knee-high leather boots and a doughnut. This costume gets bonus points for letting you lick a doughnut.  
3. Tom Brady and #Deflategate 
What you need: a New England Patriots jersey, a deflated football and a healthy dose of denial. 
4. Amy Schumer from Trainwreck
What you need: a cute yellow dress, an empty cocktail or wine glass, a boy and a very free spirited attitude. 
5. Snapchat Filter
What you need: face paint, makeup and a VERY steady hand.
6. Kimmy Schmidt
What you need: colored jeans, a preppy collared shirt, a bright yellow sweater and skin so pale it seems like you were locked away for years...
7. Miley Cyrus circa VMA's 2015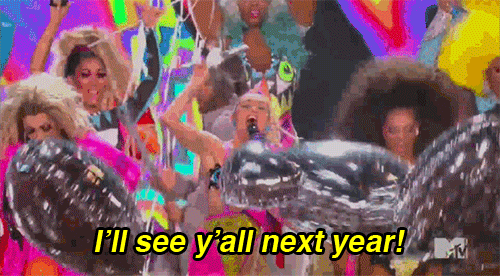 What you need: a short spiky wig, a bunch of random colorful clothing, black eyeliner, red lips and an incessant need to twerk. Literally, wear anything that makes you look crazy. 
8. Annalise Keating
What you need: a pencil skirt, a cool leather jacket, fierce earrings, a briefcase plus the murder weapon (pictured above). 
9. Taylor Swift's Bad Blood Squad
What you need: leather everything, some metal jewelry and your flawless squad.