3 Ways to Monetize Your Closet
This past summer, I realized that a lot of the clothes taking up space in my closet are things I haven't worn in years. My mom always reminds me "If you haven't worn it in a year throw it out or donate it." And this past summer, I finally listened to her words of wisdom. I spent a few days scavenging through my drawers and closet finding unworn Hollister shirts from high school, shorts that no longer fit me, Express pants from when I was a size 0 – the list goes on and on. I put all these old and unworn items in a trash bag, but before I tossed them, I thought to myself, what if people bought these clothes? They're still in good condition, and I could use the extra money. Plus, it's fall season and it's time to update my closet! But how could I sell my unwanted items?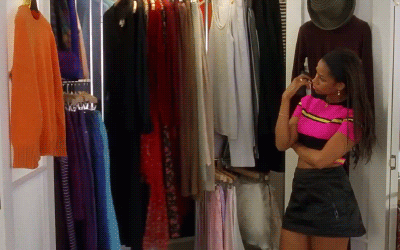 1. Post your unwanted items on Poshmark
Poshmark is a convenient marketplace for anyone with unwanted items and who is shopping on a budget. Luckily, I had an account I rarely used, so getting started was easy. I just posted pictures of my items, wrote an honest description and priced it. It's that easy! After I posted my items, I waited what seemed like forever until a "poshmarker" expressed interest in my item. I quickly learned that for your items to sell, you need to be committed and patient. I spent a few minutes a day going through other people's closets on Poshmark and sharing their items with my followers. Some sellers would be kind enough to go through my closet and share their items with their followers in return. This exchange is so important if you want your stuff to be sold. I also learned that it takes time for your stuff to be discovered by other people. Patience, patience, patience.
2. Sell your old pieces at Buffalo Exchange
Buffalo Exchange is a recycled fashion store with locations all over the country. They buy your unwanted items at 30 percent of the selling price in cash or 50 percent in-store credit, which is offered on-the-spot. This is a great option for those who don't want to sit around and wait for their items to be sold on Poshmark. In addition to receiving cash or store credit, you can also trade your clothes, which is perfect if you're also looking to update your closet.
3. Host an exchange party
Have an exchange party! Receiving money in exchange for your clothes is ideal but this is great alternative idea to rid yourself of clothes and walk away with "new" pieces. I tried this out in middle school when I was "too old" for Limited Too and begged my mom to buy me stuff from Abercrombie & Fitch. My friend hosted an exchange party at her house and my friends and I brought a few pieces from our own closets to exchange. This was super fun and I walked away with what felt like a steal! I recommend you all try this out. It can be a fun bonding experience – you can even have wine and cheese and really make it a girl's night!