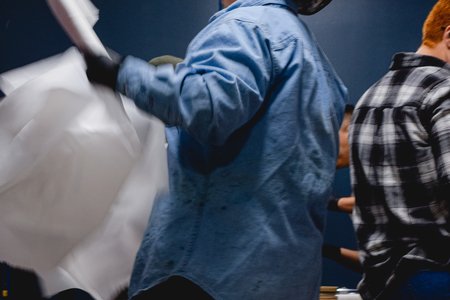 Interview with Anita Jimenez IREC/Atomic Aggies Lead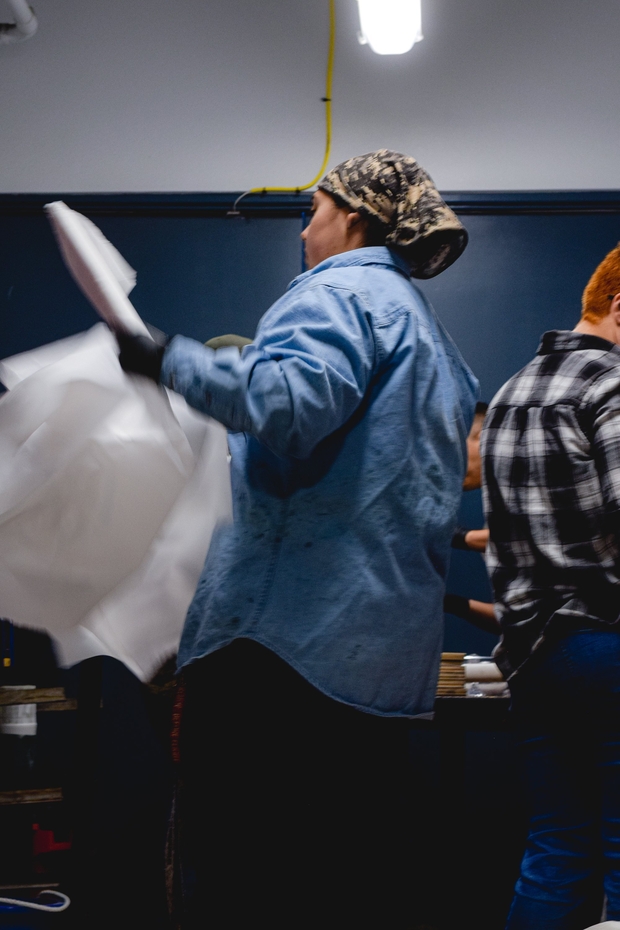 Anita Jimenez is an extraordinary woman who is the first female lead of NMSU's Atomic Aggies and currently one of three female leads for IREC internationally. She doesn't let her gender get in the way of her passion. She has big goals, a love for rockets and an engineering student who fits into the stereotype of never leaving the Engineering Complex. It was a real pleasure and learning experience talking to her about what she loves. I am cheering her and her team on to obtain their goals and live their dreams!
What is IREC?
Intercollegiate Rocket Engineering Competition. Build and compete in an international rocket competition against 178 teams.
What got you into IREC and aerospace?
Well I've actually been doing this for 7 years so I've been building rockets, they've only progressively gotten bigger, so I started in high school my junior year. Then I graduated and I started two years at UNM, they didn't have anything like this. I knew I was always gonna do aerospace. Then coming here, for my first year and a half there no team, we heard of the original Atomic Aggies but they weren't a team, they were a graduate level program and they had disappeared. Our first lead had interned for Virgin Galactic and that was the first time it was ever down here. They wanted a team, I was on that first years team and I was just a member. They didn't know anything about the hands on experience of working with rockets. They only knew the stuff from classes. I almost walked away from the team, but I ended up staying on because I love rockets, they're my life. It was really hard,but one of my friends convinced me to stay on, that friend is now one of the project leads. We went on to competition and unfortunately the rocket blew up (The replica is now in the main Lobby of Jett Hall). Last year we had a new lead engineer because most of the leads are graduating seniors. I changed that, I'm a junior so I won't be leaving for another year. Starting on with Dustin who was our new lead, with Adriana as the project manager, and I was the lead manufacturer (a new component). I took on many of Dustin's responsibilities which I didn't mind and neither did Dustin. He was a graduating senior and he just wanted to get out of here. So last year I ran for lead engineer unopposed in April. Today we are one of the biggest teams this team has ever had. Officially we have 95 students with a strong 50 who range from all ages and majors. 
When I first started Nasa had the shuttle and I wanted to work on that and be a part of that. 
Do you consider yourself a feminist?
Honestly, I've never thought about it. When we have a team like this, of course we are going to get a question like this because I think there's only three female lead engineers. On most of the teams you feel this very distinct, yes you're a woman, they don't respect you the same. There is a very big thing. I've taught my team to expect this and that there is no difference between what Dustin did and what I'm doing as long as the mission gets done it doesn't matter. I've got the organization side that this team has never had. I have a co-lead and we bounce ideas off of eachother but I'm usually more one of the guys anyway.
Do you think your gender is significant for your role in stem?
It is. I see a lot of companies… and like the respect thing. When Adam and I or even Scotty my manufacturing lead (who was under me last year) we go into competition. They look at Scotty or Adam like they're the lead and they refer to me, "ask her, she's right in front of you." So my team has learned with the confidence that I've instilled in them to give credit where credit is due. Your gender doesn't matter. We've as a team, I don't think they actually see a difference, but we still have to instill in them that yes they will look at Adam more than they will look at me. It's very strange. Some of the teams are all guys and don't like women on their team. So if they see a woman, they'll skip past a team when mingling and asking about projects at competitions. Last year we made our rocket out of carbon fiberglass. I taught our team how to do that, and people asked Scotty how we did that and he told them to ask me because I taught it to them. People are always shocked by that, even Virgin Galactic was shocked by that. It's a weird stigma. 
Have you ever had to deal with backlash or setbacks?
Yes and No, you've got to prove your point more and it's like you have to do twice as much work to prove it. 
What is some advice you would give to freshmen in your organization who want to get to where you are?
It doesn't matter how much you know about rockets on your first day. Pick a sub team and we'll teach you everything you need to know. Be willing to be hands on, coming in every day and show up with interest. We'll know you by name and you'll work your way up. There's already a couple of people who were picking out for next year's leads. Be committed, take advice, ask smart questions. 
What brought you to NMSU?
Specifically aerospace. NMSU is the only one in New Mexico who has it. The school I really wanted, Embry Riddle in Florida, who has one of the best programs but was too expensive. $90,000 per semester. 
Have you been awarded for your work?
This is the first year we have been recognised by the department and the University. All testing was off campus and we were given a very small room. Last year however, we came 6th out of 46 teams in our category and 13th out of 107 teams internationally. That was only our second year and we had a much smaller budget than some of our competition. We were only a second year team and our first year we blew up. It was unexpected and now our goal is to get first place. Now we have the Dean and Virgin Galactic has been pulled in. We're going to go visit Virgin Galactic, who we now have a close connection with (employees who mentor us). The company came to be so close with our program because of us. We have scholarships now because of those numbers. There is a rumor that the Vice President of Virgin Galactic wants to give us an award. 
Do you love what you do?
I love this team! I do my homework in the shop. I'm with the manufacturing team, the payload team, I live and breathe it. This year it's pretty much all my say.I like it because we can collaborate and talk about new ideas. I'm in the shop about 15 hours per day. Were doing something pretty much every day. I dedicate all of my spare time to this team. 
Have you had any students get internships with Virgin Galactic because of this team?
Not yet, our project manager, Adam, went through the process. We all thought he was gonna get it and he didn't. However, he does have an offer from SpinLaunch.
We have 10 people with mentors who work at Virgin Galactic. We meet mostly over the phone, and we set up goals and try to bridge the gap between us and Virgin Galactic to get us jobs and internships. A mentor is an employee at Virgin Galactic, they vary in levels. They're supposed to meet them on February 21st at Virgin Galactic. Stockholders for the company put money in for scholarships, there's supposed to be 17, $1,000 scholarships.  
Our budget has doubled this year. Last year our entire budget cost about $8,500 and we had about $12,000. Schools like Yale, Princeton, they come in with $30-60,000 rockets. And we did better than they did! Right now were sitting on $23,000
Tell me about the project for this year.
This year we decided to stay in the 10,000 commercial off the shelf category. There's two altitudes you can do 10 or 30,000 feet. Then it breaks off commercial off the shelf where you just buy it. Hybrid, where you can go solid or liquid. We stayed in the 10K class for three years now. We are designing a hybrid which takes a couple of years to do. First you have to hit your altitude. Then you have to have a payload, this year we are growing Chili as our payload. We are misting the plants because water and rockets don't mix. We are working with the Chili Pepper Institute. We wanted to do Green Chili but we are limited with space so we needed a smaller plant. 
Do you ever see yourself changing your career choice?
No! I don't see it! I mean I know going into it I won't stay in the position I want to. I love my carbon fiber. I want to stay building rockets. I just see my rockets getting bigger and bigger. This year our rocket is going to be 10ft tall, last year it was eight and a half. Our first year was 12ft tall. We want to do our first test flight in mid February if we can get our motors in which are on backorder. They cost about $1,600 each. 
Do you have a company that you'd like to work for?
NASA, or a civilian contractor. Civilian contractors are how it used to function. NASA actually trains people, they have the same standards to be an astronaut as the militaries physical fitness requirements.