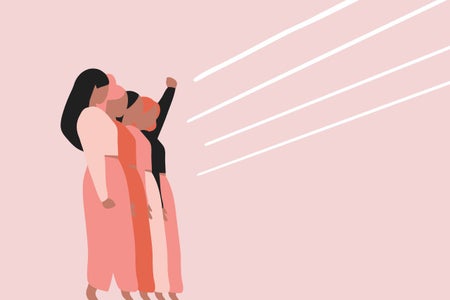 Original Illustration by Gina Escandon for Her Campus Media
8 Black Muslim Influencers You Should Be Following On Instagram
Hodan Yusuf is a total beauty inspiration from her bold eyeshdow looks to her shimmering highglight.  She's also been vocal about her experience as a black Muslim. "In general, dark-skinned women already have to go through colorism or prejudice/racism in Western society and as a Muslim, you face it twice as bad," she wrote on Instagram.

Zainab Hassan is a UK-based Nigerian makeup artist. She slays all her makeup looks, but she also posts amazing skincare content. 

If you are  looking for trendy outfit inspirations you have to follow Ramie. Her style is a mix between classy, but comfy. 

Sagal is a London-based Somali blogger who covers all lifestyle, from fashion to motherhood. She often goes full-glam with her makeup looks— which complements her signature African headwraps beautifully.

Fatou posts not only beauty and skin related content, but she also vlogs and shows us what its like to be a Pre-med college student. From studying hacks to essential organizational skills, she is absolutely motivational. 

Aysha Harun is a super-skilled  Ethiopian beauty vlogger. She has over 300K subscribers on Youtube.  From makeup tutorials to experimenting with foundations  and reviewing popular makeup products to let us know if they are actually worth our coin or not, SHES A REAL ONE. 

Yasmine Simone is not only great at sharing stunning makeup trends, she also gives great tips on skincare, overall wellness, and headwrap styles, 

Osob is a Somali beauty influencer. She is a master experimenter who can completely transform her face with contouring echniques, eye-popping colors, and more.