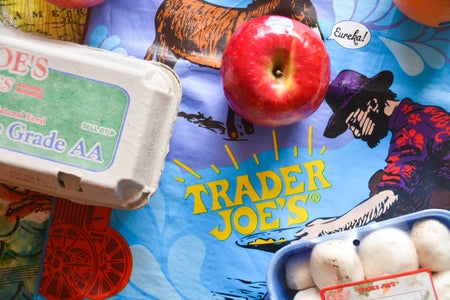 Trader Joe's Items You Right Now
Here are ten products you have to try from Trader Joe's!
1.

Trader Joe's Pumpkin Spice Pretzel Slims

Trader Joe's is known for having an awesome selection of pumpkin flavored products for fall. For those who like pretzels, the pumpkin spice is the perfect added flavor. 

2.

Trader Joe's Pumpkin Waffles

Fall mornings have never tasted better.

3.

Trader Joe's Pumpkin Butter

Perfect on just about anything!

 

4.

Trader Joe's Spiced Cider

The perfect combo of spice and apple!

 

5.

Trader Joe's Mandarin Orange Chicken

This is mine and so many others' holy grail. I make this orange chicken at least once a week, and you definitely won't regret buying it.

6.

Trader Joe's Buffalo Style Chicken Dip

This is so good and perfect for people who love buffalo chicken dip but not spending an hour making it and having way too much left over. I recommend sprinkling some shredded cheese on top and putting it in the microwave!

7.

Trader Joe's Hold The Cone

These mini ice creams cones are perfectly portioned! 

 

8.

Trader Joe's Organic Free Range Chicken Breast

I'm sure this is usually on everyone's grocery list but generally meat at Trader Joe's is less expensive, especially for good quality organic meat than at other grocery stores.

 

9.

Trader Joe's Mac and Cheese Bites

These bite sized mac and cheeses are so good and a perfect appetizer or snack!

 

Trader Joe's has one of the best selections of flowers from succulents to basil and peonies so treat yourself!