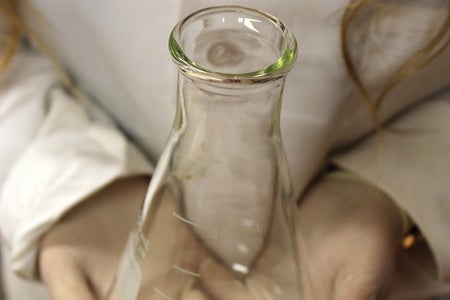 Lesser-Known Women in STEM
Have you ever been asked about your role models? Who comes to mind when you think of the people you look up to? For me, it has always been famous actors and musicians that I watch on the big screen or listen to on Spotify. The other day, however, I was asked who my favorite scientist was, which threw me for a loop.
I am a food science major, so I should have at least one person who inspires me in my chosen career. However, the best I could come up with was Katherine Johnson, an American mathematician whose calculations of orbital mechanics as a NASA employee were critical to the success of the first and subsequent U.S. crewed spaceflights, but that is only because I saw the movie "Hidden Figures". This was disappointing because I am going to be a scientist! So, in an effort to educate myself, you all, and to commemorate Women's history month, I've compiled a list of 7, lesser-known, yet just as important female scientists that we all should know about.
Ada Lovelace was an English mathematician and writer, known mainly for her work on Charles Babbage's proposed mechanical general-purpose computer. As the child of Lord and Lady Byron, she was exposed to education and introduced to many leaders of the early-mid 19th century. This led to her love of math and her ability to work with Charles Babbage, an inventor of the time. Lovelace was the first to recognize that the computer had applications beyond just calculation and to have published the first algorithm intended to be carried out by such a machine. She is often regarded as one of the first programmers ever.

Chien-Shiung Wu was an American particle and experimental physicist who made significant contributions in the fields of nuclear and particle physics. Wu worked on the Manhattan Project, where she helped develop the process for separating uranium into uranium-235 and uranium-238 isotopes by gaseous diffusion. She is best known for conducting the Wu experiment which proved that parity is not conserved. This discovery resulted in her colleagues Tsung-Dao Lee and Chen-Ning Yang winning the 1957 Nobel Prize in Physics, while Wu herself was awarded the inaugural Wolf Prize in Physics in 1978. Her expertise in experimental physics evoked comparisons to Marie Curie, giving her nicknames such as "First Lady of Physics" and "Queen of Nuclear Research."

Marie Maynard Daly was an American biochemist and the first African American woman in the United States to earn a Ph.D. in chemistry. Daly made important contributions in four areas of research: the chemistry of histones, protein synthesis, the relationships between cholesterol and hypertension, and creatine uptake by muscle cells. As a child, Daly visited her grandparents, where she read about scientists and their achievements in her grandfather's extensive library. She was impressed by Paul de Kruif's The Microbe Hunters, which influenced her decision to become a scientist. She also became a scientist to carry on her father's dream of being a chemist which was thwarted due to a lack of funds. In honor of her father, she started a scholarship fund to assist minority students majoring in chemistry or physics at Queens College.

Dr. Hadiyah Green is an American medical physicist known for the development of a method using laser-activated nanoparticles as a potential cancer treatment. She is one of 66 black women to earn a Ph.D. in physics in the United States between 1973 and 2012 and is the second black woman and the fourth black person ever to earn a doctoral degree in physics from the University of Alabama at Birmingham. Green grew up an orphan and was raised by her aunt and uncle. Shortly after she graduated with her undergraduate degree, her aunt passed away from female reproductive cancer with the decision of no treatment, and then soon after her uncle from cancer as well with radiation and chemotherapy. After seeing all sides of the treatment spectrum, Green decided to dive into cancer research, leading to her scientific contributions listed at the beginning.

5.

Sanghamitra Bandyopadhyay

Sanghamitra Bandyopadhyay is an Indian computer scientist specializing in computational biology. A professor at the Indian Statistical Institute, Kolkata, she is a Shanti Swarup Bhatnagar Prize winner in Engineering Science for 2010 and an Infosys Prize 2017 laureate in the Engineering and Computer Science category. Her research focuses on the areas of evolutionary computation, pattern recognition, machine learning, and bioinformatics. Since August 1, 2015, she has been the director of the Indian Statistical Institute, and she oversees the functioning of all five centers of the institute. She is also the first woman Director of the Indian Statistical Institute and is currently on the Prime Ministers' Science, Technology and Innovation Advisory Council.

Helen Rodríguez Trías was a pediatrician, educator, and women's rights activist. She was the first Latina president of the American Public Health Association, a founding member of the Women's Caucus of the APHA, and a recipient of the Presidential Citizens Medal. Trías is credited with helping to expand the range of public health services for women and children in minority and low-income populations around the world. Trías chose medicine because it involved the two things she loved most, science and people.

Jessica Mink is an American software developer and a data archivist at the Harvard-Smithsonian Center for Astrophysics. She was part of the team that discovered the rings around the planet Uranus. Mink graduated from the Massachusetts Institute of Technology and has worked at Cornell University. Despite not having a Ph.D., she is a member of the American Astronomical Society and the International Astronomical Union. Mink is a transgender woman, and she publically came out in 2011 at the age of 60. She has since spoken out about her experiences of transitioning. She was also featured in two articles about the experiences of transitioning in a professional environment and was a co-organizer for the 2015 Inclusive Astronomy conference at Vanderbilt University.