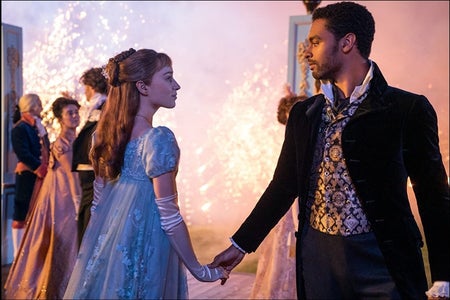 The Duke is Leaving Bridgerton, and That's Okay
Christmas Day of 2020 was a day that will go down in Netflix history as the day "Bridgerton" premiered. Based on Julia Quinn's book, The Duke and I, and directed by the genius that is Shonda Rhimes, Bridgerton quickly rose to the number one spot in over 83 countries and claimed the title of most popular Netflix original series with over 82 million views in the first month. Viewers fell in love with the whole cast, but one in particular, at least for me, stole the show. Regé-Jean Page who played Simon Basset, the Duke of Hastings, was no doubt the biggest heartthrob of quarantine, but as of recent news, he will not be returning for a second season.
Like me, you may have been confused or even angry at this decision, but as it turns out, we should've seen it coming. As I mentioned earlier, this season was based on the first book in Quinn's series called, The Duke and I. The next book however focuses on Anthony Bridgerton, the brother of Daphne Bridgeton, the Duke's wife and main female lead of the show. Regé-Jean Page has even commented on how much he liked the idea, "that "Bridgerton" is essentially an anthology, with each book (and subsequently season) dedicated to a different sibling's love story." And, to be honest, I agree with him. As much as I love getting to see my favorite characters, I love it even more when the storyline keeps me engaged. 
Luckily for us fans, this isn't the first or last time we will get to see Page on the big screen. In 2016 he starred in History's Roots remake and in 2020 he starred in Eugene Ashe's Sylvie's Love. He also recently hosted an episode of Saturday Night Live and wrapped filming on the Russo Brothers' Netflix spy thriller The Gray Man, also starring Ryan Gosling and Chris Evans. Even though it is sad, but sensible, to see him go, I am excited for the new season of "Bridgerton" and the opportunity to see the range of Regé-Jean Page's acting abilities in the future.