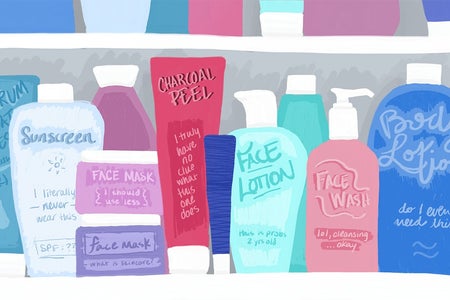 Skimping on Your Skin in Hall? Now You Don't Need To.
I love staying in Hall. 
For a period of up to 4 years you're never more than 20 minutes by foot to your classes, and for many, semi-full freedom from our parents for the first time.
While it's already coming to the end of the first semester, with the late nights piling up you might want to consider putting in more effort to keep your skin in tip-top shape. The only problem? Hall bathrooms. 
If you're like me and the majority of hall residents, you might find yourself shuttling between the toilet and your room to take care of your daily showers. And if you're like me, you know these public toilets are no place to pamper yourself. 
Even if you're lucky to be part of the privileged minority with your own private bathroom, you don't have the luxury of having wide open countertops to store your full skincare routine— even if you do, you might not have the time to do so, not with school work and other commitments taking up the bulk of your time. 
Not only that, if you're moving out over the summer or winter break, carrying your entire skincare routine belongings could prove to be more of a hassle than necessary.
When push comes to shove, how do you make sure you're maximising on your skins' health while minimising on the clutter?
When we call NTU, 'Pulau NTU', that's not by any accident. While we do have a Prime and Giant in school to help you with your daily necessities, those looking for skincare supplies might not be in such luck. 

Your best bet is to head to Jurong Point or Jurong East to get what you need at Watsons or Guardian and bring it back to hall. More often than not, I find myself being too lazy to travel out after my classes just to stock up on my supplies. 

My solution? If you can afford it, buy in bulk. Need a facial wash? Buy three tubes of it. If you need to get toner, get the biggest bottle they have. Better yet, get your roommate in on the action, and you can both save on your skincare costs. 

Alternatively, buying your products on iHerb, Shopee or the like to get them delivered directly to school to save you time and money since they're also usually slightly cheaper than brick and mortar stores. Bring these products home and transfer them into smaller bottles if you find them too bulky to carry around. 

It might seem like you're going more than an extra mile for your skin, but your wallet and shelves will thank you.

Logistically speaking, you'll be doing your skincare routine half in your room, and half in the toilet, so it would be wise to put your cleanser in your shower caddy, and the rest in a separate basket on your room's shelf. 

This means that you'll need to make sure that you're only packing either essentials or products that have multiple benefits for your skin. 

If you need a guide, we have a few recommendations below: 

- Cleanser: A facial cleanser removes impurities from your skin so it stays fresh. I'd recommend the Kiehl's Ultra Facial Cleanser 150ml ($25 from Zalora / $35 from Kiehl's). This product is both a facial cleanser and a makeup remover. This is great for combination skin, and if you couldn't be bothered after a long school day to remove your make-up with a separate product. 

- Toner: In the past, toners were discouraged as they were seen as drying and bad for the skin, but new products such as the Naturie Hatomugi Toner 500ml  (10.90 from Watsons), which lauds itself as a moisturising multipurpose toner, face mask, hydration spray and aftershave all in one.

- Micellar Water: If you're a fan of heavier make up, then you might need micellar water on top of your facial cleanser. Micellar water can take the place of a moisturiser and a makeup wipe. Online magazine, Allure boasts that these micellar waters do not contain alcohol, and only have micelle molecules that attach itself to makeup and debris to break it down. Products such as the Bioderma H20 Micellar Water 500ml ($16.90 from EZBuy) melt off even the most stubborn of makeup with a wipe. 

- Mask: Depending on which area you'd like to focus on, I'd recommend having a mask in close range. I would recommend the Innisfree Jeju Volcanic Pore Clay Mask 100ml ($20.00 from Innisfree), a clay mask formulated with Jeju volcanic clusters to intensively absorb excess oil and cleanse the pores. You can use it before you put on your foundation, making it a great addition to your morning makeup routine.

Remember that keeping your beauty products out of the bathroom minimises the chances that the moisture will cause bacteria to grow on it, so keeping a minimal collection of your most used products on your room's shelf will both be the most cost-effective and efficient way to go.

We've spent the bulk of the year obsessing over hygiene and cleanliness, and though the country is seeing fewer cases, it doesn't pay to be complacent. 

In Hall, many people move in and out of the shared bathrooms. Though the surfaces of the toilet and sinks are typically cleaned every morning, you still run the risk of recontamination due to biofilms— microorganisms that stick to each other and adhere to surfaces.

Your best bet is to transfer your facial products (if they come in a large 500ml bottle, for example) into smaller pump bottles that are easier to take around. Similarly, if you're looking to split some of your supplies with your roommate, transferring your liquids would make it a lot easier to put into a small shower caddy or basket to take around. 

You can look for these bottles at neighbourhood hardware shops, where they usually can be purchased in sets of three for less than $5. Personally, I've come across a few shops near Extension (60 Jurong West Street 91), where these bottles can be found.
Skincare in hall doesn't have to be tough, but it does take a few workaround methods to ensure that you're not neglecting your skin's health. After all, the time you invest in your skin today will definitely pay off tomorrow.