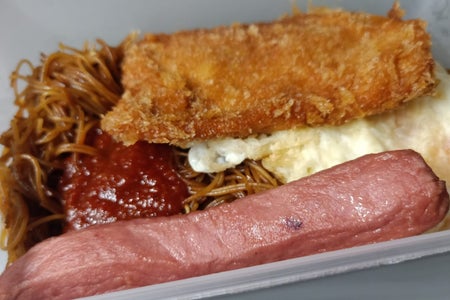 Original photo by Joanne Lim
The NTU Supper Club: Raydy Bee Hoon
Original photo by Beverley Tan When you're burning the midnight oil to work, study or even just hang out with your friends, nothing satisfies your hunger pangs more than a steaming hot packet of bee hoon.
NTU students, especially those staying in one of the many residential halls, may be familiar with Raydy Food Truck, a midnight supper delivery service specialising in freshly made bee hoon with all the fixings. With over 3500 subscribers on their Telegram channel and boasting sales of nearly 600 packets on busy nights, they've grown to be a household name when one talks about NTU's supper culture. We sat down with one of the founders, Lee Ray Sheng, to find out how this iconic food truck started.
We got the opportunity to interview Raydy Food Truck and their subsidiary, A Hot Hideout, due to our event partnership for squish!
Humble Beginnings
It all started in a small pantry in Hall 12.
As a second-year student living in a residential hall, Ray Sheng knew about the bee hoon sold at nearby 24-hour coffee shops, which was a big part of NTU's supper culture. However, getting this bee hoon at night meant driving, booking a Grab, or even walking all the way out of school and back, which took up a lot of time, energy, and money. 
As an alternative, he started cooking his own supper. After experimenting with instant noodles, soup, and other easy meals, he concluded that bee hoon was the only dish that perfectly satisfied his supper cravings.
"It's so right for supper. It's something that everyone really likes. So I started cooking my own bee hoon in the pantry, and then it hit me — why don't I start my own bee hoon stall in school?" Ray Sheng has previous experience in the food and beverage (F&B) industry, having worked at McDonald's and the food start-up, Grain, in his younger years. Eventually, he was able to set up a bee hoon stall in Canteen 13, located near Hall 12. As a member of the hall dance team, his teammates started off as tasters for his supper concoctions, and eventually joined him as partners in the business.
Running an F&B Business During COVID-19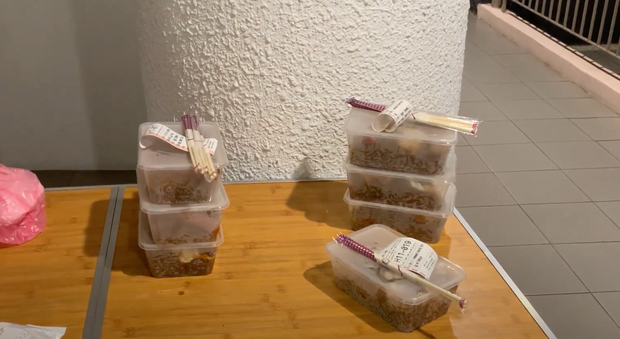 Original photo by Beverley Tan
Business was going well, but Ray Sheng says the team faced their biggest challenge once the COVID-19 pandemic hit Singapore's shores. 
During the circuit breaker, just around a month after Raydy Bee Hoon opened, they were unable to operate the stall as hall residents had moved out. But the team didn't stop working hard. To give back to the community, they launched a campaign in collaboration with Food Bank Singapore, providing over thirty thousand meals to needy households nationwide.
In August 2020, with the start of a new semester, they faced another problem: it was difficult to adhere to social distancing measures at their physical stall. Their entire business model was premised on selling food over-the-counter, which would pose a risk if there was a high volume of customers.
"We had to think out of the box… Instead of encouraging people to come to us, why don't we bring the food to them?"
As a result, Raydy Food Truck was born. They are currently partnered with Cates, a food delivery application, to create a pre-order system so that the chefs can estimate how much to prepare per night. They then deliver the orders to each hall, along with extra packs that can be bought directly off the truck.
Their food truck revolutionised NTU's supper culture since hall residents no longer have to travel out of school in the middle of the night for a good meal. In addition, the business created plenty of part-time jobs — the drivers and delivery assistants are all NTU students as well.
"It's quite fun working here because it's at night, the hours are flexible, and the bosses are nice too!" says Yasmin, a first-year student working as a delivery assistant on the food truck. She helps to take orders from those ordering from the food truck, as well as take stock of pre-orders earlier in the night.
Expansion: A Hot Hideout
With Raydy's rising popularity, some of Ray Sheng's friends joked that Raydy's had a monopoly over the supper business since there were hardly any other similar businesses providing freshly made supper fare directly to hall residents' doorsteps. With that, Ray Sheng felt that he should challenge himself by entering one of NTU's most competitive industries — the mala business.
A Hot Hideout, located within the North Hill hall premises, specialises in mala xiang guo (spicy stir-fry) and mala collagen soup (inspired by their frequent visits to Beauty In A Pot). It started as a collaboration with his co-founder and business partner, Kim, to open a restaurant that operates during the day. 
"I went to look for shifus (masters) that have cooked mala for 20-plus years, tried to get their recipes and techniques, and eventually we opened our new mala stall."
They faced a slew of challenges when they started, since running a fully-functioning restaurant was vastly different from a smaller-scaled over-the-counter stall. They had to maintain regular operating hours, stock ingredients and hire employees to cover all shifts — all of which contribute to costs as well. But Ray Sheng says it was an eye-opener for him, and they have more plans to open similar restaurants specialising in other dishes in the near future.
Becoming an Entrepreneur in University
Regarding the topic of starting a business, Ray Sheng believes that university is the best time to try it out. The risks, such as losing money or not succeeding at first, are much lower in university, since the business would probably be a side hustle and not a main source of income. Students also generally have more leisure time than full-time working adults, especially during school breaks. This gives them opportunities to learn new things about entrepreneurship and provides room for experimentation.
"Once you graduate, you'll have a lot of burdens that will start kicking in. As a student, your job is just to study. So if you don't start now, when you go out to the working world, it's a lot more challenging."
He admits that time management is something that can be difficult, especially with Raydy's late-night working hours. But he and his team, mostly made up of fellow NTU students, managed to make things work, allowing the kitchen to keep going six nights a week.
So, how's the food?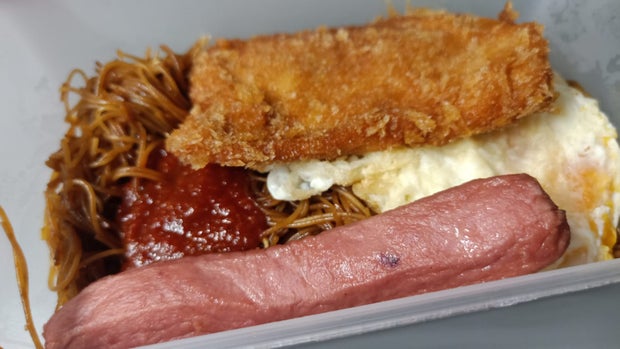 Original photo by Joanne Lim
Of course, we had to try their signature bee hoon for ourselves. 
On their Telegram channel, you'll find their menu in the pinned message. They currently have four sets, A to D, available each night, with different types of toppings such as eggs, chicken nuggets or even chicken katsu. They also sell these toppings individually packed. While they previously had a selection of homemade drinks, those have been put on hold as COVID-19 has caused delays in delivering logistics. Now, canned drinks are available instead if you want a chilled beverage to go with your meal.
Using the Cates app to pre-order is easy. All you have to do is select which set you want, the date of delivery and one of their many collection points. What's more, Raydy Bee Hoon doesn't charge any extra delivery fees. You'll be able to follow their route and track their current location through the Telegram channel as well. Once the food is delivered, you'll receive a notification and you can go down to collect your supper. Note that extra toppings and canned drinks are only available for purchase directly from the truck and not through pre-order!
We ordered Set B - Fillet, Egg and Hotdog ($3.50). Comprising traditional fried bee hoon with a fish fillet, fried egg and sausage, this meal felt like the ultimate guilty pleasure, making it perfect for a midnight meal. The bee hoon was not too dry and paired well with a homemade chilli sauce. The other ingredients are classic fried bee hoon pairings like a fried egg with gooey yolk.
Overall, it's no surprise that Raydy Bee Hoon quickly grew popular among NTU's hall residents. A homegrown business dishing out delicious, fresh-made fare, this is one place that truly serves food for the soul. Remember to visit their restaurant, A Hot Hideout, located near the North Hill canteen, as well as subscribe to their Telegram channel for their food truck menu and daily updates!