Kopi Date was founded in 2018 hoping to create a special experience for blind dates with interesting coffee spots around Singapore. The founders, Jing Lin and Zhiqun, wanted to fill in the gap between frivolous dating apps and serious matchmaking sites. There is a monthly subscription fee of $39.55 for Ladies and $45 for Gentlemen which includes date curation, concierge services, date venue booking, a complimentary beverage during the date, and the Kopi Date Experience Kit. This article was done in partnership with Kopi Date and the writer was given the opportunity to try out their services.
A Blind Date. That sounds terrifying. You don't know what they will look like, you don't know if you'll vibe with them, and you can't guarantee your safety. Well, that is what Kopi Date tries to resolve by curating your first blind date to find someone with whom you can have a genuine connection and ensuring your safety through their venue partners. 
I am a complete newbie to the online dating scene. I don't have Tinder, Coffee Meets Bagel, Bumble, or whatever new-fangled dating site is out there. To add on, I've heard scary stories about creeps that lurk on Tinder, and I don't have the patience to sift through all the photos and texts. As a self-proclaimed introvert, meeting new people scares me and it can be intimidating. Therefore, Kopi Date seemed like a perfect solution, where all I had to do was show up for the date. 
The signup process asked for personal details such as height, gender, ethnicity, and religion. You could also list your drink preferences, and there are other options for those who don't prefer coffee. Then, you could choose a list of adjectives to describe your personality and passions. 
Now the dreaded question. "Write a short description of yourself." 
I've never been on an online dating app, what do I write? 
Cue a tiny quarter-life crisis. 
I turned to Google (incognito because I didn't want this to be in my search history), which did not help. Be yourself? Keep it personal but not a memoir? THROW IN SOME JOKES? I gave up and elicited help from my close friends to write out a proper dating profile. 
Next, there was an arranged virtual onboarding call where I met one of the founders, Jing Lin, and it was a comfortable experience as she explained the goal of Kopi Date and got to know me beyond my superficial dating profile. During this quick conversation, the founders want to know your authentic self through introspective questions such as favourite subject to your dream job. Thus, strive to be honest and open about what you like and what makes you tick. Interestingly, they didn't ask "What was I looking for in a partner?" I wondered how they would match me if my personal preferences weren't asked. I suppose meeting a partner isn't a checklist for the grocery store so I had to trust in Kopi Date's process.
After this meeting, they sent a personal email that went over what was discussed and a welcome into the Kopi Date community. Then, I waited and got busy with life. Three weeks later, I got an email. "Congrats! You've got a date!" was an email that came with a description of my date and the location. It also came with a Whatsapp number attached if I had concerns or needed assistance ASAP. During the week leading up to the all-important date, they sent a short biography of my date to get me interested and excited. These details such as attributes and biography were taken from the initial signup, so be conscious of your talking points and fun facts about yourself if you choose to sign up.
Now unto the awaited date! I like to say that my pink ensemble was adorably cute so much so that my sister asked me where I was going looking like Tinkerbell. The location of the date was a little out of the way as it was hidden in a mall basement so thank goodness for Google Maps.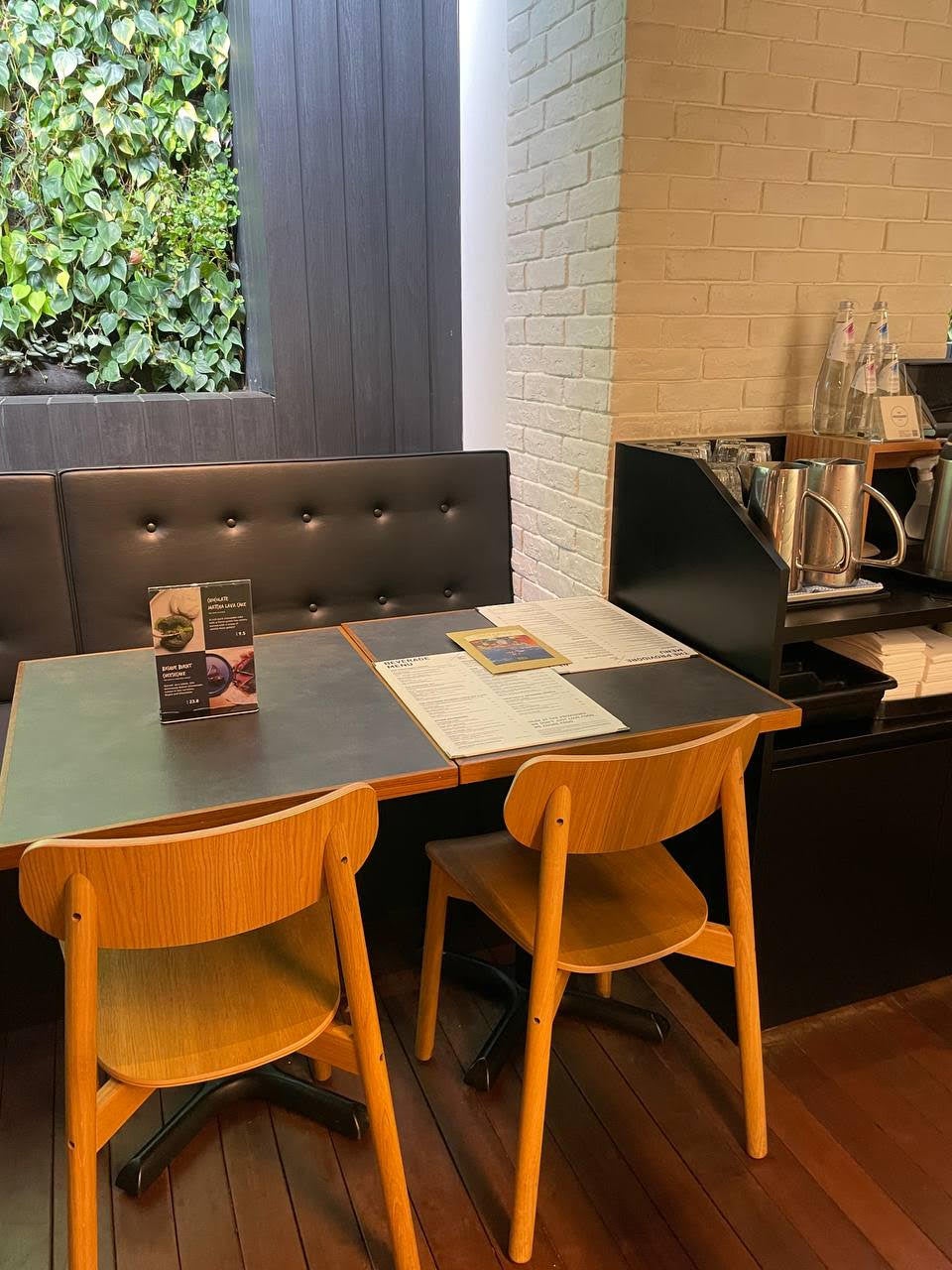 At the date venue, I approached the staff and informed them that I was there for a Kopi Date. The waitress led me to the table and cheerfully informed me that there was a 10% off for anything on the menu. When my coffee order came, I couldn't help but notice that the table was next to the waiter's station. I'm unsure if this is the case for all such dates, but it was reassuring as it meant in the worst-case scenario, I could flag down someone for assistance. My nervous jitters calmed down once my date arrived and we exchanged greetings.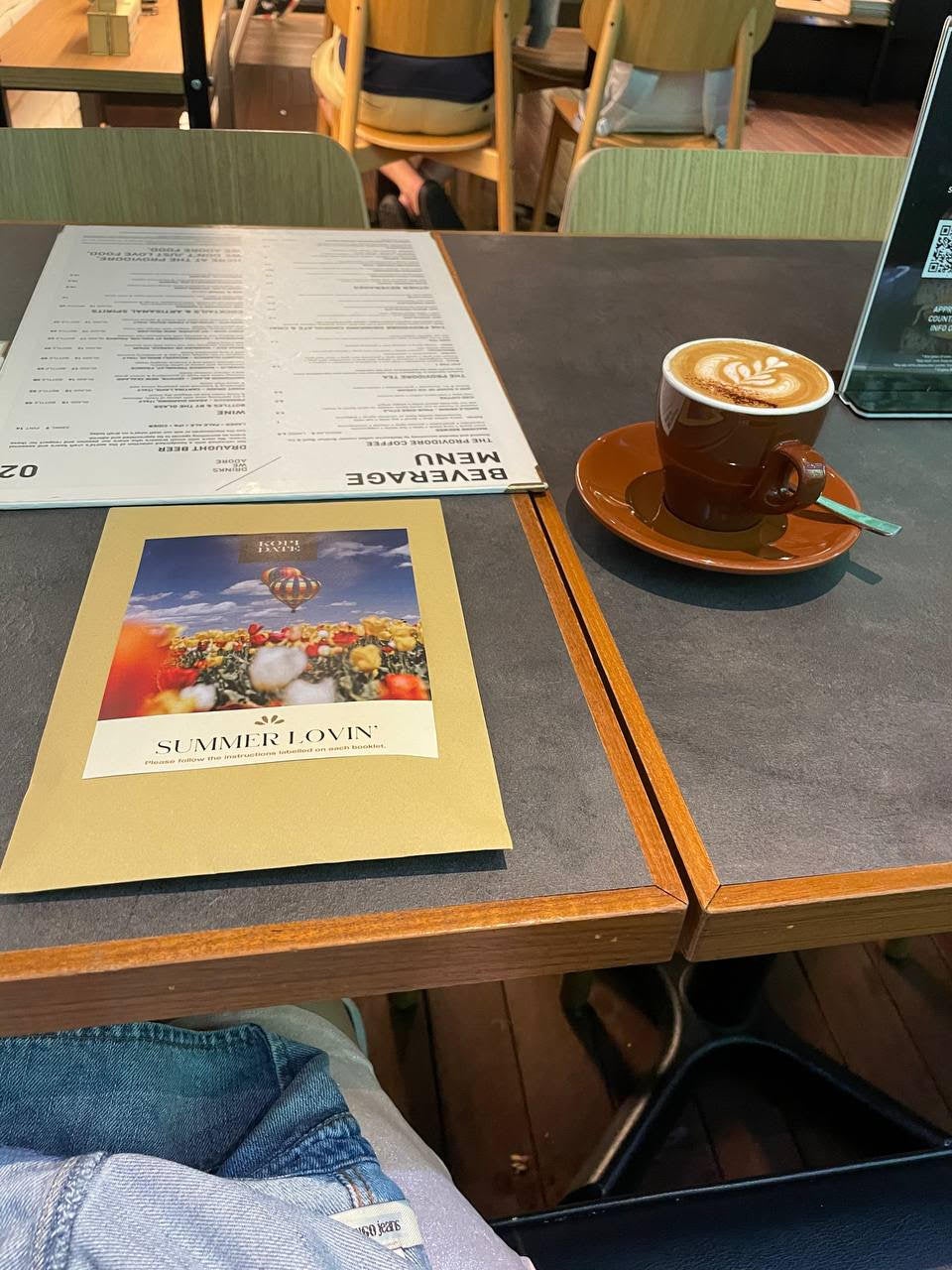 Kopi Date provides a kit for you and your date to prompt conversation and evoke thought-provoking responses. We opened the envelope to find several pamphlets. There were four pamphlets numbered from 1 – 5 that ranged from surface level to amusing. These questions were meant to be more thought-provoking and facilitate a lively discussion about your personal life and way of thinking. The adage "polar opposites attract" is inherently untrue as you require similar passions or interest to sustain a relationship. Thus, the founders do make a conscious effort to find common ground which meant that the conversation would be lively and intriguing. 
I admit I was a little worried because his personal description said "Athletic" and I'm not. If staying inside and watching films could be a sport, I'd be a Gold Medalist. Thankfully, he was a great conversationalist and we started to find our common ground. We had a wide range of conversation from music and the portrayal of villains in movies to the stock market. Beyond our passions, we delved into our personal lives and found we had some mutual friends. We spent about two hours at the dating spot before they had to close. So we decided to return to the origins of Kopi Date and continue our conversation at a Kopitiam. Although it did feel like an interview towards the end as I started to enquire into his personal dating life. He admitted he was a terrible texter, thus he found Kopi Date which was fantastic since he preferred having a personal connection and meeting people. We finally finished all the questions and concluded our date and he was sweet to walk my directionally-challenged self to the nearest MRT. We shook hands and went on our merry way. 
Post-date, I received an email to conclude the date, where I could reflect and review my date. Honestly, I thoroughly enjoyed my experience and date. The feedback form allowed me to express how I felt the date went and give a personalised message. Don't fret if you were too caught up in chatting and forgot to give your personal information as you can still use this as a way to give your preferred contact to your date. 
All in all, anyone who wants to create and have human connections with others should try this out! If you are tired of and bored by the endless photos and swiping in Tinder, and want to meet new people and expand beyond your social circle, then you should go on a Kopi Date. It is different from other social networking platforms like Coffee Meets Bagel, where you fill in quizzes to find out your compatibility, or Aphrodite Project which focuses on matchmaking based on their algorithms. Kopi Date saves you from staying glued to your phone to sift through photos and think of interesting pickup lines to initiate conversations. 
Kopi Date emphasizes humanising connections and creating meaningful relationships between dates. They curate your first dating experience so you don't have to worry about deciding on the location. You can ease your mind and simply turn up for the date. It's a fantastic platform for anyone and everyone who wants to go outside of their comfort zone and meet new people to have candid conversations outside of your phone screen.  
If you are fearful of first dates and the potential of awkward silences where you have to scramble for conversation topics, Kopi Date also provides several booklets with questions to help break the ice. 
In particular, if you don't like to text and prefer face-to-face interaction, then Kopi Date is perfect for you if you are single and ready to mingle!