Any Singaporean student would be familiar with the struggle to find good study spots, especially during peak exam season. With COVID-19 safe distancing measures in place, communal study areas such as those in community centres and public libraries face limited seating capacity to the disadvantage of many busy students. 
This is where Afterhours Study swoops in. Conveniently located at Leng Kee Community Centre, a 5-minute walk from Redhill Station, Afterhours Study is a co-studying space for students with rates as low as $2 per hour. That's right — for a purple note out of your pocket, you have access to free flow snacks when you have the munchies, a printer for practice papers, and most importantly… free wi-fi and an abundance of sockets.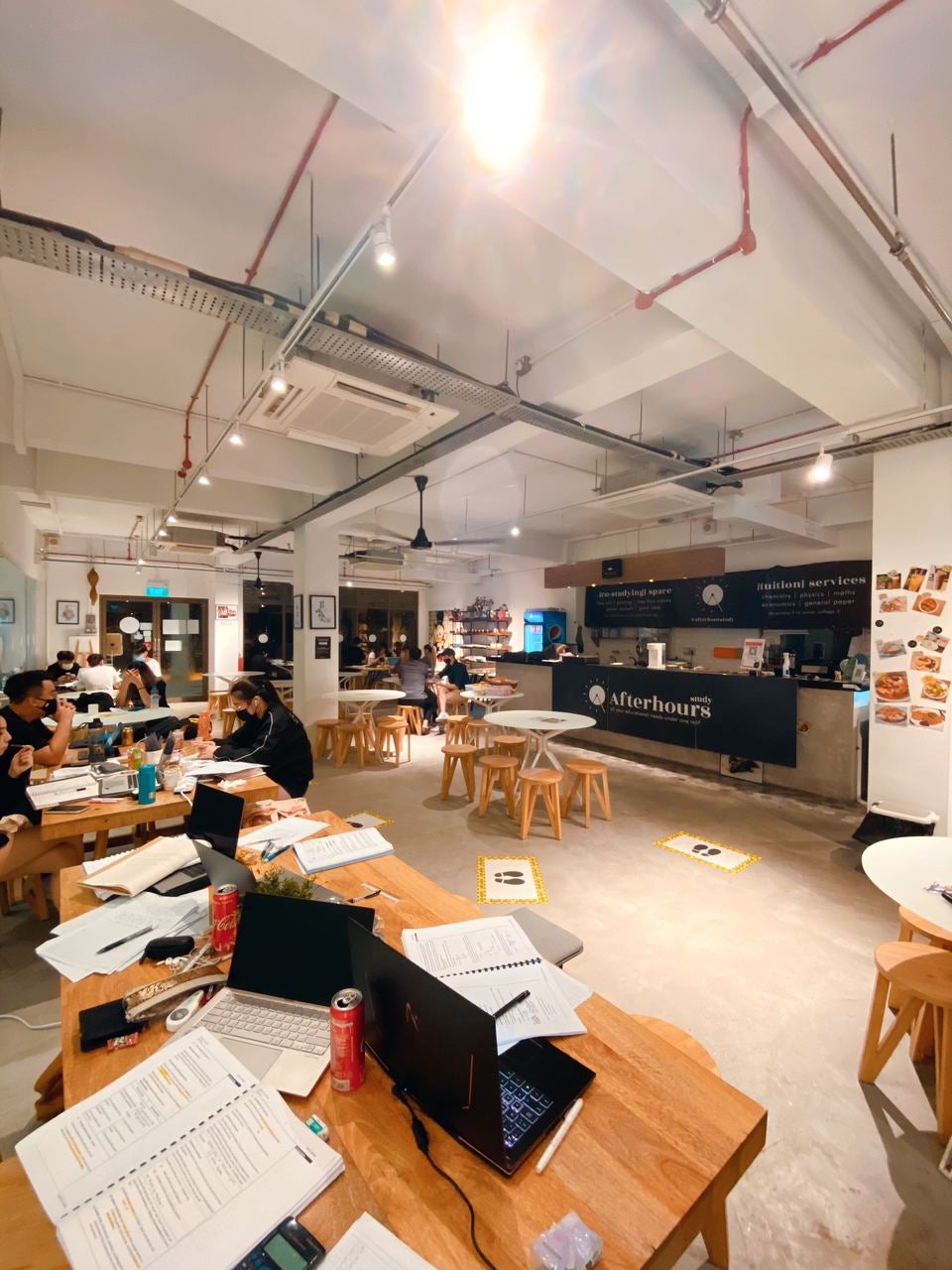 My experience at Afterhours Study
With Apple Maps for navigation, it only took a five-minute walk from Redhill station to get to Afterhours Study. The place was easy to find and also the first thing you see upon entering the community centre: the warmly lit and aesthetically pleasing shop was surely hard to miss.
The interior resembled that of a cosy but modern café. I appreciated the minimalist, clean furniture which is quite an upgrade from the sticky public library tables that I am used to. Decorative props like dried flower bouquets and cat ornaments dotted ironwood shelves. I particularly liked the retro Chinese prints that were hung around, adding a splash of colour and charm to the otherwise white, cream and concrete colour palette of the place.
A free-flow drinks and snack bar occupied a quarter of the overall space. As an avid study snacker, I was overjoyed to see the range of snacks available. Most of them were of the old school variety, with classic childhood favourites like Hello Panda, Pola, and Mamee. Their refrigerator was also fully stocked with chilled beverages like canned coffee, soda, and iced teas to sip on while studying.
I also appreciated that Afterhours Study provided free printing services* since midterms are around the corner and I needed a review paper printed ASAP. All I had to do was email the document to their in-house printer, and it was safely in my hands in under 60 seconds. The best part — I didn't even have to leave my seat!
Unfortunately, I couldn't try out their tuition services as I had no current use for it.
The place wasn't too noisy despite it being a Sunday afternoon (which is prime time to rush assignments before Monday rolls around). Soft music played from overhead speakers, intermingling with the hushed murmuring from other patrons. The background noise was of a comfortable level for me and I had a relatively productive session finishing up some notes as well as writing this article.
With welcoming smiles (under their masks, that is) and a calm demeanour that matched the chill vibe of the place, I sat down with the founders of Afterhours — Denyse and Peng Yu, to find out more about the cosy space they've created together.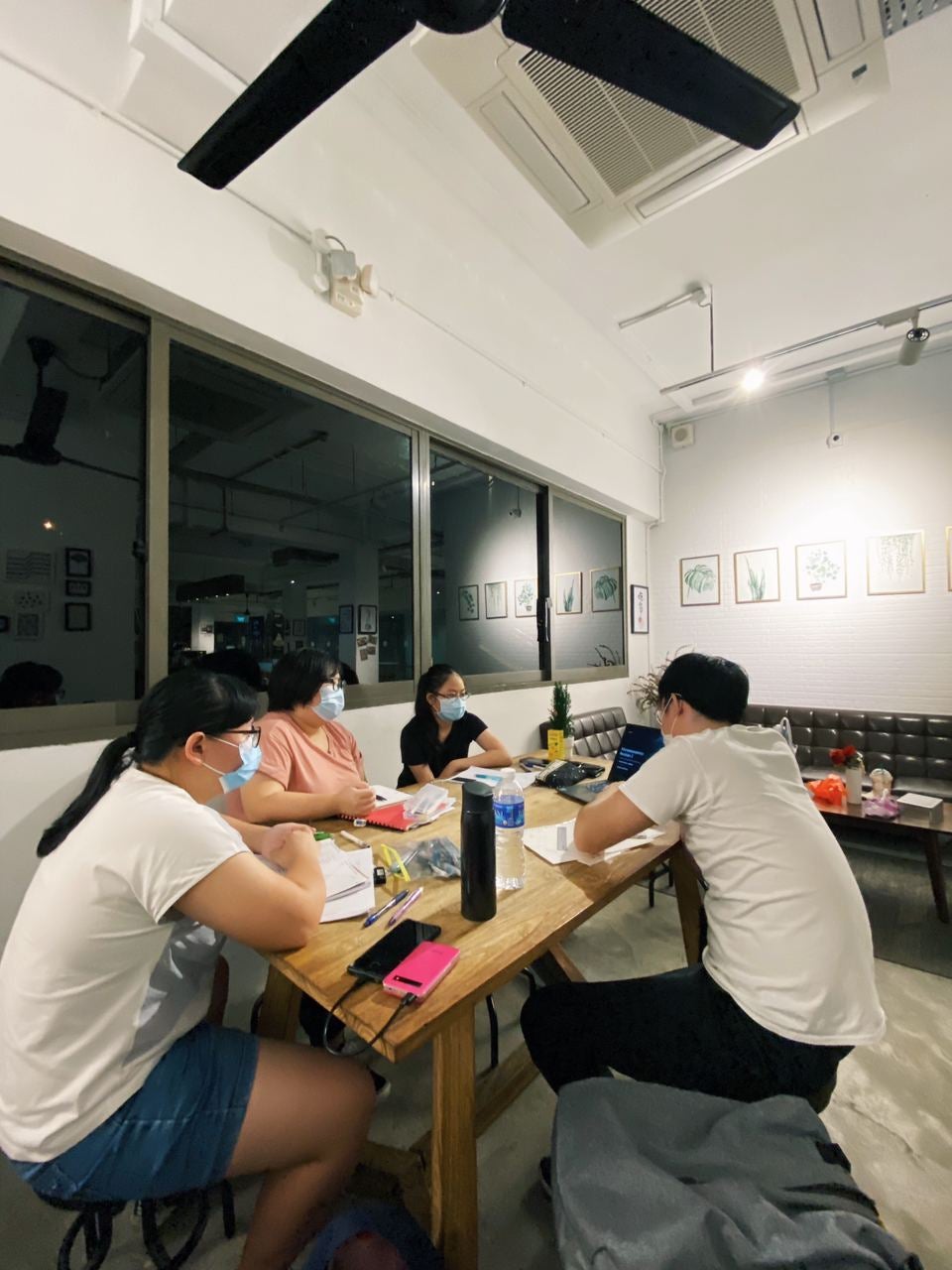 How did Afterhours Study come about?
20-year-old Denyse and Peng Yu first met as classmates in secondary school but are now "partners in crime," as the latter laughingly describes. Denyse is a first year student at the Yale-NUS college, while Peng Yu is awaiting matriculation into university this year.
As students themselves, they understood the struggle of finding conducive places to get work done, especially now in a COVID-ridden era. And thus, Afterhours Study was born. 
"I hated studying when I was a secondary school student, but it was studying together with friends that made it fun and enjoyable," laughs Denyse. "A lot of students used to go to cafes, myself included, but sometimes there are dining time limitations, no power sockets, or blotchy Wi-fi: these are the problems we want to help solve."
Afterhours Study is also the first co-studying space in Singapore to also offer tuition services. This is thanks to Peng Yu, who has done more than his fair share of tutoring. He engages with past students who are now also tuition teachers, and he describes this as "providing [students with] the space, as well as the relevant expertise." 
The founders pride themselves on creating a space with their tagline being  "All your educational needs under one roof." And I would say, from my three-hour study sesh here, that this is indeed true.
Final Thoughts
Afterhours Study is a safe space for everyone — I even spotted a baby's high chair in the corner. While most of the patrons are students, there were a few adults around: probably seeking refuge in the conducive environment to get some work done. The quiet whispering of students engaging in discussion, the calming playlist playing in the background, and the overall comfort of the well-lit space certainly left a lasting impression on me. 
Afterhours Study is open from 5.30pm to 10pm from Monday to Saturday, and 10.30am to 10pm on Sunday. Before heading down, be sure to make a booking here and follow them on their social media here and here for more updates.
*For the first 20 pages, black and white, subsequent pages are chargeable.