With add-drop ending this week, your timetable will be confirmed for the rest of the semester and so is the time you will be spending on campus. The time you have between classes is precious for catching up with friends, grabbing meals and maybe, squeezing in some me-time before another three-hour lecture. Spending time well requires a conducive environment suited to what you are doing. Fortunately, our campus here at Nanyang Technological University is filled with diverse spaces to suit our needs.
Having explored various spots on campus in my years at NTU, I have built up a collection of favourite go-to spots to spend my time on campus when not sitting in class. I recommend these spots because they are less crowded than the usual popular spaces like the canteens and Lee Wee Nam Library. Most of all, unlike sitting in a café (we have three cosy cafés on campus: Connect71, Starbucks and The Coffee Bean & Tea Leaf), these spots do not require you to make a food or beverage purchase to secure a seat.
From my journeys and adventures across campus, here are seven spots on campus that may just become your new favourite spot.
1. Café Ambience with Great Music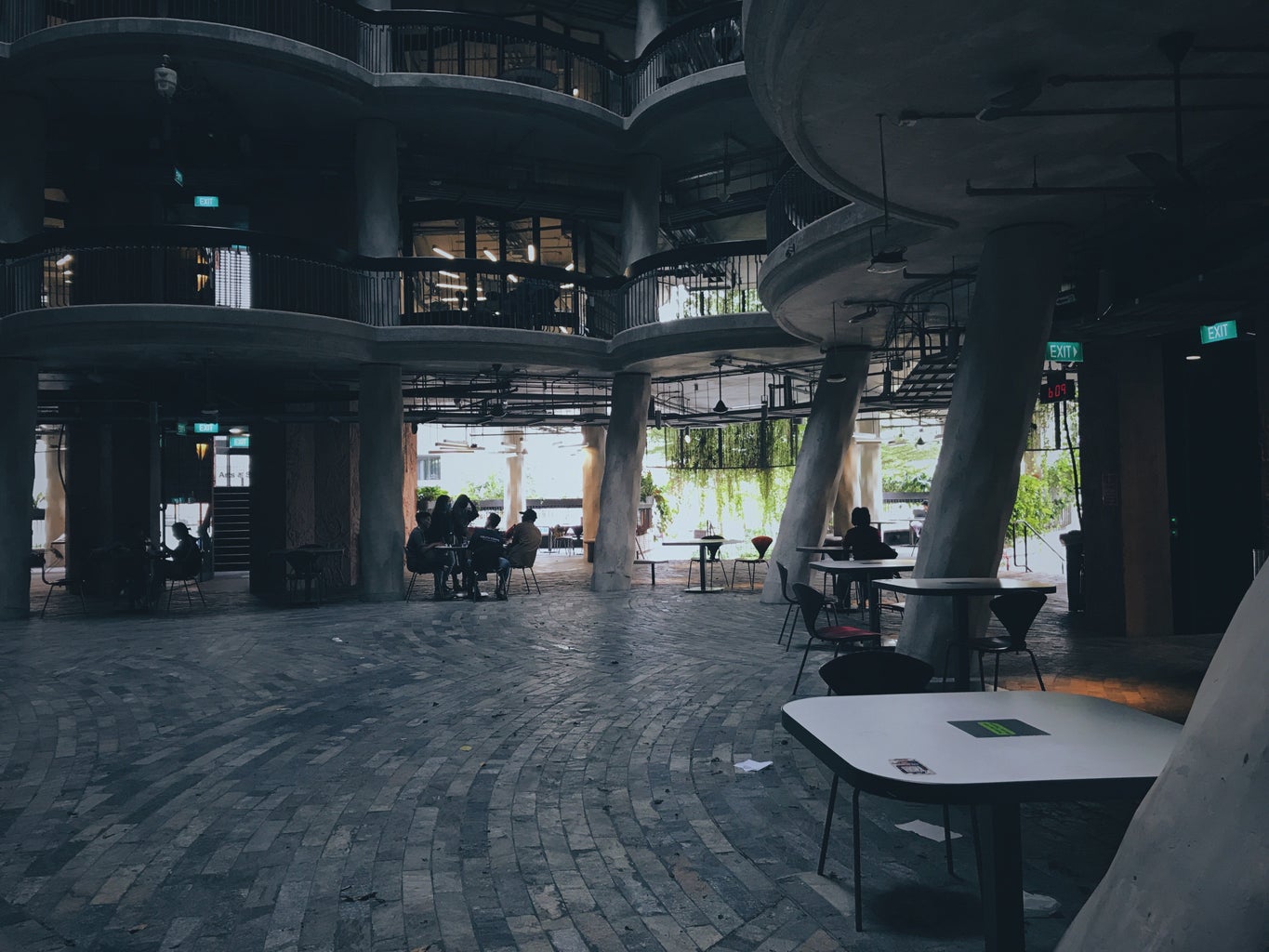 If you need background noise, a warm drink and good music, the Hive is the place to be.
The Hive is a building located at the end of the south academic complex (aka the south spine). Located close to the School of Humanities and Social Sciences, there is also a link-bridge connecting this standalone building to the south spine. The Hive spans multiple floors with a generous amount of tables scattered across each level for free seating. At the higher floors, you can enjoy scenic views and plenty of natural daylight. At the ground floor of the building – which surprisingly, is level B5 and not L1! – you'll find the CO-OP that offers a wide selection of coffee, tea, sandwiches, hot meals and even, tiny personal pints of Häagen-Dazs ice-cream.
The most iconic feature of this spot on campus is the music that plays all-day when the CO-OP is open. Legends say that it is this Spotify playlist of chill, acoustic selections that echoes through the many floors of the Hive.
Power Sockets: Located near some tables close to walls and pillars
Noise Level: It can get noisy during peak periods, such as lunchtime
Campus Wifi: Available
Food: Yes, you can eat here
Air-conditioned: No, but it is cool as there are fans and natural breeze
2. Lunchtime with a Side of Sunshine
Need somewhere to escape the chilly lecture halls and enjoy a meal during lunchtime? Here's a sunny spot a stone's throw away from the central south spine.
Just outside the Humanities and Social Sciences Library, there are a handful of picnic tables that is ideal for spending some time outdoors to enjoy sunshine and warmth. The giant umbrellas ensure you will be sheltered from direct sunlight while savouring a much-needed break time outside.
Due to the HSS library's location that is distanced from the main south spine areas, the tables are often not fully occupied even at lunchtime. If you need to cool down and refresh yourself before heading off, there is a water cooler and bathrooms just a couple of steps away.
Power Sockets: None
Noise Level: Reasonably quiet
Campus Wifi: Available
Food: Yes, you can eat here
Air-conditioned: No, and it can get pretty warm
3. Perfectly Located Between North and South
This spot is a great meeting place in a relatively halfway location between the north and south spine.
There are plenty of tables at the basement level of the south spine. However, this particular corner below block S4 boasts the most spacious tables and good lighting. Compared to the rest of the level, this spot is also closer to the connection between the north and south spine. This spot is strategically positioned between a vending machine, water cooler and restrooms.
Power Sockets: Located near some tables close to walls and pillars
Noise Level: Not too noisy but you will also get the occasional sounds of passing traffic and vehicles entering the carpark
Campus Wifi: Available
Food: Yes, you can eat here
Air-conditioned: No, however the whole spot is covered in shade so it does not get too warm
4. A Tranquil Retreat
A clear mind begins with a clear space. Find peace and tranquillity at the Art, Design and Media Library.
ADM is an island away from the main north and south spines. It takes a considerably long walk (or you can take the bus), but it is definitely worth the time and effort to get here. The seating area is spacious and illuminated by natural daylight coming in from the floor-to-ceiling windows. Picking a seat close to these large windows will give you a view of the pond and water feature at the heart of ADM. In addition to the main seating area, this library also features sofas, bean bags and limited high table seats with dim lighting.
Power Sockets: Plenty on the tabletops
Noise Level: Quiet and peaceful
Campus Wifi: Available
Food: No, but covered drinks are allowed
Air-conditioned: Yes
5. Enjoy the Silence
Savour the sweet sound of silence at this hidden haven.
Tucked away at the side of the north spine is the Business Library. Take a step in and down some stairs to arrive at the Quiet Zone. The whole B4 level of the library is a dedicated space for quiet studying and reading. Despite the reduced seating capacity due to safe-distancing restrictions, there is still a generous amount of table space and seats available when you come to this Quiet Zone. The environment is suitable for long study dates and reading sessions. If you're listening to music, remember to use earphones!
Power Sockets: Plenty on the tabletops and floor
Noise Level: Very quiet
Campus Wifi: Available
Food: No, but covered drinks are allowed
Air-conditioned: Yes
6. A Room of Your Own
Unlock a new level of focus with a private study room all for yourself.
At the same level as the Business Library's Quiet Zone, you will find a row of locked doors. Behind these doors are individual study rooms. Make use of this room when you need a distraction-free space to take a video call for interviews or attend online lectures. The room has its own light switch enabling you to control the lighting in this personal spot.
However, due to the limited number of rooms, you will have to book it early! After making a booking, check-in at the Business Library's counter where you will be handed over keys to unlock your room. This facility can be booked through the library's online system here.
Power Sockets: Two on the private desk
Noise Level: Silent
Campus Wifi: Available
Food: No, but covered drinks are allowed
Air-conditioned: Yes
7. Scenic Rooftop Picnic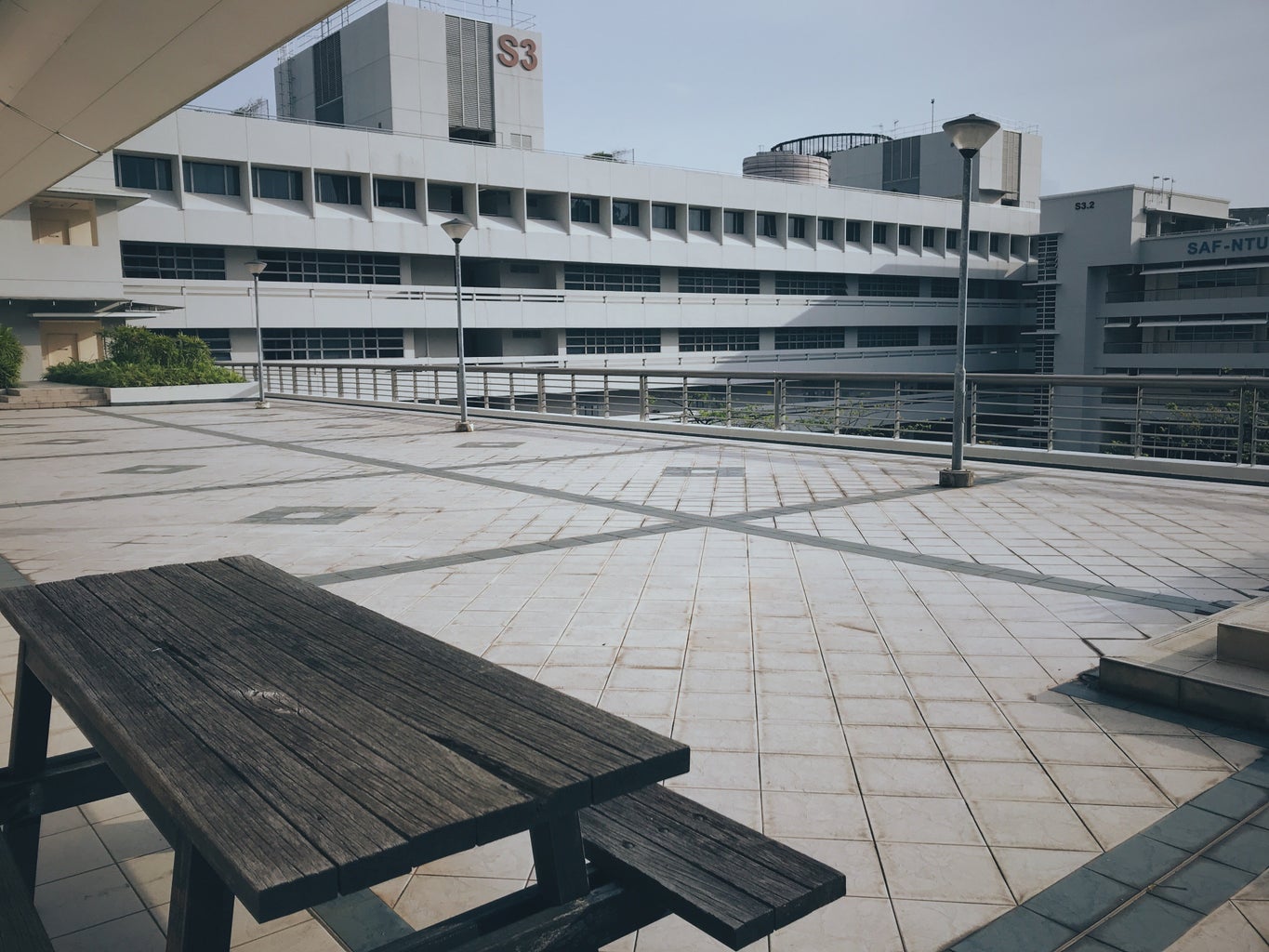 And finally, a spot that I discovered by accident when I was a freshman, lost in our big campus.
Stumbling upon this unexpected rooftop space at the south's spine S1 B3 was a pleasant surprise. At this spot, sit back and be in awe of the beautiful skies early in the morning and during the evening golden hours. In the afternoon, it is a good place to sit and soak in some sunshine. This exclusive rooftop picnic area has only two tables.
Power Sockets: One on the wall next to each table
Noise Level: Not noisy
Campus Wifi: Available
Food: Yes, you can eat here
Air-conditioned: No and it can be very warm during the afternoon