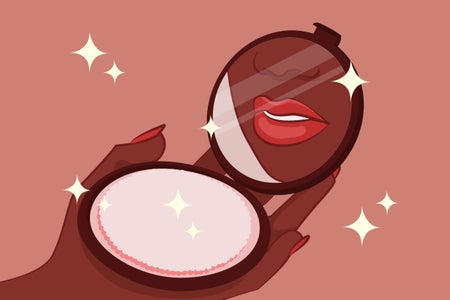 Adebusola Abujade / Her Campus Media
Fenty Pro Filt'r Hydrating Longwear Foundation: Is it Worth the Splurge?
Since its launch in 2017, Fenty Beauty has shaken up the beauty world and for good reason. The Pro Filt'r Soft Matte Longwear Foundation (referred to as Soft Matte in this article) dropped with an impressively inclusive 40 shade range. From the palest to the darkest skin tones, along with all the undertones one could imagine, there was a foundation for everyone in this line. Well, not everyone. Although I found my skin color (hi Shade 100, the lightest shade), my skin generally did not approve of this formula. It was too matte for my dry skin as well as a new pimple popping up the day after wearing. I would mix in some BB cream in order for the foundation to not be as drying. But still, there was no other foundation out there that matches my skin tone this perfectly with the buildable coverage I was after. As my acne cleared with treatment, I found myself reaching for foundation less and less, so my concerns about Soft Matte weren't so bad when I was only wearing it occasionally. The bottle grew emptier and emptier and a foundation purchase was on the horizon. Would I stick with Soft Matte, even though it's not so perfect? Or, would I try a new brand (by this time, brands were scared of Fenty and finally started getting some new shade ranges suitable for me). And then the Pro Filt'r Hydrating Longwear Foundation was announced.
The heavens have opened, the birds are singing, and the sky has never been bluer. Rihanna herself heard my complaint and, in her best Holes impression, said, "I can fix that." On August 15th, Fenty Beauty released their Pro Filt'r Hydrating Longwear Foundation (referred to as Hydrating). And I completely forgot. Luckily, I was sleuthing the web for online Labor Day deals and stumbled upon this foundation (and free 3-day shipping). I received a package notification from my apartment and tore into the box to discover the Holy Grail of foundations as well as a free mini lipstick I'm sure Rihanna herself placed in there.  
Let's talk about the packaging. There is still a pump on this bottle, but I'm not the biggest fan of anything else about it. The plastic tubing feels cheap compared to the luxurious heavyweight glass of Soft Matte. Will it be easier to squeeze out the last few drops because of the plastic? Maybe. But Hydrating is designed in an upside-down bottle, so any last few drops will already be down at the pump. The first impressions of the packaging were not the best, especially for a $35 foundation.
As far as I'm aware, the shades between Soft Matte and Hydrating correspond. So, if I'm shade 100 in Soft Matte, I am also shade 100 in Hydrating. However, if you're concerned, there's a thorough color matching quiz on the Fenty Beauty website in order to find your shade in any product. Additionally, there is free return shipping within 60 days of purchase if you're unhappy with your selection.
For application, I kept everything consistent. I did not use any primer and I used my Morphe X Jeffree Star beauty sponge. With only one pump of Hydrating, I got a full face of light coverage that really impressed me. It was light enough for my freckles to show through but still covered my uneven skin tone. With just a light dusting of translucent powder to set it, it didn't even look like foundation. This was truly a "my skin, but better" foundation moment. And it was so soft! My face did not feel dry or flaky once. Now, I'm not very oily, so I can't vouch for how it holds up against oil. But it also isn't designed to be a dewy foundation. It was truly matte, just not the caky matte I'm used to with Soft Matte.
As someone who doesn't mind paying the price for quality makeup, I am thoroughly pleased with this product and definitely believe it was worth the splurge. It was everything I was looking for in a foundation. I'm really excited to incorporate this foundation into my makeup routine. It won me over with just one use, so I'm looking forward to creating more every day and glam looks with it. Fenty Beauty has truly done it once again. If Rihanna keeps reading my mind for her product launches, I may never need to buy another makeup brand again.