Harry Styles Just Dropped "Watermelon Sugar" and It's Enough to Satisfy Any Sweet Tooth!
Harry Styles has been a household name for years, mostly from the eleven year old fangirls who screamed the lyrics to "What Makes You Beautiful" in fully-packed stadiums around the world. Since his One Direction days, Styles has continued to make waves in the music industry and express himself through his own individuality. Dressed in a pink tutu and holding a glass of champagne for his Saturday Night Live promo, Harry is dancing his way into the hearts of millions, this time as a refreshing solo artist. After a two year hiatus since his debut album, Styles announced the anticipated release of his sophomore album, "Fine Line." The album will be released on December 13th, making it the perfect gift waiting under the tree this holiday season!
 Styles' newest song release, "Watermelon Sugar," is everything you need and more to get rid of those winter blues! On October 22nd, singer teased at the song's release, tweeting "Kiwi walked so watermelon sugar could run," referencing his beloved hit song "Kiwi" off of his self-titled debut album. "Watermelon Sugar" debuted on Saturday Night Live's November 16th episode, shortly following his performance of "Lights Up." "Watermelon Sugar" is the sweet escape from the hectic nature of everyday life that we all need sometimes, and just makes you want to throw on a sundress and kick back with a pina colada on the beach. It's sensual, sweet, and best of all, it's helping him achieve superstar status with his newfound level of confidence.
On November 19th, Styles released the 12-song track list for "Fine Line" via his social media accounts, sparking major excitement among his fan base, featuring songs including "Cherry," "Canyon Moon," and "Treat People With Kindness." When interviewed by Rolling Stone in August, the 26-year old singer described his album as being "all about having sex and feeling sad," featuring some of the most meaningful, profound songs he has ever written. Styles is taking the route to stardom in the fast lane, and we're absolutely loving the ride.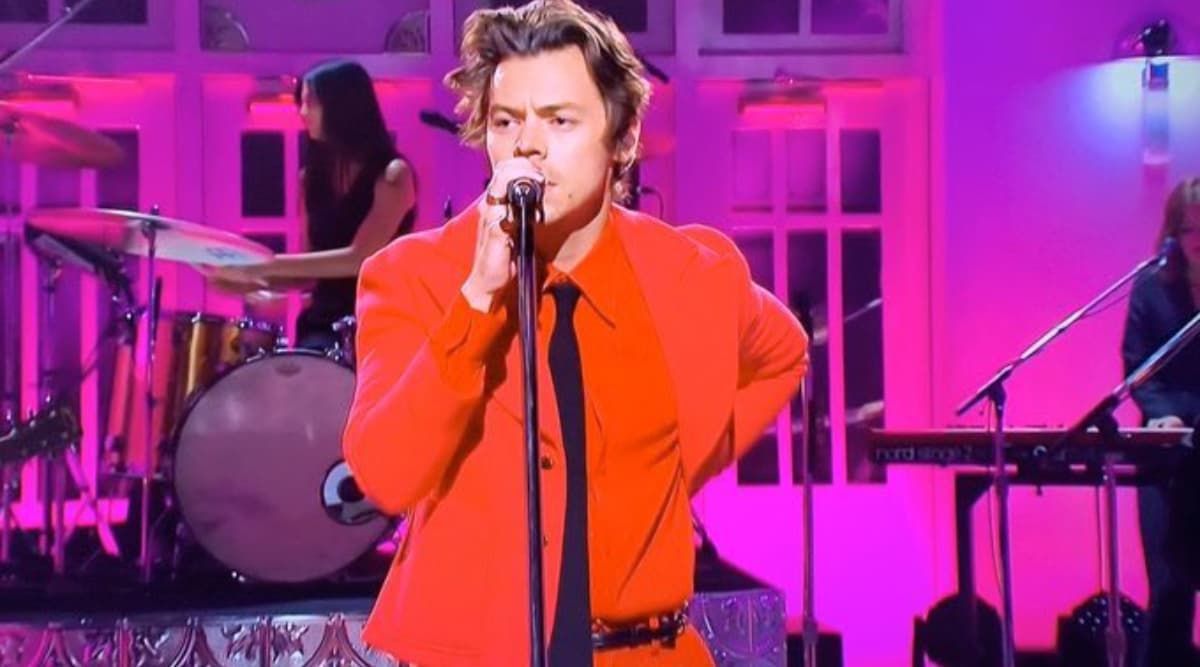 2019 has been Harry Styles' year. From co-hosting the Met Gala with Lady Gaga to releasing two new singles in a months time and announcing a six-month long world tour, Styles is making breakthroughs in the music community and beyond. Taking the stage with King Princess, Jenny Lewis, and Koffee, The Love On Tour kicks off in the United Kingdom and ends in Mexico. Tickets went on sale to the public starting Friday, November 22nd! 
Harry Styles has gone from garnishing the bedroom walls of young fans to a sexy solo heartthrob performing on stages around the world. His creative, carefree spirit translates over to listeners through his passionate, fun lyrics paired with his raspy voice. Styles' pride, charisma, and energy are contagiously radiant in his new era of music. Stream "Watermelon Sugar" on Apple Music, Amazon Music, and Spotify today!