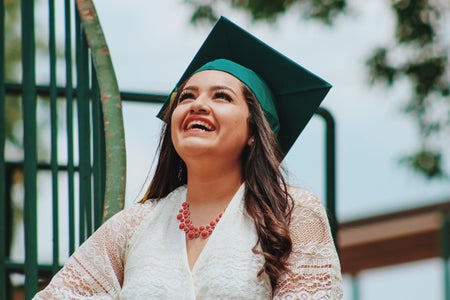 Name: Ella Signs
Major: Advertising Creative
Minor: Health Promotion
Hometown: Bath, Michigan
What made you want to study at MSU?: 
I've lived about 20 minutes from Michigan State's campus my entire life and both of my parents are MSU alums, so I guess I was kind of destined to be a Spartan. In the weirdest way, though, growing up a Spartan fan and being so accustomed to going to basketball games, football games and bopping around the East Lansing Art Festival each year made me feel like I was "settling" by attending MSU. I felt like I wasn't trying hard enough to get into another school. It took a high school teacher to remind me that Michigan State is a world-renowned university. There are people who travel to East Lansing to attend MSU from countries around the world and that I shouldn't for a second feel like I'm settling by going there just because I grew up nearby. I'm glad I took her advice!
What activities are you involved in on-campus? 
I've worked as an Usher (and now an Usher Lead) at the Breslin Center since my freshman year (fall 2018) and have met so many cool people through this job. It has given me awesome experiences working concerts, special events, and of course... basketball games. It's by far the best campus job and really made me feel like part of a community right away at MSU. And yes, I've been on the Jumbotron... multiple times!
I've also been working as a Student Media/Communications Intern with MSUvote since Fall 2020, and a Student Media/Communications Intern with College Life: East Lansing since December 2020. Both positions are incredibly rewarding and make me feel like I'm actually making a difference at MSU. I work to increase student voter turnout and civic engagement through MSUvote, and work one-on-one with MSU's Community Liaison to communicate important messages to off-campus students through my position with College Life: East Lansing.  
What are some ways you're getting involved off-campus?
The police brutality and racial justice events that defined this past summer really empowered me to find ways to get more involved with social justice and activism. I attended Black Lives Matter protests and sit-ins over the summer. They were outside, everyone was wearing masks, and the ones I attended made it easy to social-distance.  It was so inspiring to see people of all ages and backgrounds making their voices heard at these protests. I'm so especially proud to be part of a generation that I feel confident will make significant change in regards to social justice and human rights issues. I've also attended a couple virtual events hosted by MSU-affiliated organizations to listen to Black voices directly and to better understand the Black community's struggles and victories.  
Also, despite the negative attitudes many people have towards social media, I've found it to be an astoundingly impactful tool for educating people (especially the younger generations) about current events and human rights issues around the world. I'm constantly amazed at the vast audiences certain messages can reach and the supportive communities that exist entirely thanks to social media. As "Gen-Z" as it sounds, I think my greatest sense of community comes from people whom I've never met in real life, but who I've had the chance to feel heard, educated, and validated by on the internet. I hope older generations will soon drop the stigma surrounding online communities, because I've seen the real-life impacts they can have!
Can you tell me more about what you do for MSUvote? 
My specific duties as a Student Media/Communications Intern include creating graphics to promote events and highlight information, managing and updating the MSUvote website, and running MSUvote's Facebook and Instagram. I work to grow the accounts, engage with followers, and spread important election and civic engagement information throughout the MSU community. MSUvote comprises a coalition of around 30 community members, including the East Lansing City Clerk; the MSU community liaison; MSU faculty, staff, and students; and members from other democracy-related local organizations. 
What approach did you guys take to get the vote out? How did that go?
I really think the social media accounts were vital this year in teaching students the importance of voting and how to vote. Because of Covid and everything being virtual, we had to get creative as far as capturing student engagement. We utilized Zoom like no other in order to host election-related events: a trivia night with prizes, a viewing of the film The 13th, with a discussion following, Civic Dinners where participants would receive DoorDash and GrubHub gift cards to purchase dinner to enjoy while conversing about political & social issues with peers, and "how to vote'' webinars intended for registered student organizations (RSOs), fraternity, and sorority life. MSUvote students also hung Election Day goodie bags on off-campus apartment door handles with hand sanitizer, gloves, and a "how to vote" pamphlet inside. Similar pamphlets were also distributed to students outside of dorms on campus to help students living on campus learn how to vote. Maintaining a nonpartisan stance in all of our communications really helped MSUvote sustain its reputation as a credible, trustworthy source by students of all political leanings. 
It's hard to know exactly how much our work this fall impacted student voter turnout, as most students didn't vote on or near campus this year due to Covid, which makes it hard to track. However, the overwhelming consensus by researchers is that overall student voter turnout increased by around 10% from 2016–2020. I was also amazed at the student engagement with MSUvote's social media accounts and website, and students willingness to ask us questions about voting. I got to respond to a couple of dms directly, helping those people make their plans to vote. 
What are some changes that you'd like to see at MSU?
A greater sense of normalcy in learning about and helping social issues. Prior to covid, there were posters in dorms about different clubs and events related to politics & social issues, but I'd love for there to be more talk about such issues in classes, during sporting events, at social gatherings, etc. I just want it to be less taboo to talk about privilege, discrimination, oppression, and injustice so students can actually make strides in being the change our country needs. I feel hopeful that talking about and addressing social justice issues will be much more normal whenever we return to campus, as I feel such conversations are already more of a norm in general since last summer. Since I work at the Breslin Center and therefore have been allowed in there while no fans have, I've gotten to see that they now play a song related to racial justice before every game, preceding the regular national anthem. While some people might criticize that as being a means of performative activism, I really think that those small changes throughout our society will help aid in normalizing conversations and in maintaining overall attentiveness to racial issues in our community & country.