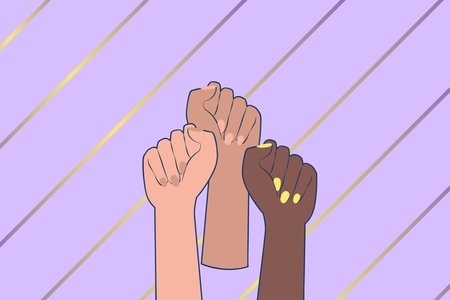 Original Illustration by Gina Escandon for Her Campus Media
It's here, ladies! It's a presidential election year! Every day, America inches closer and closer to picking our next president, with the primary elections and caucuses beginning as we speak! This June, New Jersey will hold our primary election to determine who our Democrat and Republican candidates will be in November, so start paying attention because you'll be in that voting booth pretty soon!
Out of the 32 candidates who originally declared their campaigns, 15 remain. Meanwhile, out of the original six women who entered the 2020 race, only half remain. Here are the women who have a shot at making history as our first female president:   
1. Elizabeth Warren
Canceling your student debt? She has a plan for that. Tackling climate change? She has a plan for that. Ensuring equality for everyone (and she means everyone)? She has a plan for that, too. Senator Warren is known for having extensive plans for basically anything you can think of asking her. She's passionate about it all – closing the gap in income inequality, decriminalizing marijuana, universal healthcare for all, and so much more. 
She has serious star-power, too. Some of her celebrity endorsements include John Legend and Chrissy Tiegen, Megan Rapinoe, Bobby Berk and Jonathan Van Ness, Scarlett Johansson, Constance Wu, and Jenny Han. 
You can learn more about her or join her team here. 
2. Amy Klobuchar 
Senator Klobuchar's most recent shining moment was her stunning interrogation of rapist and Supreme Court justice Brett Kavanaugh. She asked him if he had ever blacked out while drinking and he shortly shot back, "Have you?" 
She responded (like a boss), "I have no drinking problem, Judge." 
Since then, her campaign has been labeled "moderate," with her general policies being mostly liberal and her greatest focus on middle America. She has strong opinions about more accessible healthcare and has championed plans to combat the opioid crisis wreaking havoc on hundreds of thousands of Americans. To find out more about Senator Klobuchar's presidential plans or to join her team, you can check out her website here. 
3. Tusi Gabbard
Congresswoman Gabbard is a seasoned veteran of the National Guard and a tough nut to crack: despite being one of the lowest polling candidates, she is hanging in there like a champ. She is on the more conservative side of the Democratic candidates, responding "present'' instead of yes or no during the president's impeachment and having needed to apologize for working with anti-LGBTQ+ organizations in the past. 
She does, however, share the same core values as most of the Democratic candidates, especially on healthcare and the environment. Gabbard's main concern is the American people, and how the government is spending its money to help average Americans. 
You can learn more about Congresswoman Gabbard's campaign or join her team here. 
There are, of course, many more candidates running for president this year, but it's important to recognize womens' achievements in politics – especially when we've been barred from the process for so much of history. This election has definitely set a record in diversity, and it's been an inspiration seeing so many people of different backgrounds stepping up to the plate. But what's most inspiring are the women ready to shatter the ultimate glass ceiling: leader of the free world. It's going to be very exciting to track their progress toward the White House in the coming months.