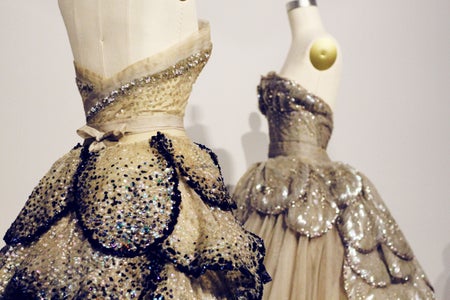 Alanna Martine Kilkeary / Her Campus
A Spontaneous Trip: Let's Go to The Met!
Life's too short to plan out your weekends all the time and waste away not spending your money on NEW experiences.
As a total neat freak, I surprised myself too when I got this sudden urge to just go out to NYC for the day. An urge to do something I still haven't done yet - The Met! 
Now I didn't want to miss my classes, so a tad bit of planning did have to go into this because I delayed this spontaneous trip until the weekend.
Honestly, it makes sense why I felt the need to go to The Met (a.k.a. The Metropolitan Museum of Art) in the middle of the week. It was the beginning of the semester and yet I already felt weighed down by my school work and my social anxiety since coming back from winter break. I thought I should go by myself to this trip since I've been around the city alone before, but asked one of my good friends and she was down to go too! 
Both of us got together at the Secaucus train station and made our way to The Met. Once we got inside, we first got to Greek and Roman Art, where there were mostly sculptures of well-known historic figures and included coins and jewelry from their designated time periods. After, there was a corridor that led to the African, Oceania and Americas Art which was probably one of my favorites because of all of the color and different types of works that were included. 
This section emphasized the craftsmanship of these 3 regions and a few of my favorites came from the African Arts section where many sculptures were made to represent ancient ancestors. 
My next favorite was the second floor where there were European paintings. It included most of Vincent Van Gogh's works which were even more amazing now that I was seeing them up close, and the French Art in the Stephen C. Clark Gallery where the colors and tones of paintings were drastically different from the rest of the European Art that's been acquired. 
I won't spoil it all, but I highly recommend going to The Met. This experience was more than just checking off that box for one of the dozen places I wanted to go on my list, and something more than just making sure I was going out on a Saturday night. 
One of my resolutions this year was to try and do more spontaneous things to get out of my comfort zone. This meant to spend more money on experiences rather than materialistic objects, as I've also been trying my best to lead a more sustainable lifestyle. It seems like as college students we can get wrapped up in things we want all the time, that we don't take care of our needs as much. This is more about fulfilling that part of you so then you're satisfied about what you're doing for yourself, rather than always finding a balance. Even though as a Libra I should fully support this idea, but this is about living our best lives in 2020!