Hi, I'm Kelsey and I'm a shop-a-holic. But I'm trying to be a bit more of a conscious shopper, so I want to show you some of my favorite brands that I've discovered that are sustainable and ethical. 
Before we get into the good stuff I feel like I should preface this by saying a couple of things.
It's a huge privilege to be able to buy things from sustainable and ethical brands. The reason being is that typically these places carry higher price point items – and not everyone can afford them! (Just a warning a lot of the brands I'm going to show you are expensive!! Like I need to save A LOT before buying from them!)

You shouldn't feel pressured to buy anything from a sustainable and/or ethical brand knowing it could cost you all the money you need to cover this month's grocery bill! Hun, you need FOOD! An alternative could be to shop your own closet with pieces you haven't worn in a while or take a trip to the thrift store to buy some second-hand goodies. 

Honestly within our consumerist-driven society, at some point in your life, you're bound to buy something that is considered unsustainable SO just treat your things with CARE! That way they will last a long time, and you don't need to throw them out quickly. 

In the world we're living in today, Amazon has kinda been messing it up for the rest of businesses. I would be a hypocrite and straight-up LYING if I told you I don't buy things from Amazon! I'm just saying that their prices and their speedy delivery services are NOT NORMAL. Someone working for them, whether it's their manufactures, their employees who are packing your order and the person delivering it to your door – they're more than likely not making enough for the labor-intensive job they're doing (This isn't just Amazon, there are so many other places who are exploiting their workers)! When you're buying from a brand that tries to do good for the environment and its employees, you're giving them money to continue to provide a living wage and even create more jobs in this sustainable sector for others to join as well! 
If you have the time to do your research and money to spend on these places that are actually trying to do better for the environment and their workers, please do so!
Alrighty, now onto the good stuff …
One of my favorite brands currently at the moment: Djerf Avenue! 
Djerf Avenue was created by the Instagram influencer/content creator Matilda Djerf and her boyfriend Rasmus. They launched the brand a little bit over a year ago, and they pride themselves on their sustainable and ethical business practices. They use factories in Portugal where they have more strict labor laws, to ensure workers a safe working environment. They produce in smaller batches to limit the amount of product and fabric waste, and they use fibers such as organic cotton, BCI cotton and other recycled fibers! They're pretty expensive and they ship from Sweden, BUT totally worth it. I love all my pieces from there! Inserted a picture of me and my Favorite Pants below!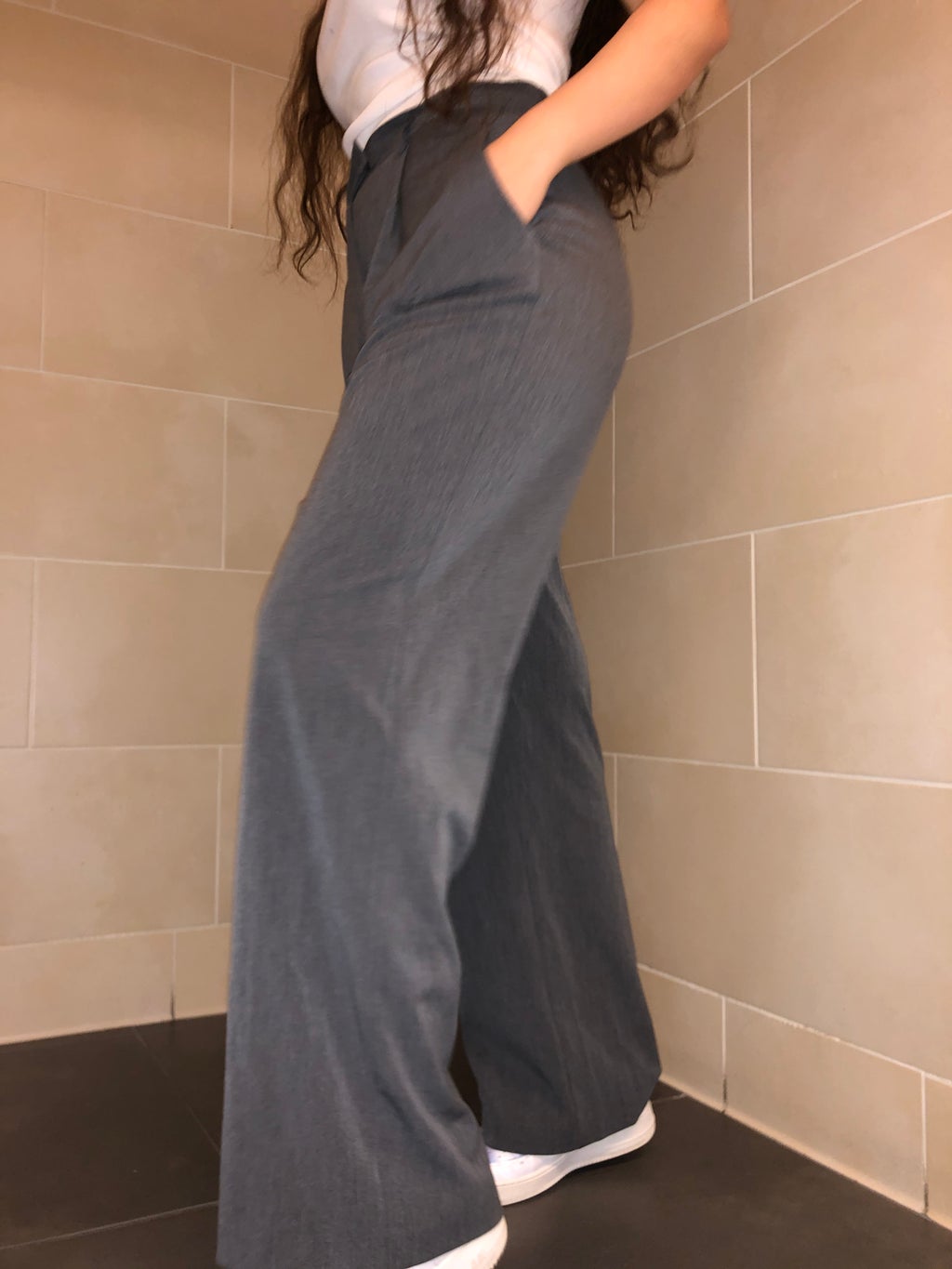 Sustainable and Asian-owned brand: Sthr Studios! (pronounced Esther)
I discovered Sthr Studios within the last couple of months on Instagram – I haven't bought anything from them YET… Just waiting to save up a bit! They're a sustainable brand conceptualized and made in New York! They use deadstock fabrics as well as natural fibers for their pieces. I think the reason I love them so much is that they remind me of the cool gal brand Orseund Iris – but Sthr is sustainable! Take a look at the "design process" section of their website, you won't be disappointed! 
Size-Inclusive and Sustainable Swimwear: Bold Swim!
Okay, sooo I'm obsessed with swimsuits! But swimwear fabrics are made from manmade fibers and are usually made from some type of plastic. And we all know how harmful plastics can be. What's great about Bold Swim is that their fabric is made from Amni Soul Eco – the first biodegradable polyamide yarn! Basically, when this fabric has reached its end, when it's properly disposed of, bacteria can break it down within 3-5 years! SO much faster than normal! Bold Swim also offers a wide size range, to give ladies of all different sizes the opportunity to buy some cute suits! 
Here's an article that includes 25 sustainable brands that aren't just apparel. Happy shopping!