The Good Place is Ending and Everything is Not Fine
When I first tuned in to "The Good Place" four years ago, it took me a while to feel really passionate about the show. It took me the whole first season, in fact. I wasn't a superfan of Kristen Bell or Ted Danson. I only knew I liked the creator, Micheal Schur, and his past works ("The Office," "Parks & Recreation," "Brooklyn 99," the Nosedive episode of "Black Mirror," etc.) Knowing that Schur show was rarely a waste of time, I stuck it out the whole season, and I'm so glad I did.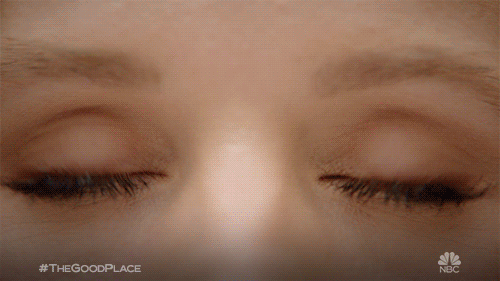 "The Good Place" is something unlike you've ever seen before. It's a comedy, an ethics class and a commentary on the way we live all in one. The show follows Eleanor Shellstrop (Kristen Bell) and her journey through the afterlife, as she struggles to fit into The Good Place after realizing she's there by mistake. The friends she makes along the way, the bonds they form together, feel as priceless as the ones I have in my own life. Each character connects to you in ways that make you reflect on yourself, just like real friends do. 
Chidi (William Jackson Harper), the charmingly nerdy and indecisive ethics professor makes you genuinely excited to learn about moral philosophy. Jason (Manny Jacinto) may seem like dumb comic relief, but you may find yourself genuinely proud of him when he does exactly the right thing. Tahani (Jameela Jamil) will remind you there's nothing wrong with taking pride in who you are and where you come from, and that manners can take you further than you think. And Eleanor… well, we all have a little Eleanor in us, giving ourselves the benefit of the doubt, time and time again because life is hard and we all deserve a pass sometimes (or in Eleanor's case… all the time). 
And because I've bonded with these characters so closely, I'm really going to miss them when the show draws to its ultimate conclusion this coming January. Micheal Schur and the show's writers have decided to end this story on their own terms, rather than drawing it out, jumping the shark, and waiting for NBC to cancel them. It's an honorable move, I'll admit, but it doesn't make it any less heartbreaking to watch my friends pass on while I stay behind here on Earth.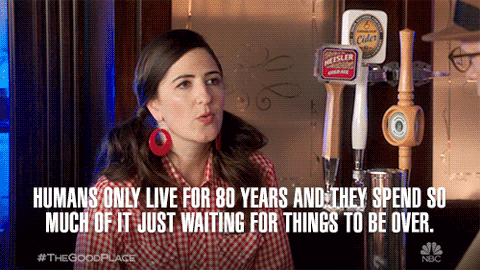 At the end of the day, "The Good Place" is a show about caring. It nudges you in the middle of watching, leans over, and whispers, "Hey – it's cool to care." Care about your friends, care about yourself, care about what you're doing and where you're going. You don't know what anyone's going through at any given point. Care about them. Care about them because one day, when you need it most, someone is going to care about you. 
"The Good Place" is good not just because it makes you laugh but because it makes you think, not about the show but about yourself. It teaches you "On What We Owe to Each Other," and that what you do for others doesn't define you. It teaches you how to be loyal and practice restraint in the face of adversity. Most importantly and regrettably, it teaches you that everything must come to an end: humans, best-laid plans, and even great TV shows.
If you haven't seen this masterpiece of a TV show yet, I'm not sure there's much else I can say about it that will convince you to start watching. There are too many great moments in this show for me to list them all here for you to read. This show is full of little, brilliant things and big, grand, great things. It's full of sweet, small gestures and surprising hail marys. There are so many emotions the Soul Squad has dragged me through that I know I won't ever be the same, but at least I know I'll be better than I ever was without it. I've grown a considerable amount, through the latter half of my teen years, as this show has progressed. I can't imagine who I'd be without it.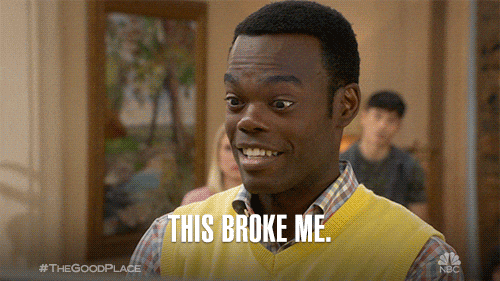 I guess there's only one thing left to say, and that's, "Goodbye." Goodbye Michael, Janet, Tahani, Jason, Chidi, and Eleanor. Thanks for taking me on this wild ride. You make me hopeful about the afterlife. See you in the next one.