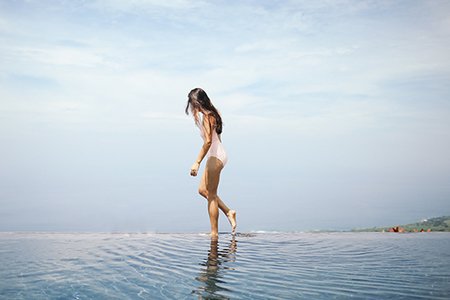 Tessa Pesicka / Her Campus
Essentials For a Bomb Summer Wardrobe
Now is the time to go shopping for a new summer wardrobe as there are so many awesome sales happening online right now! When you're going shopping, there are some things you should consider when picking out summer clothes such as versatility, comfort, and transitional use. Here are a few essentials that you'll need to keep a fresh look this summer!
Plain tees
This is a wardrobe must-have no matter what the season is! Plain tees are staple pieces and obviously go with everything. You can layer them under sleeveless dresses, pair it with denim shorts, or a mini skirt. Graphic tees are really popular right now as a statement piece to your outfit but you also can't go wrong with a couple of solid plain tees!
Flowy sundresses
Every girl has to have at least one sundress in their wardrobe! Flowy sundresses can be both sporty and girly depending on how you wear it. I love wearing sundresses in the summer because of how light and airy they are! They're comfortable and breathable which is really important when you're under the sun. 
Cool shades
Sunglasses are a year-round type of thing but are so much more important for the summer when the sun is blazing. Polarized sunglasses are great for when you're out in the sun because they offer the most eye protection. I love a good pair of oversized glasses because they are the most flattering for my head shape and size.
Slip-on sandals 
Okay, but who doesn't own a pair of sandals? They can be so cute and comfortable for the summer and they add a little more of a feminine touch to an outfit. I love a good pair of slip-ons because honestly I can't be bothered when it comes to a lot of straps. Slip-ons are supposed to be convenient and easy to slip on (no pun intended) before leaving the house. I suggest having at least one flesh-colored pair of sandals because they elongate your legs and match with a ton of looks!