I'm not sure about you, but after this tumultuous past year and a lack of going out, I truly feel like I've forgotten how to get ready. I haven't put on winged liner in MONTHS and definitely forgot how to use a curling iron. I'd been scrolling on my for you page and came across a heatless hair tool I wanted to test out. Since I can't remember how to curl my hair, using heatless hair techniques is an easy, and effortless way to make it look like I tried without the hassle or harm to my hair. 
I want to show you a couple of ways to get these cutesy curls. Just as a disclaimer I have a thick and wavy (but frizzy) hair type. 
First things first, with any heatless hair technique it's best for your hair to be damp. I don't know the science behind this, but I've  definitely seen a difference in the waves/curls using dry vs damp vs wet hair. If my hair is too dry, I find the curls don't curl as well or even last as long. If my hair is wet, it will take FOREVER to dry (like more than 6 hours). Dampen your hair with a spray bottle or wait a little bit after getting out of the shower before styling with these techniques for the best results.
Another little tip I have for using these techniques is to have loads of patience. Because your hair is damp, it will take a little for it to dry, and also the curls/waves will be more defined the longer you wear the style. Pro-tip, use these before you go to bed so your hair can dry while you're sleeping – literally a lazy gals guide to good hair!
The first style you can try is a braid (or braids)! Depending on the different braid you use, there are different wave styles as well! I would recommend a normal braid for simple waves, a fishtail for more of a crimped style and even try a french braid if you want the waves to start at the root of your hair! You can use a single braid to give your hair some uniform waves or try adding two or braid waves so that you can make the waves less uniform. With a braid, you can wear it up all day long, and the next day wear your hair down for some wavy locks!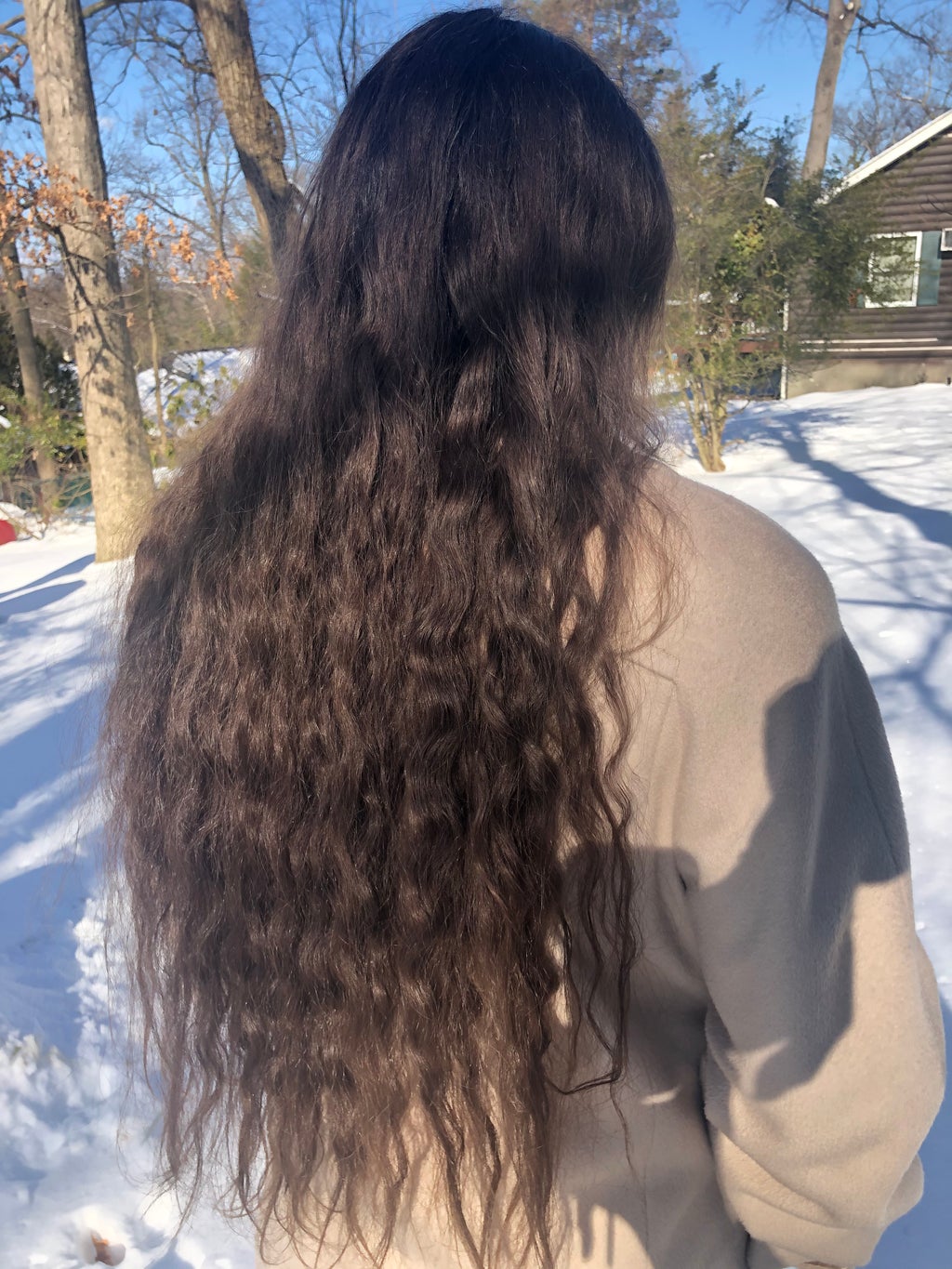 For these waves, I used 3-4 regular braids and just slept with them overnight.
The next style you can do is put your hair into a bunch of different buns! I used to do this all the time when I wanted that mousse scrunched hair back in my middle school days. Now it's sans mousse LOL. I like to do this now, but a fair warning is sometimes it's not that comfortable to sleep with a bunch of buns in your hair! If you use a messy bun method the curls have less uniformity, and in my experience can be a bit frizzier. If you use something like ballerina buns then you'll have more uniform curls, but make sure to keep them in as long as possible because I find the curl doesn't last as long. 
I recommend it for anyone who has a curly hair type but struggles with keeping them defined and not so frizzy after stepping out of the shower to use a netted wig cap or fishnet stockings! Add some of your favorite curl-defining products, then put your hair in some fishnets. This way your curls can breathe while drying but also stay nice and coiled!
Lastly, my favorite way to get me some salon waves without using any heat… I saw this on Tik Tok and it's a GAME CHANGER. There is a tool from the Heatless Hair brand online, but with some scrap fabric I had leftover, I made the tool and it works perfectly! Basically, you get this long silk (satin works too) tube and clip it to the top of your hair. Split your hair into two sections, left and right. Then you wrap a piece of your hair around the tool away from your face. Keep on picking up more pieces of hair while wrapping it around the tube. When you are at the end, secure it in place with a scrunchy. Then you wait! This one is a stay-at-home all day or sleep at night while wearing because you will like George Washington, HAHA. The curls are worth it though! I am obsessed with these curls, and how easy it is to get them!!

I can't believe I'm sharing this LOL but here's what my hair looks like while using the tool! (tool pictured to the left) You can use the strap from a robe as well instead of buying or making the tool.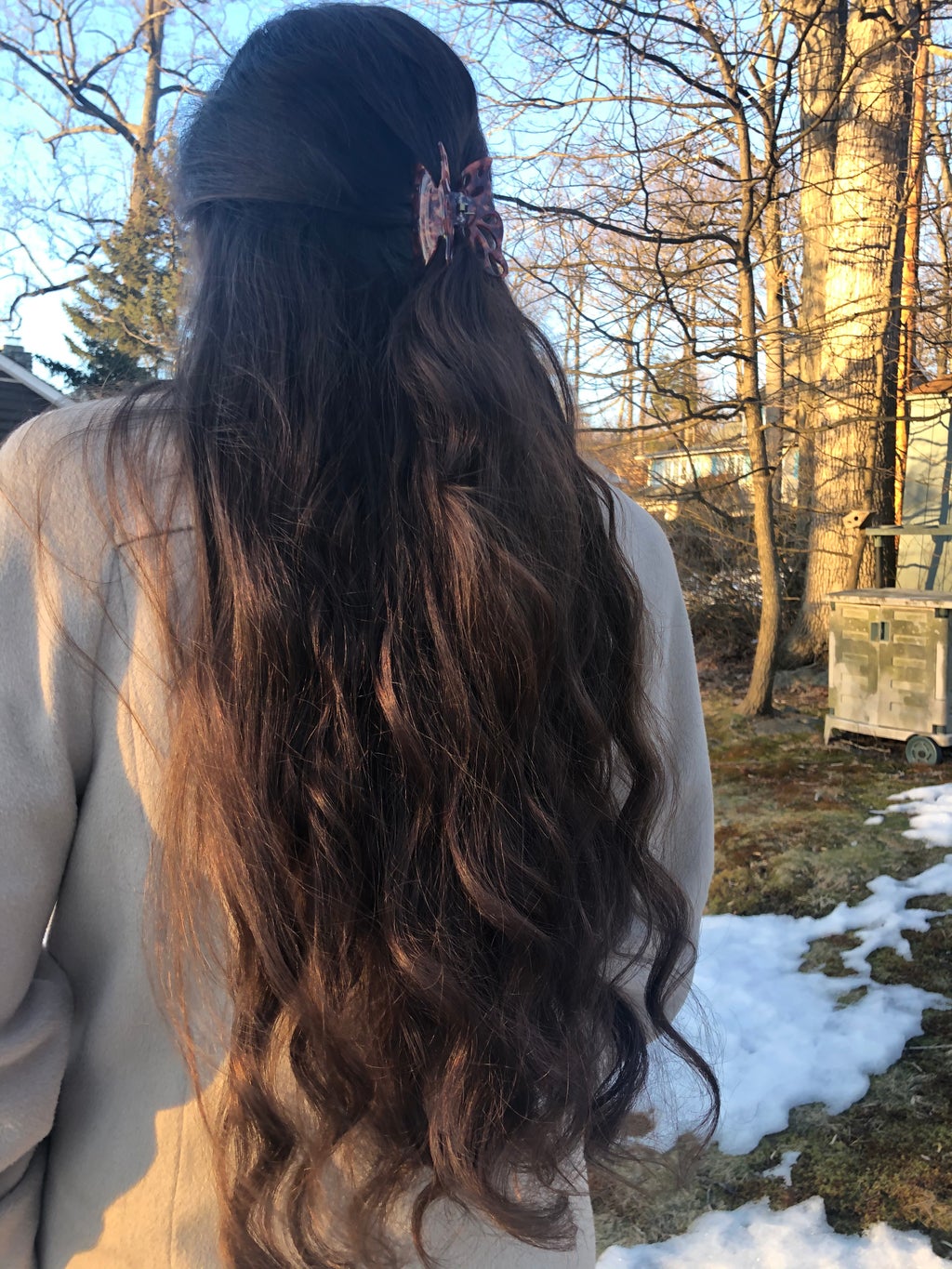 And here's how my hair turned out! Run your fingers or a wide-toothed comb through your hair to loosen the curls. That's the only thing you need to do!