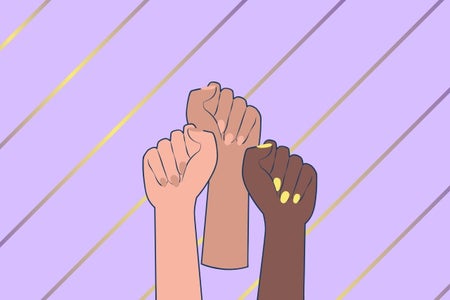 Original Illustration by Gina Escandon for Her Campus Media
Influential Women of 2020
The year 2020 has been nothing but a chaotic mess. We have all been stuck inside, practicing social distancing, watching news updates about COVID, to hearing about massive wasps that could kill someone. I know one thing that has kept me going is seeing women continue to thrive in 2020 despite all the challenges being tossed around.
First of all, may RBG rest in peace. She was a force to be reckoned with, truly. Ruth paved the path for so many women and fought for so many rights for women and everyone as a whole. As a matter of fact, she was the second woman to ever be sworn into the supreme court. She fought since the beginning of her career for equal rights for women, equal rights for everyone, civil rights, and so many more issues. Because of Ruth, women have the right to vote, same-sex marriage is legal, and even passed an act to have equal pay for everyone. 
Alexandria Ocasio-Cortez is a powerhouse. While she may not seem like a "leader" holding speeches and attending events, she is using the power of social media and her voice to connect with people. Instead of speeches, AOC shares her thoughts and opinions on numerous topics on Twitter. She really is a genius for this because of how many people use Twitter as a news source nowadays. People do not seem to give her enough credit because she is a woman of color and does not fit the normal mold for a leader in politics. As a woman with power, she has been brutally examined by the media for little things such as her hair of facial features. Her knowledge and understanding about social media has really benefited her. With so many Millenials and Gen Z using social media, she has garnered a strong support system through her use of social media. Everyday she fights for low-wage workers, equal rights, civil rights, etc.
Greta Thunberg made waves the second she started missing Friday's from school to go on strike for climate change. Her initial single person movement grew and grew into worldwide strikes, protests, and marches. The world was shocked to see such a young woman be so passionate about an important topic of discussion such as climate change. She has attended speeches, conferences, has been called TIME's person of the year in 2019, and countless interviews. Politicians seemed to be stopped in their tracks with her infamous line of "How dare you?". Her determination makes her unstoppable. Even in the year 2020 with all of these challenges up in the air, she continues to fight for climate change.
While there has been some debate on Kamala Harris and her past, you cannot deny the fact that she is one of the most influential women of 2020. Up for election to be the Vice President of the United States, Kamala Harris has proven time and time again that women are just as powerful as men and even more. She was the second Black woman sworn in as a Senator and the first South-Asian senator in history. For her entire political career, Harris has fought day and night for the civil rights movement and equality. With her position of being up for election, she could really create a massive change from the inside of congress. She continues to fight for better wages for working people, support for military families and veterans, reforming our criminal justice system, and countless other issues at hand.
While Lizzo may not be a politician, she has shown that a musician can still create a lasting impact on society as a whole. As a plus size Black woman, she has made an effort to encourage everyone to learn to love themselves for who they are regardless of skin color, weight, height, or anything else. She has been a voice for the Black Lives Matter movement as well for years now. Being a musician, she is able to share her positive energy and encouraging words through her music for anyone to hear and resonate with. Even in quarantine, she continued to spread positivity and awareness.
As a young Black woman, Zendaya has faced many challenges. Despite those challenges, she has continued to thrive and proven herself as a dancer, singer, and actor. She first faced the world in her role on Disney's Shake it Up. Since then, she has gone on to star in movies and shows such as Spiderman: Homecoming, The Greatest Showman, and Euphoria. She is incredibly passionate about civil rights and gender equality and is not one to shy away from speaking about it. Just recently, she became the youngest person to win an Emmy for her role as Rue Bennett in HBO's hit show Euphoria. She has given young women a voice and a role model to look up to.
Ariana Grande has faced backlash for numerous issues in the past, but she continues to work hard to be a role model for her supporters. When George Floyd was murdered back in May in Minneapolis, MN, she switched all of her social media to being a resource of information, petitions, and updates on serious situations going on in the world. To this day, if you go to her instagram or twitter, she keeps a link in her bio to encourage people to register to vote. She even posts updates weekly on her instagram story to show when it is the last day to register to vote or even request an absentee ballot from each state. To further show support for the Black Lives Matter movement, she stopped going to Starbucks and supporting them as a company, and she instead began going to locally owned POC coffee shops. She makes an effort everyday to show her audience how important it is to stay up to date on current issues, the importance of voting, and supporting local businesses.