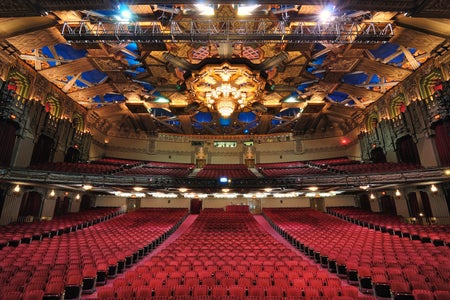 Why You Need to See 'Beetlejuice' Before it Closes
If you've yet to get to the Winter Garden and witness the fun, chaos, and pure magic that is Beetlejuice, make sure you get there before the big, bright, beautiful set is packed up and moved out on June 6th, 2020. There has been a good amount of hype and attention surrounding the show since it first opened during the 2018-2019 Broadway season, which followed its run at the National Theatre in Washington D.C. 
If you've seen the classic 1988 film starring Michael Keaton and Winona Ryder, that's great, because you know the story and the zany mood. If you have not seen it, or even if you dislike it, I can promise you that it won't affect your feelings about the musical, which was nominated for eight Tony's this season including Best Musical, as witnessing a production of this caliber is an entirely different experience.
 For starters, Tony nominee and former School Of Rock star Alex Brightman is surreal. He makes Beetlejuice, a demon who thrives off of terrorizing those whose paths he crosses, a character that is simultaneously irritating and endearing, and his voice is incredible as per usual. The dark humor and high energy make for a viewing experience that is incomparably fun, and Brightman's performance certainly lends itself to that. 
At the same time, though, it tugs at the heart strings as the audience is able to relate to heroine Lydia Deetz, who navigates a life where she feels invisible and struggles to grieve the loss of her beloved mother, as well as the lovable Barbara and Adam Maitland: a couple who dies in the home the Deetz family moves into. They are at first painfully average, but they're also sweet and caring, and they eventually become extremely courageous and aid Lydia in her quest. 
While the original Lydia, the talented Sophia Anne Caruso, brought heart and spunk to the character, she has moved on to pursue other work in the television industry, and the new actress taking on the role is the young Presley Ryan, who is also beyond her years in regards to her talent. 
So, while the show is filled with slapstick comedy and one-liners that make the theater rumble, it also explores emotions and aspects of life that are undeniably human. It's also a show that makes fun of itself and is very much aware of what it is. In fact, within the first ten minutes, Beetlejuice draws attention to the fact that starting the show with a ballad is a "bold departure from the original source material." And, while they do not overshadow the amazing cast or the score that will be stuck in your head for days as it encompasses a mix of heart wrenching ballads and pop-rock tunes, the visual effects are simply stunning. Everything is larger than life, but not in a manner that feels like overcompensation. Rather, the lighting, sound, set, costumes and makeup only add to the imaginative and old-timey feel that made the film a cult classic. 
Honestly, the critics have given mixed reviews in regards to the show, as some have loved and praised it, while others found that it came up short in comparison to the Tim Burton film. We have to keep in mind, though, that movie-turned-musicals are their own entity, and while they take inspiration and the core material from the original work, they also add a whole new layer when they are put on a stage. Regardless of the mixed reviews, the show has something everyone can enjoy. It's spooky and weird, but it also keeps audience members smiling, laughing and even tearing up. In fact, the news that the show would be leaving Broadway this summer was not taken too well amongst theater-goers. It's a show that does not take itself too seriously, but it's also genuine and rooted in family values. So, if you're able, get yourself to the Winter Garden for a night of wicked fun. As the titular ghost himself says, "IT'S GONNA BE SO GOOD!"