My Experience Traveling Overseas
I'm a military kid and with this reality comes moving every few years of my life. For eleven out of my nineteen years, I have lived overseas. I was born in Japan and lived there for four years. I lived in England for four years and Germany for three years. With the convenience of already living in Europe for seven of the eleven years overseas, my family took complete advantage of traveling to new countries. From Hungary, to Italy, to the Czech Republic, we've traveled to over 20 countries. Every spring break, summer vacation, and winter break, we went to new places.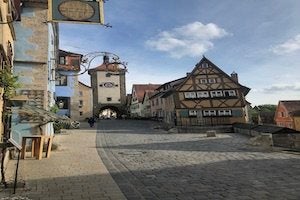 Gabrielle Fiorella  
My favorite aspects of traveling around Europe have been the vibrant and beautiful cultures that I experienced and witnessed. The foods, the music, the visual arts, and the languages really immersed me into the culture. It made me feel excited and grateful that I was able to travel to each country. I'm so glad that I have never been a picky eater because I always tried the delicacies in each country. If I really liked them, I now miss the foods and have in some way or another tried to recreate the foods or discover them in a local store. Some recreations have been successful. Some have been unsuccessful, and in those instances it was the effort that counted. Every place I went I picked up a magnet and to incorporate the visual art that I saw. I would try to find a magnet that really incorporated what I saw and experienced. I'll always have memories of each place I've been, but looking at the magnets will remind me of amazing trips that I dearly miss.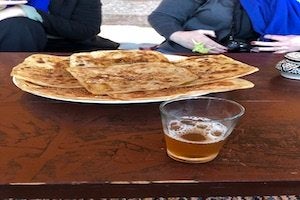 Gabrielle Fiorella
My top three favorite places that I have been to would have to be Greece, Morocco, and Iceland. Each place brought such an amazing experience that was so unique in itself that they became absolutely unforgettable. The environment, the views, and the activities to do were fantastic once in a lifetime opportunities. In Greece, the views on the island of Santorini were so serene and dazzling, leaving me absolutely stunned. We went snorkeling in crystal clear waters with beautiful fish and octopi swimming around with us. The biggest thing we did on the trip was hike from the north corner of the island to the south end. In total it took us about 10 hours, but the views and sites were extremely worth it. The hike's purpose was to go see the best spot on the island and in our part of the world, to see the breathtaking sunset. In Morocco, the sand was plentiful as we were surrounded by desert, and the culture was beautiful. We rode camels, trekking through Ait-Ben-Haddou, an old caravan route between the Sahara Desert and current day Marrakech. Another thing we witnessed were goats in trees! Yes you read that right. Tree goats are a real thing and it was so entertaining to take pictures of them and even hold one! Morocco was a unique experience that I will never forget.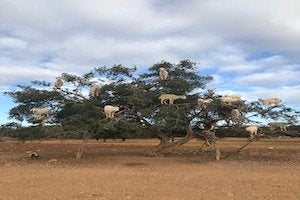 Gabrielle Fiorella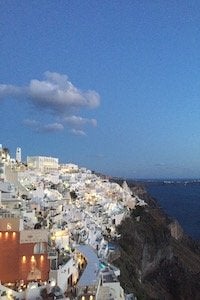 Gabrielle Fiorella
Over this past winter break, my mom decided to squeeze in four trips to places we haven't been yet and we want to go before my parents move back to the states from Germany this upcoming July. Over the break, we went to Belgium, the Czech Republic, Iceland, and Denmark. We also took the train for a day trip to Sweden during our Denmark trip. We did so much in what seemed like a long break, as it was longer than most colleges' breaks, but with my family doing so much in the allotted time, the break seemed too short. The 4 trips were extremely fun though. I had been to Belgium and Prague, Czech Republic before, but this time, we went to the Christmas markets because they are amazing during the winter months. Iceland, being one of my top three favorite places, was incredible.
The weather was extremely harsh, snowy, and cold, but the trip still was very enjoyable. The highlight of this trip was The Blue Lagoon. It's a huge natural hot spring that opens you up to the elements of the harsh Icelandic weather outside and the warmth from the Earth's core. The water is sulfuric and full of silica which is apparently fantastic for your skin. Before we got into the water, we were given a mud face mask to put on. My skin felt amazing and renewed. The whole experience was tremendous, and I'm so grateful that we decided to go to The Blue Lagoon. Our last trip we went on was to Denmark and taking a day trip to Sweden as well. Denmark was beautiful with its history, landmarks, and views. We tried the delicacies, and they were delicious. My favorite was the food we tried in Sweden. It was a plate with a type of fish egg. I was weary because I'm not the biggest fan of fish, but I actually really liked this dish!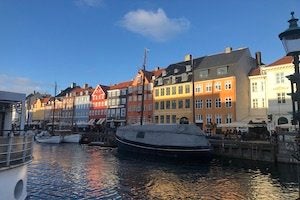 Gabrielle Fiorella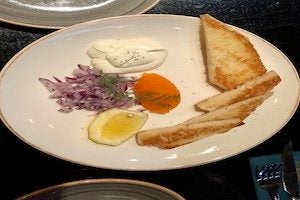 Gabrielle Fiorella
I'm going to miss the ease of living overseas and being able to drive to different countries. Living was good while it lasted! I'll be going back to Germany in May to start packing up the house. I'll go to two or three more places, and then my dad will retire from the Air Force!