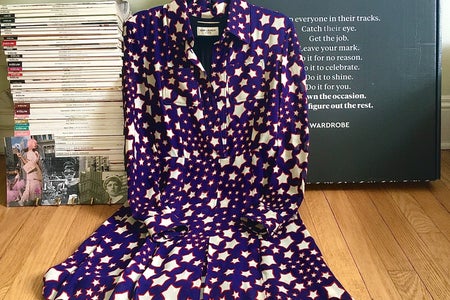 Original photo by Hannah Griffee
During the past few months, I've had the fortune of having designer clothes on rotation. It's the first and only time I've had access to these labels and even without somewhere to go, it's brought something to look forward to during endless days of studying from home. Brooklyn- based luxury rental platform, Wardrobe, allows anyone in the U.S. to browse hundreds of closets and rent exclusive designer dresses, bags, and shoes for a selected rental period and ship the items back at no cost to the renter. 
As a fashion student and advocate for sustainability, the concept of renting clothing was always appealing to me but not enough to reason with the subscription costs of these services. With Wardrobe, there is no commitment necessary, just renting whatever you want, whenever you want, and insiders can earn free rentals meaning, yes, you can build your dream closet. Currently, I'm eyeing a Burberry scarf and a Louis Vuitton top-handle bag (that I should mention are both under $35). 
Even if the pieces can only be yours for a few days, anyone who loves fashion will appreciate getting their hands on the biggest names in the industry, especially at such unheard-of prices. Renting is also a great way to try out styles or trends simply for the joy of it, haven't we all looked at a runway show or magazine spread and wondered what it would feel like just to wear the clothes? 
This past semester has looked very different, but on a rare trip back to the city for the day, I did feel pretty special sitting on NJ Transit in a rented star-print dress. Although we don't need to always buy new, there's no denying the satisfaction that comes from it. With renting, you can get something that feels like new but has actually made its way around quite a few times. Wardrobe pieces always come dry-cleaned and in their own garment bag to ensure cleanliness for each renter. 
The next time you're thinking about buying something for one-time use or just want to treat yourself, there's plenty of options from brands like Alice + Olivia, Moschino, Saint Laurent, and Nanette Lepore on Wardrobe that will do the trick. My campus rep code "6BAO" will get you $25 to the site, so go ahead and own the occasion.