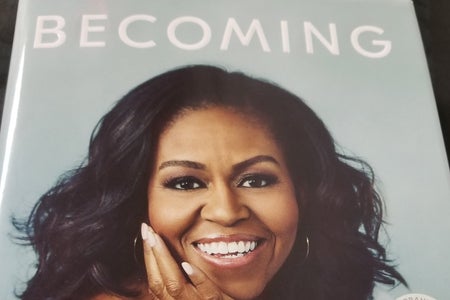 4 Reasons Why Michelle Obama and Her Message Are Relevant in 2020
You may have read Michelle Obama's memoir, "Becoming," that hit shelves in November of 2018, or perhaps you have seen her Netflix Documentary that came out during the summer. Maybe you have even listened to her new podcast on spotify in recent months. No matter which medium you have indulged in, you probably have recognized the importance of Obama's platform and message in the year 2020. Here are 4 reasons why it is relevant.
1.

The message of "Becoming" can give us "hope" in a time full of unknowns

"For me, becoming isn't about arriving somewhere or achieving a certain aim. I see it instead as forward motion, a means of evolving, a way to reach continuously toward a better self. The journey doesn't end," says Obama.

 

While life and goals can easily feel 'put on hold' during this global pandemic, the former First Lady reminds us all that we are living an ongoing journey. It is the times when we take a step back and focus on ourselves that we truly see all that we are and all that we can continue to improve on and become. We have every reason to hope for even greater things to come. 

2.

Michelle Obama was the first African-American First Lady and holds a great platform for being an ally in fighting systematic racism in the country

In Obama's Netflix Documentary, she sat down with a group of teenagers to talk, listen to their stories, and give important advice. One girl in particular asked Obama how she dealt with and overcame the feeling of invisibility as a black woman in her early years.

 

"I never felt invisible," Obama replied. She explained that she owes it to her parents for always making her feel visible and heard. She then explained that visibility starts from within.

 

"We can't afford to wait for the world to be equal to start feeling seen," she said. "Time won't allow it." 

 

While looking at the teenagers she instructed them to find the tools within each of them to feel visible and use their voices. 

 

"Do we settle for the world as it is, or do we work for the world as it should be?" she said. 

3.

2020 is an election year

Not only is America fighting a pandemic, facing multiple natural disasters, and standing up for Black Lives Matter, but the country is in the midst of an upcoming election. Obama inspires us to speak up, use our voice, and vote. As true Americans we must use our right to vote, and no matter the outcome, we can and will create a country worth living in.

4.

She focuses on the importance of teaching children in the home

For the last 6 months we have been fighting Covid-19 which has forced many to stay home. This has allowed more time to be spent with family. Michelle Obama believes that teaching our children starts at the dinner table. With more time around the table it allows for open conversations to take place. Conversations about race, diversity, inclusion, and finding your own voice are perfect topics to start with. 

 

In a time that seems far from normal, Michelle Obama reminds us the importance of doing some soul-searching. She advises us to take a look at who we truly are and who we want to become. As the former First Lady, she holds an influential platform to encourage, educate, and inspire. May we follow her example on our own paths of becoming and use our voice, stand up for systematic racism, and teach our children the basic life skills that are more important than ever before.