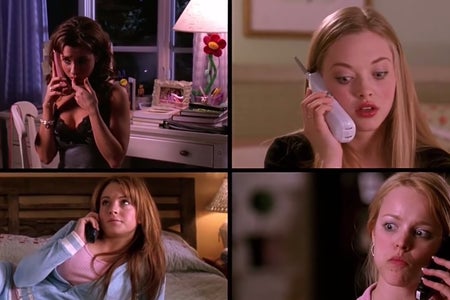 11 Trendy Halloween Costumes You Can Put Together From Your Closet
Halloween is the one night a year when girls can dress like a to- however they want and no other girls can say anything about it. 
Even if you're not going anywhere this Halloween, a diy costume is a chance to get into the spirit by getting creative and putting your dress up skills to the test. For inspo on looks to pull off from your own closet, check out these ideas. Because Halloween is cool. 
As the owner of a black cat, I feel especially connected to this one. Go the Sabrina route with a collared shirt, tight skirt, over the knee socks, and headband or summon a Sanderson sister with a long skirt, structured bustier, and lace-up boots, either way you'll look chilling. Just because it's been done doesn't mean it can't be original. 

Dig out any evening gloves, feather boas, pearl necklaces, and opulent earrings in your possession and become an overnight sensation. And if you happen to have a white halter dress, you've already won most fabulous film star. Also an effortless option, wear a black dress and heels to be the lovely Miss Holly Golightly. 

Recreate the dark high school clique movie with a thrifted blazer and plaid skirt combo, add  

knee-high socks and heels, and you too can be a Heather for the night. Oversized hair accessories and killer attitude encouraged. 

Channel your inner diva in the classic, signature pink look. Get "a little bit dramatic" by mixing pink cardigans, initial necklaces, hoop earrings, mini skirts and shoulder bags. Apply early 2000s- inspired purple eyeshadow and frosted lips for the full effect.

Oh la la this girl is going places! Take a quick trip across the pond in an oh so chic beret and silk scarf. Bonus points if you have any Eiffel Tower apparel or accessories. Carry your passport cover or a travel tote with you so everyone knows what a jetsetter you are. 

This year has not felt so Gatsby, but we can still have nice things. The 2013 adaptation of the decade-defining novel offers plenty of fashion ques for replicating the extravagance of the Roaring Twenties. Think muted tones, long necklaces, T-strap heels, and sparkly headbands. This is the perfect excuse to sport a tiny beaded purse or clutch.

If there's one thing to learn from the increasing interest in whimsical couture, it's that there's no reason not to waltz around your house in your old prom dress. Live out a fairytale by

trying out an intricate updo and walking down the stairs like you're arriving at a ball. 

Frequently featured in high fashion magazines in the 1900s, the ballerina serves as a modern muse for the industry. Dress for the barre or a performance in head to toe Swan Lake white, ballet slipper pink, or practice wear black and wear your hair in a tight top knot. 

With so many different versions of Barbie, you could go as the famous doll in practically any outfit. But if you're like me, you need a reason to wear the pink sheath dress you had to have because it felt like it was made for you and 5in glitter heels you originally bought for high school dances. 

From the River Vixens' navy blue gym shorts to Betty's sweet ponytail and sweater look, the retro style on this show always makes its main characters stand out. If you're feeling bold, go for Veronica's dark yet polished native New Yorker look or Cheryl Blossom's powerful red pout. 

The secret to embodying sugar, spice and everything nice in the 90's Cartoon Network series is to choose your girl and hairstyle accordingly. From there you can wear basically any combination of pink, green or blue and be sure to add spunky accessories.
Even if spooky season is just a bunch of hocus pocus, you deserve a little fun. No matter who your fashion icons are, embrace a new character or persona and escape reality for the night by showing off your styling expertise and all the unique pieces in your wardrobe.