7 Things You See Around Campus When It Gets Colder
Fall in Minnesota is like no other. Between the changing leaves, the crisp air and everything pumpkin spice, I would guess that most Minnesota students would say fall is their favorite season.  But, as the weather starts getting colder, some things around campus aren't as subtle  as the changing seasons…
1. The mile-long line for the Campus Connector
The moment the weather drops below 70 degrees, it's almost as if we forgot we live in Minnesota. Come winter, we deal with a lot colder weather than this, but even the slightest fall breeze makes us reluctant to walk anywhere. The product of this is overcrowded connectors and seemingly never ending lines.
2. The two-outfit days
In the morning we dress for one type of weather, and by afternoon we've stripped off three layers. Fall mornings in Minnesota usually start off around 50 degrees, causing us to throw on two jackets and a vest. (I even saw one person wearing their down parka already!) Then afternoon rolls around and the temperature has risen by 10 degrees! I've learned to just play it safe and wear a t-shirt under everything.
3. The "denial" outfit
Being out and about is so easy in the summer. No extra layers, no jackets, nothing to carry. That's not the case anymore when the weather starts getting colder. In Minnesota, we don't always accept that right away. I admit I've done this before, but there are always those people in 45-degree weather who won't admit that they're cold in their t-shirt and shorts. It's more likely they just can't feel their limbs!
4. The "Minnesota" outfit
Kind of like the "denial" outfit, the "Minnesota" outfit can span anywhere from sandals and a puffy coat, to Uggs and shorts. It's all about the combination of two extremes, one summer and one winter article of clothing. The true Minnesotans seem to know the secret formula to remain the perfect temperature, even though it  definitely looks ridiculous.
5. Sidewalk detours around Instagram-ers
It feels so satisfying to get the perfect Instagram, and with the red, yellow and orange trees around campus, there's no excuse not to. Just please don't stop mid-sidewalk to get the shot. Morning classes are hard enough to be chipper about. Dodging people snapping the leaves and sunrise doesn't make the walk to an 8 a.m. any easier...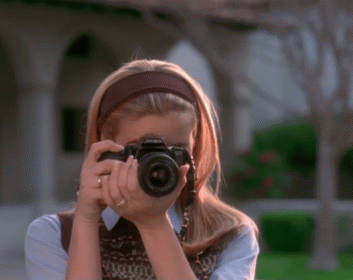 6. Endless "fall" pics
On the other side of dealing with the self-proclaimed photographers around campus, are the endless results across social media, particularly Snapchat. With fall comes some beautiful things; from colorful sunsets to picturesque lattés, I've seen as many as 12 Snapchat stories in a row of the same "fall"-themed thing, each posted by different people.
7. Everyone enjoying the weather
Besides the cooler weather, there isn't much more to complain about during the Minnesota fall. Especially for us Gophers who have the opportunity to see the Mississippi river everyday. The bright leaves and vivid sunsets are sure to put anyone in a good mood.