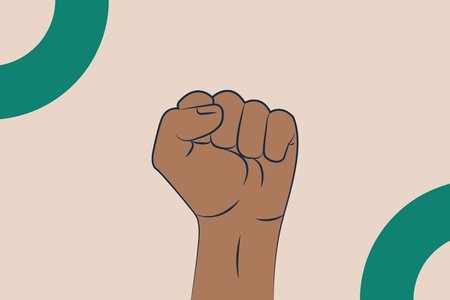 Original Illustration by Gina Escandon for Her Campus Media
Six Ways To Empower and Support Women During Women's History Month
March is Women's History Month. It is a time in which we reflect on the progress that women have made throughout history. It is also a time in which we can learn how we can better empower, support, advocate for women and their rights. But how can we do this?
1.

Reflect and Ask How You Can Help or Change

Reflect on your biases and behaviors to see if you can do better to support the women in your life. It is important to understand that you can change. Everyone has some sort of bias whether they recognize it or not. Self-evaluation is just the start of change, but it is still a very important step. Own up to your faults and ask yourself how you can change them.

Women's voices are often ignored and their ideas are disregarded. Be different, listen to what they have to say. Maybe their perspective is the one that you need to hear. Listen to podcasts, speeches, and everything in between to better understand women's issues and struggles as well as their successes. 

3.

Actively Support Their Goals And Dreams

Like their voices, women's goals and dreams are often ignored and disregarded. Help the women in your life to succeed in any way that you can. Acknowledge that you might be the key to other people's success. 

4.

Go To More Women-Led Events and Support More Women Created Content

The best way to start self-reflection and understand the women in your life better is to support more female created content or events. You can learn while also being able to connect to others. YouTube and podcasts are a cost-free way to start learning while also being able to join a community. 

5.

Advocate and Become An Activist for Women and Their Rights

Advocating is one way that you can put your words to action. Go to that march, protest, or rally to support the cause you care about. Support all women no matter their identity if you truly care about being better. There is no place for an activist who picks and chooses who they support.  

6.

Tell the Women in Your Life How Important and Valued They Are to You

The simple action of telling the women in your life that you care is so meaningful. It shows them that you have their back no matter what. They now know that someone will support them when they face trouble.
It does not have to be difficult to empower, support, and advoate for women. All that you need to do is to start doing it. 
HCXO, Sydney