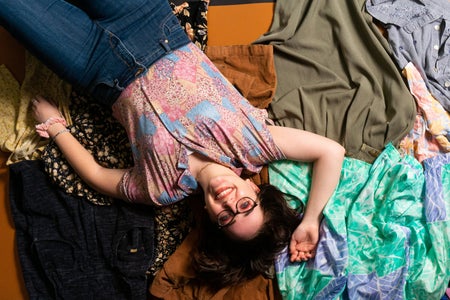 My Favorite Thrifting Finds: a Look Book
As a hustling and bustling college student, it can be hard to find money in your budget to spend on clothing. And while in college, you begin to grow and change into a new person. Sometimes during this process of finding your true self, your style can completely change. Experimenting with clothing is super helpful in this process, but it can definitely get expensive. This (among several other reasons) is why I love thrifting! I have been slowly learning the tips and tricks to thrifting over the past four years and can say that at this point, a majority of the clothing in my closet is from thrift stores. While growing and discovering different styles of clothing, I have collected several articles of clothing that I absolutely love. Let's take a look at my favorites!
If you would have shown high school me my current collection of button up blouses, I would have laughed. I used to think that these shirts were for frumpy old-fashioned people. I totally take that thought back! In my experience, thrift stores have tons of comfortable button up blouses that can easily dress up an outfit. A tip I have is to buy one that is a size or two bigger than your size. Button all the buttons except for the last two. Take the two ends of your shirt and tie them in a loose knot. Super cute!

These pants are definitely something I had gotten that was orignally not quite my style. I tend to wear tighter pants because I don't want to feel like I am drowning in fabric. However, these pants are super comfortable and the texture is so fun! I highly recommend trying a new piece of clothing out when you go thrifting.

I spent MONTHS searching for the perfect pair of overalls and boy, was I over the moon to find this pair! These overalls are made of a corduroy fabric, which I love because it is slightly more unique and fits really well with my style! Thrift stores are a great place to find a different take on a traditional style. 

This dress caught my eye immediately with the two busy patterns coexisting on one piece of clothing! It is such a fun dress to wear while student teaching!

5.

American Girl Doll Dress

As you can tell from the title, this is what I affectionately call my American Girl Doll dress. This was a dress that I originally tried on just for fun, but I loved the way it fit. It may take some searching, but you can find a lot of clothing at thrift stores that give you a funky vintage vibe.

I definitely saved the best for last. This skirt stopped me dead in my tracks! I absolutely love everything about it, from the length of the skirt to the soft material it is made out of. Always check out the skirt section at your thrift store!
I hope you enjoyed this quick look book and feel inspired to take a trip to your local thrift store! If you are in the Millersville area, I highly recommend going to Community Aid. Every Thursday, students get 50% off all clothing items if you show them your school ID. It's the best! I also want to give a shoutout to my roommate Kaylee and her article that inspired mine. Check it out here! :)
HCXO,
Hannah N.