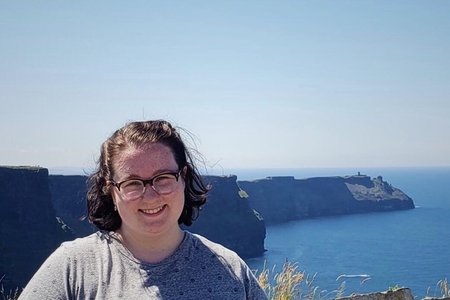 I had the pleasure of interviewing the mindful Maeve. The first thing I noticed when I was talking to her was how gentle and sweet her voice is, which is also a great way to describe her! Her middle name, Novene is actually derived from the name Nova and Irene which were the names of important women in her family. I came to find out we both had the same major, Communications, she also minors in English! I'm not surprised she's an English minor, her love for books was so apparent. Her favorite is "Little Women" because of how she can see herself in all the characters. Her dream is to be a librarian one day, she would make a great one!
When Maeve talked about her parents, I could tell how much she loved and admired them! She mentioned how her favorite thing about them is how kind and hardworking they are. She is also a lover of movies and music, her favorite band is Fleetwood Mac, she especially likes Stevie Nicks. She has a beautiful wrist tattoo with lyrics from a Beatles song in her dad's handwriting because it was the first song she heard, that story really warmed my heart! Maeve basically has a little farm, with two dogs, a cat and a hamster! Another cute story about Maeve's life is that the girl who sat in front of her in high school ended up being her best friend, I love hearing about little coincidences like that! Maeve went to a Catholic school and one of the biggest impacts it had was having a Priest who she didn't see eye-to-eye, with but still respected them and was overall a good teacher. It taught her to always be respectful! She also got a little wild and dyed her hair purple because she couldn't in school!
Maeve loves to travel! She even studied abroad in France last year, although one of her biggest wishes is that she wish she knew how to speak other languages. Overall, my takeaway when interviewing Maeve is how mindful she is, her love of music, books, traveling, learning and the love she has for others was so present! I'll leave you with her favorite quote, "Have courage and be kind."
Check out Maeve's articles here.
HCXO, Alanna