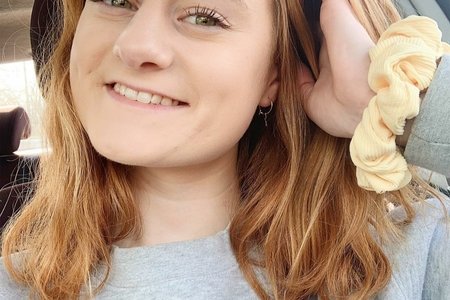 Lets Meet Fellow Her Campus Member Lexie!
Lexie is 21-years-old and currently a Senior at Millersville University. She is an Early Childhood Education major with a STEM Integration minor. "I love being around children and their creative minds, and I wanted to make an impact on students of all backgrounds." She is quite the busy bee and is involved in many clubs/organizations. "I am treasurer of HC, President of Expressions Dance, and PR Manager/Treasurer of Love Your Melon."
Lexie has been a writer for Her Campus since she was a sophomore and joined to get involved with girls that had similar interests to her. "I actually was not a huge writer before I joined HC, but I loved the message of the club and decided to join anyways. Now I LOVE to write articles." 
What better way to get to know Lexie than what she wears in her down time! Lexie's preferred pair of pants is jeans. "I am so used to dressing up for student teaching, so when I get to come home and put on jeans it is like "dressing down" for me. They are 20 times comfier than leggings!" Her favorite meal is her mom's spaghetti, YUMMY! Lexie's hobbies include: dancing, singing, hiking and spending time in the beautiful outdoors! 
Lexie's birthday is September 14th. Which makes her a Virgo! "I am a Virgo to a T it's almost scary sometimes." She is also a proud Slytherin. Lexie's favorite genre of books is mystery, but she's loves the Lorax. "I love the message and my dad would read it to me a lot when I was younger." Lexie's favorite movie genre is Rom Coms, but her favorite movie series is Harry Potter. She enjoys watching movies more than the books, only because she finds herself struggling to find the time to commit reading a book she is interested in. "I do think that the HP book series is better than the movie series, but typically I lean towards watching a movie over reading a book. Bad teacher moment LOL," she said.
Lexie enjoys country music, but also EDM and pop/rap. "I love Luke Combs, Morgan Wallen for country. EDM I like Petite Biscuit, Said The Sky, and Illenium. I also love One Direction and 5SOS forever lol." She is currently watching "YOU" and "The Ranch" on Netflix. 
Her Campus is proud to have Lexie as a writer and friend. Maybe we all should get to know our Her Campus friends better!! Love each other and keep your head up, I love you guys. 
Check out Lexie's articles here. 
Devon, HCXO <3