I'm Obsessed with the New Little Mix Album and You Should Be Too
Little Mix. If you've heard of them, you love them. If you haven't, go look them up. You'll love them. They're a girl band that was formed in 2011 on the UK's X Factor, and they were the winners in their season of the show. They're composed of four stunning women: Perrie Edwards, Jade Thirlwall, Jesy Nelson, and Leigh-Anne Pinnock. Each member of the group have stunning and unique voices, but they don't only sing. Little Mix are true performers also. They're all excellent dancers and they spend hours practicing their choreography for concerts, music videos, and performances.
Since their X-Factor win in 2011, they've released four albums: DNA, Salute, Get Weird, Glory Days, and LM5. Some of their biggest singles have included Wings, Move, Salute, Black Magic, Shout Out to My Ex, and Touch. Their latest album, LM5, was released in November 2018. It's already a hit with the single Woman Like Me featuring Nicki Minaj.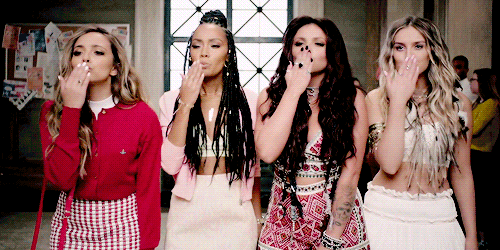 https://giphy.com/gifs/littlemix-kiss-little-mix-3o7bu8zLkBerP4ctq0
There are tons of amazing songs on the new album, and while I'm not going to talk about all of them, here are some of my favorites!
1. Strip (feat. Sharaya J.)
https://www.billboard.com/articles/news/8485595/little-mix-strip-more-th...
This song is absolutely stunning. The whole song is about confidence and being happy with yourself, and not caring about what anyone else has to say about you. The video is gorgeous, too. Each of the four ladies (five, including Sharaya J.) is stunningly beautiful, with and without makeup, and they're having fun the whole video, both when they're doing their choreography and when they're dancing around with each other. Plus, the video is full of inspirational women, including:
Nimco Ali, founder of Daughters of Eve, a non-profit organization dedicated to ending female genital mutilation;
Felicity Hayward, plus-size model and founder of the #SelfLoveBringsBeauty campaign;
Nia the Light, founder of the #FroDay movement and activist for young people in poverty in Africa;
Kristin Hallenga, CoppaFeel! charity founder, an organization that encourages women to regularly check their breasts for irregularities;
and lots of other inspirational women! Plus, each of the girls' moms, sisters, and friends are dancing along with them. Check out the video here!
2. Wasabi
Oh. My. Gosh. I love this song. It has an awesome beat and it's super catchy, and is so fun to listen and dance to. It's also another song that features women being loud and proud about their bodies and about what they like to do. There's no music video for it (yet), but listen to it here. It's a bop!
https://giphy.com/gifs/littlemix-little-mix-power-l0Iycwah29qiMWuYg
3. The Cure
This song is more of a pop ballad than the last two, but I still have a hard time calling it a ballad because it's not necessarily a love song. It's a powerful piece about losing yourself and going through a hard time in your life, but it's also about healing and learning to feel like yourself again. It features perfect vocals and harmonies to die for. Listen to it here!
4. Notice
While this song is about a woman wanting her man to notice what she's doing for him, it's also another girl power message, shown by the line 'I don't think you notice what I got on for you to take off, yeah I'ma take off if you make me wait.' Even in a song about a guy, Little Mix comes through about a girl getting what she deserves and not taking anyone's crap. Listen here!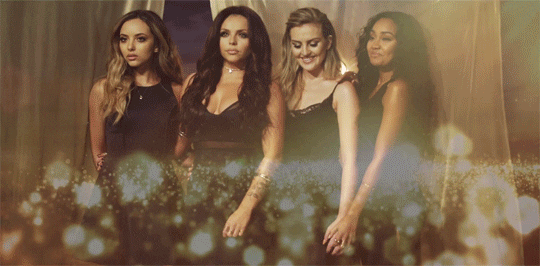 https://giphy.com/gifs/little-mix-perrie-edwards-gold-magic-ZR4OP1kF2jt6M
5. Woman Like Me (feat. Nicki Minaj)
What a bop! This song is super fun to listen to, plus Nicki is flawless (as always), and the song boils down to another awesome message for women: Be proud of the woman you are, and if people aren't fans of you, then that's their problem and not yours. Watch the video here!
There are tons of other stunning songs on the album that are fast and slow, sad and happy, and there's something for everyone. If you're looking for new music to listen to, look no further! Go listen to LM5.
HCXO,
Lola