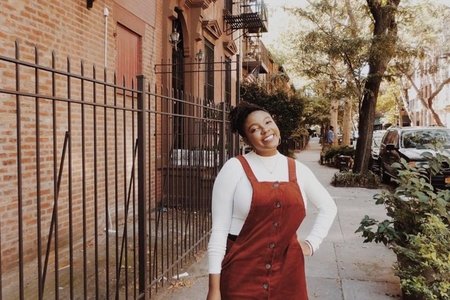 The Future is Bright for Alanna Moore
Nineteen-year-old Millersville sophomore Alanna Christine Moore was born in Montgomery County, PA and is a proud member of Her Campus. She is a Public Relations major and while she dreams of running a charity now, if you would have asked her ten years ago she would have wanted to be a fashion designer. When asked who inspires her, Alanna lit up and began speaking of her father, the man she was named after. She describes him as the hardest worker and most selfless man she knows. She is always so proud of him and his accomplishments. Celebrity-wise, Alanna is also inspired by Meghan Markle, specifically her grace and her achievements.
Alanna knows the importance in loving yourself and says her favorite thing about herself is how she makes people laugh. She played softball in high school and says she still enjoys playing a game of catch, along with her other favorite hobby – napping. Besides writing as a member of Her Campus, Alanna can also be found at Millersville participating in Relay for Life and as a member of the SHARP Team. When she isn't participating on campus or in class, she can also be found watching her favorite movie "Ella Enchanted," her favorite tv show "Scrubs," or listening to One Direction, her favorite band (her favorite song is Over Again). She even has a One Direction tattoo.
Overall, Alanna Moore is a great person with a long and exciting life ahead of her, starting next semester as a part of the Disney College Program! She truly has a bright future and is the type of person that will accomplish anything she puts her mind to. When asked about her future, Alanna hopes for success, but knows that more than anything, she wants to find herself content with the life she ends up living.
Check out Alanna's articles here! 
HCXO, Maeve