Book Review - Rebecca by Daphne du Maurier
*Spoiler-Free*
"I am glad it cannot happen twice, the fever of first love. For it is a fever, and a burden, too, whatever the poets may say." - Daphne du Maurier, Rebecca
As a college student, last month I was sent home to finish the remainder of the semester online. I am currently self-isolating with my parents and, to keep myself sane, have been reading every day. For Christmas last year, my mother gave me a poster titled, "100 Reads of a Lifetime" that has the title of 100 novels on it. Every time you complete one you scratch it off to reveal the cover. When I received the, poster, I had already read 25 of the 100 books and my plan during this time at home is to tackle as many more as I can. Unfortunately, I was in quite the reading slump when I came home as I had finished a novel that absolutely wrecked me ("Normal People" by Sally Rooney) and could not find another book that compared. That is, until I looked at my poster and settled on "Rebecca."
"Rebecca" by Daphne du Maurier is a gothic and psychological masterpiece that has captivated readers ever since its publication in 1938. The novel follows an unnamed young woman who gets swept up in a whirlwind courtship with the much older and more sophisticated Maxim de Winter, who lost his wife in a tragic accident the year before. After their sudden marriage, the now second Mrs. de Winter arrives at Manderley, Maxim's home, and is haunted by the constant presence of Rebecca, the first Mrs. de Winter.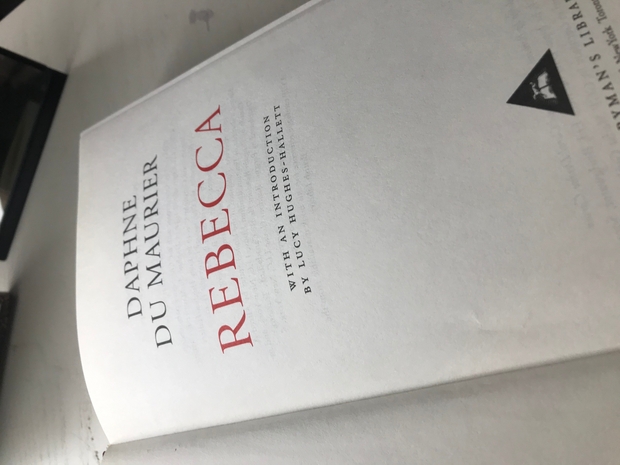 I absolutely fell into this story and did not want to leave. Manderley is without a doubt one of the most ominous settings for a book I have ever read and was the perfect backdrop for this story. Daphne du Maurier is able to paint a picture with her words so clearly that reading this book felt more like watching a movie. Her elegant prose and descriptive scenes make this the easiest novel to get lost in, something I think we all need during this uncertain time in our lives. A prominent character during their lives at Manderley is the intense housemaid, Mrs. Danvers. Our nameless narrator is already very aware of how naïve and unfit she must look at a house like Manderley, but Mrs. Danvers constantly looking over her should is a point of anxiety that is not only put on her but is extended to the reader as well.
While the basis of this novel is a new marriage, do not go into this looking for a passionate romance. Maxim de Winter is a difficult character to crack as you never know if you love him or hate him. Being much older than his new bride, he can appear as quite condescending. For instance, up until the last third of the novel, he only kisses his wife on the top of her head, something one may do to a child. Our narrator is constantly looking for his approval, only wanting him to love her as much as she believes he loved Rebecca. Their relationship is not exactly one to strive for, but it is interesting to dissect.
This story welcomed me in to the icy doors of Manderley and made it hard to leave. I have not stopped thinking about this book since I read it, even though I have read two other books since that I have also enjoyed. Every character feels so alive, even the ones that are dead, that it makes it very difficult to move on. I cannot recommend this book enough, nor can I be more thankful that I'm not quarantined at Manderley.
HCXO, Maeve