Raya and the Last Dragon: Disney's First-Ever Southeast Asian Female Lead (Spoiler-Free!)
The release of Disney's Raya and the Last Dragon is one that I had been anticipating for what feels like forever. The animated film—available in theatres and streaming on Disney Plus with Premier Access as of March 5—is the first Disney movie with a Southeast Asian character as the lead. As a little girl having immigrated to Canada from Indonesia in the second grade, I would have been ecstatic to see Raya, a cool, badass female heroine who looks like me, on the big screen. It felt so refreshing to see a diversity of skin tones among the characters given Asia's colourism problem: fair skin is seen as synonymous to beauty and if you ask me, this movie was successful in redefining these beauty standards. I am ecstatic that Southeast Asian children are able to watch this movie and feel at one with their culture.
The overall movie experience was moving to say the least; it made me proud of my Southeast Asian heritage, which remains highly underrepresented in the media. As a result, this lack of exposure has reduced a collective of rich, diverse cultures to pejorative labels like "exotic" or "foreign." With this in mind, the realization of Raya is a major deal for members of the ASEAN (Association of Southeast Asian Nations) community given Disney's powerful influence on society and culture, capable of reaching a worldwide audience.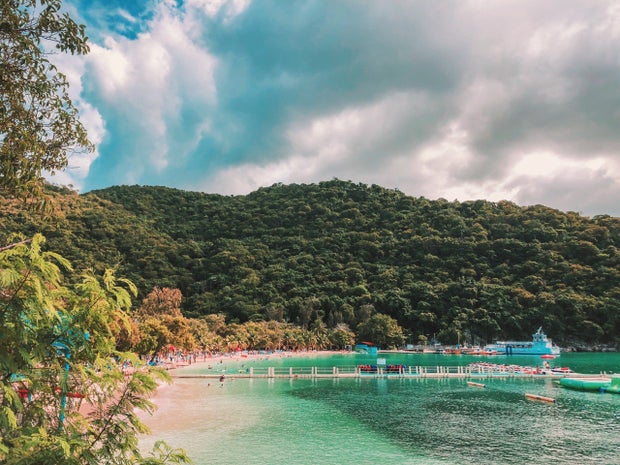 The story takes place in the fictional land of Kumandra and comprises five different kingdoms—Heart, Fang, Spine, Talon and Tail—all together forming the shape of a dragon. It follows Raya and her friends on their journey to retrieve all the broken pieces of a magical orb in order to save their land from the Druun, an evil power. The film takes inspiration from various Southeast Asian traditions; everything from the landscapes, the wardrobe, the cuisine, the armoury, the martial arts and the characters' names all embody some sort of cultural significance. In fact, the name Raya means "great" in Malay, and Tuk Tuk, her trusty sidekick and mode of transportation, pays homage to Cambodia's motorbike-powered carriages. When it comes to weaponry, Raya's bamboo sticks are used in Arnis, a Filipino martial art, and her wavy-bladed sword resembles the Indonesian weapon called Kris. Even the fighting styles used throughout the movie are carefully crafted; professional martial artists were hired to choreograph combat scenes with components from Thai, Malaysian, Cambodian, Laotian and Vietnamese fighting styles. These are just a few examples of the innumerable cultural references made in the movie–the directors put a lot of effort into incorporating as many of them as possible and it really shows! Not to mention, there was a lot of research that went into the making of the film; the filmmakers took trips to Laos, Thailand, Cambodia, Vietnam, Indonesia and the Philippines in an effort to gain a better understanding of the region. In addition, expert consultants—including anthropologists, architects, dancers, linguists and musicians—were employed to ensure cultural accuracy. 
The film stars Vietnamese-American actress Kelly Marie Tran as Raya and Awkwafina as Sisu, the magical dragon. While I think that the casting director did a great job at capturing the characters' personalities through the art of voice acting. However, I do wish that there had been a greater effort to feature both up-and-coming and experienced actors of Southeast Asian descent, as they did so beautifully in Moana, whose cast mainly consisted of actors of Polynesian descent. A feature film like Raya makes for a wonderful opportunity to shine a spotlight on Southeast Asian actors, who are extremely underrepresented in Hollywood. Raya's screenplay was written by Vietnamese-born Qui Nguyen and Malaysian-born Adele Lim, who also worked as a screenwriter for John M. Chu's Crazy Rich Asians, the first Hollywood feature film featuring an Asian-majority cast in a modern setting since The Joy Luck Club in 1993. 
 Overall, I believe that Disney's Raya and the Last Dragon paints a good picture of Southeast Asian culture. Admittedly, I acknowledge that the entirety of the Southeast Asian peninsula was not wholly represented in the film; however, I imagine that no movie (a children's movie at that) could possibly do the region justice. After all, encompassing the plethora of cultures, customs, and values in a motion picture is not an easy feat. Raya is a big step toward greater representation of Southeast Asian culture in film, and I am here for it. 
Information obtained from:
https://www.huffingtonpost.ca/entry/raya-and-the-last-dragon-canadian-animator-benson-shum_ca_6042e406c5b660a0f3889115
https://www.theverge.com/22315306/disney-raya-and-the-last-dragon-southeast-asian-media