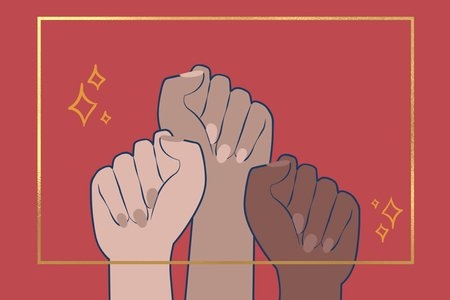 On Ruth Bader Ginsburg's Feminist Legacy
On Sept. 18, Supreme Court Justice Ruth Bader Ginsburg passed away due to complications from metastatic cancer of the pancreas. She was 87. Ginsburg was a champion for legal women's rights, whether that was through her litigation of important cases about unequal gender laws or her powerful dissents as a Supreme Court justice.
As a tribute to Justice Ginsburg, the team at Her Campus Maryland collectively voiced their sentiments on her accomplishments, spirit and legacy. 
"The passing of Ruth Bader Gingsburg is not only a loss for the Supreme Court, but is a loss for women, a loss for society as a whole. An advocate for women's rights, minorities and legal justice, RBG left an impact on humanity that could never be forgotten. From being the first voice for women's justice, to passing Fair Pay legislation and tackling workplace discrimination, Ruth Bader Ginsburg had a never-ending list of accomplishments that changed our lives for the better. Justice Ginsburg may have left us, but she also handed us the baton. We must continue to fight her fight, continuing on her legacy in a time of turmoil. We must stand up, and empower our society to do better, to be better." ~ Gracie Tanner
"It is hard to put into words what your hero means to you, especially when you do so after they are gone. When I think of Ruth Bader Ginsburg, I think of hope and strength. RBG banded women across generations together. She made women, especially me, feel like they could achieve anything. American women saw her as their protector and their champion. She made me feel like I had someone in the Supreme Court that was working with me in mind. As a Jewish woman, Justice Ginsburg showed me that I should see Judaism as a source of strength. Everything about her life inspired me, from her days as 1 of 9 women in her class at Harvard Law School, to her time as an ACLU lawyer, to her now-infamous dissents on the Supreme Court, to her multiple battles with cancer, and so much more. Now that she is no longer with us, it is up to women my age to remember her legacy and honor her through the impact we make on the world. I will forever go about my life thinking, "what would RBG do?" I hope to educate the next generation of women on the incredible life that Justice Ginsburg led and everything she did for them, as I know I would not be where I am now without her. It will be hard moving forward now that a woman who I aspire to be is gone and that I will never get the chance to tell her how much she means to me, but I hope that I can make her proud." ~ Laine Napoli
"Ruth Bader Ginsburg was a trailblazer for women's rights and gender equality. In a male-dominated field of work, she persevered with dignity and grace. She paved the way for not just women in politics and government, but for all women in the workforce. One of my favorite quotes by her is, "My mother told me to be a lady. And for her, that meant be your own person, be independent." She means so much to me because she faced so much discrimination throughout her life and managed to make her voice heard." ~ Paige Andrus
"Ruth Bader Ginsburg advocated for feminism despite pushback from her law professors and colleagues, and managed to change women's lives with the decisions she influenced. To honor her, we have to continue her fight with the same passion and keep going, despite our obstacles." ~ Madi Willoughby
"Justice Ruth Bader Ginsburg made me feel represented in the Supreme Court. With the government feeling more and more unsafe every day, she was a beacon of hope for me as a woman of color." ~ Tejasa Yaddula
"Ruth Bader Ginsburg opened so many doors for women by entering spaces that weren't designed for them to be there. She's an inspiration to me and many girls who will encounter obstacles on our journey but have other causes to worry about." ~ Ileana Lozano
"I will never forget how small I felt standing at the steps of the Supreme Court. Like many college freshmen, I often found myself second-guessing if my major and career path were right for me. I have always wanted to be a lawyer, but the daunting challenge of applying and being admitted to law school seemed herculean. Even more intimidating was the pressure that surrounds the male-dominated legal field. Ruth Bader Ginsburg's story never fails to inspire me. Reminding myself of her ambition, grit and lifelong advocacy for civil rights was the only way to get me through countless caffeine-fueled study marathons at McKeldin Library. As an aspiring attorney and first-generation college student, I channel her energy and legacy in pursuit of my law degree, career in international relations and passion for nonprofit leadership. On a smaller scale, I have started to include my middle name in email signatures. After all, great women are often known for their iconic three-letter initials. While the next Supreme Court appointee may fill her seat, Justice Ginsburg's true successors are the generations of women who stare down the steps of the Supreme Court and strut towards the white-columned building as warriors for justice." ~ Erika Bugaring
"For women especially, I feel like we are dealing with a crippling loss. RBG was such an inspiration, and truly was the human embodiment of women being able to do anything." ~ Audrey Bartholomew
"Ruth Bader Ginsburg gave women rights that we take for granted every day. It was only in the 1960s and 1970s that women made progress in their legal and societal standings. We stand on the legacy she created. RBG fought for women's equality throughout her whole law career. She inspires me to persevere through any and all hardships. The work is far from done. The movement is far from over. Justice Ginsburg played a pivotal role in the feminist movement, inspiring women across the globe. To me, the best way to honor her legacy is to finish what she started." ~ Devon Milley
"For me, Ruth Bader Ginsburg meant a lot and is a feminist icon through her determination and push for equality throughout her whole life. She was a beacon of light and hope for females looking to be in political positions and for females across the world in every line of work. She never gave up and stuck to her morals, making her one of the greatest feminist icons and an inspiration to us all." ~ Charlotte Greenfield
"The second that I saw the news my heart sank. I couldn't believe that someone who I had admired so much was taken from this earth so quickly. RBG has sacrificed so much for the rights of women and other minorities, and my only hope is that we can honor her dying wish and put someone worthy in her place." ~ Sara Cohen
"Ruth was one of the most incredible members of the Supreme Court that America ever had. What she accomplished for women across our nation will live on for eternity. Her legacy never lost. What we can hope for now is that future members of the court will acknowledge and uphold her policies that she fought so hard for. She will truly be missed but never forgotten." ~ Kimi Pawlowski
"Ruth was one of the most incredible members of the Supreme Court that America ever had. What she accomplished for women across our nation will live on for eternity. Her legacy never lost. What we can hope for now is that future members of the court will acknowledge and uphold her policies that she fought so hard for. She will truly be missed but never forgotten." ~ Kimi Pawlowski "Ruth Bader Gingsburg is the reason we, women, have so many rights. She helped as an advocate for women's rights and opened doors for others. Her passing should inspire us to keep fighting for equal rights, to keep demanding justice, to do better." ~Paulina Duque