Growing up, Lindsay Dively remembered ball fields packed on weekends, trick-or-treating at neighborhood haunted houses and community dances at Branchville Fire Department. Now, Dively has spent more than 35 years watching her community change drastically in both positive and negative ways. 
Dively, a longtime resident of Berwyn and Branchville, ran for College Park City Council in the District 2 special election. Dively looked to fill a vacancy left by Councilman P.J. Brennan following his resignation at the end of September. 
Ultimately, candidate Llatetra Brown Esters won the race with 173 votes. The other two candidates — Dively and Ronald Cameau — trailed with 25 and 84 votes, respectively. 
Although she did not win the election, Dively said she is still eager to work with the College Park community and the University of Maryland. 
"I'm looking to get involved, whether that's through committees through the city, whether that's through the UMCP partnership, whether that's with civic associations," Dively said. "I'm really trying to make a footprint within this community."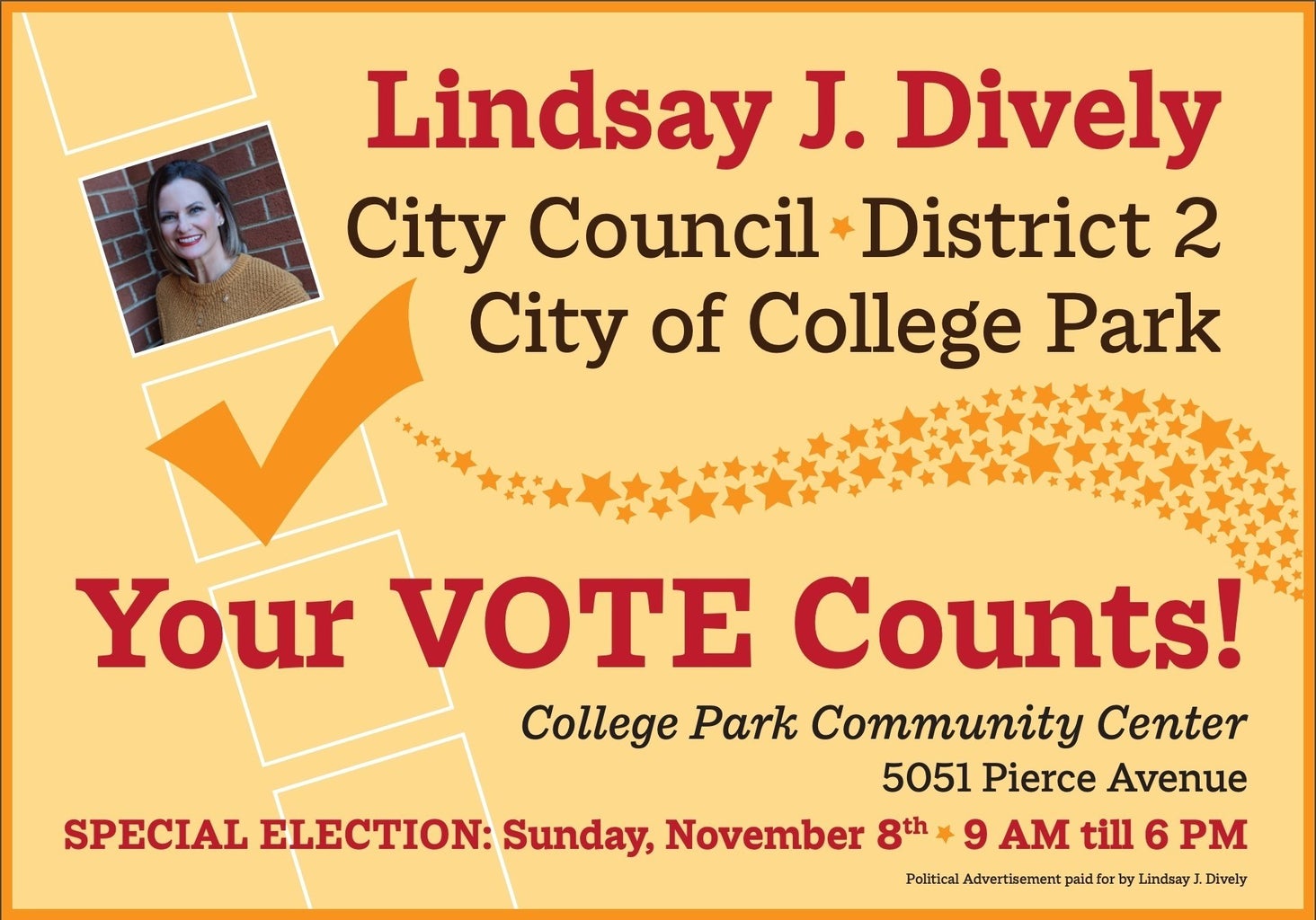 Dively ran her campaign on a variety of key issues including improving the quality of infrastructure in the community, ensuring sustainable economic health by promoting new homeownership and small businesses and reinstating the community's trust with leaders. 
"A lot of the people's concerns is really understanding that their city councilmembers truly represent all people," Dively said. "That they listen to everybody, and that they don't have some type of personal agenda to achieve." 
Dively also aimed to work closely with the University of Maryland community, as she is a UMD alumna. After completing a B.A. in government and politics, Dively continued her education with a M.S. in public relations management and an M.B.A. 
Prior to running for City Council, Dively did extensive community outreach and advocacy through a variety of jobs. 
While completing her graduate studies, Dively began working as an executive director in the non-profit sector of a professional development association. She then shifted her focus to education where she worked as the director of admissions for St. Vincent Pallotti High School before moving abroad. 
During her time abroad, Dively worked on a gender empowerment project with The Happy Africa Foundation in Zambia. She also spent time in South Africa, where she served as project manager for all education, health and gender empowerment programs. 
Dively later returned to the United States to work as the community liaison for state Sen. James Rosapepe and interim operations director for 21st Century Democrats. Dively currently co-owns and operates a holistic wellness center in Laurel. 
Based on her experience abroad, Dively said she would like to see more partnership between the College Park community and the University of Maryland when it comes to gender empowerment issues. 
"The more that we get females elected, involved in the community, in decision making, policymaking, the better, because it provides a diverse democracy and that is definitely what is needed," said Dively. "We need more people representing the majority of people."