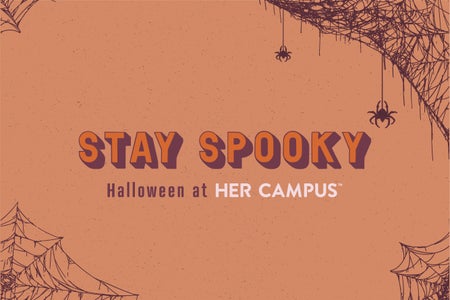 Halloween Movie Nights All Month Long: 15 Spooky Halloween Classics To Watch and Where to Find Them
Happy spooky season! Bring on all things that go bump in the night. I compiled a list of 15 of my favorite movies to watch in October along with a few snack suggestions to get you into that Halloween spirit. It's a mix of horror and spooky classics with a hint of ghostly humor. Since Halloween is looking a little different this year, I say bring on the movies, Halloween candy, and hot chocolate in my pumpkin pajama pants from the comfort of my bed. Many of these films are available to stream on popular video apps, but I will warn some are only available for rent, so budget accordingly. Well, let's get on to what you're really here for: the movies and the spooky snacks. 
Hocus Pocus
You know I had to start with this Kenny Ortega Halloween classic. That's it, go watch it now. You know you want to. Streaming on Disney plus.
Halloweentown 
This one is also pretty self-explanatory. Let's be honest we all wanted to find out that we were secretly witches too. If you really want to get in that spooky season mood, watch all four of the films as a marathon. Also streaming on Disney plus! 
The Nightmare Before Christmas
A true CLASSIC. That's all I have to say. I do not even need to tell you to go watch this movie this month, because it is already on your list. Streaming on Disney plus.
Scream 
I will tell you honestly I cannot count how many times I have watched the Scream movies. I absolutely love them, so of course I watch them all month long. Make it a fun little marathon. Plus, they are coming out with a fifth film, so another perfect reason to watch all four. Sadly, Netflix removed all four off of streaming BUT Scream 4 is on Amazon Prime and the rest are available for rent there as well. 
Twitches
Oh, yes. Tia Mowry and Tamera Mowry killed it in these movies. A must watch DCOM classic. Don't forget to watch Twitches Too as well! Streaming on Disney plus. 
Insidious
Yes, this is a scary one, finally. I am not too big into jump scares, but my childhood best friend loved scary movies. Naturally I came to love a few of them. Streaming on Amazon Prime. 
Carrie
Personally, I prefer the original Carrie, but many prefer the newer film, either way it is up to you, maybe you want to watch both! This is a classic movie to watch during spook season. Streaming on Amazon Prime. 
The Haunted Mansion
If you have not seen this movie, have you been living under a rock? A classic Eddie Murphy film that is a staple for the Halloween season.
Heathers
This is one of my all time, favorite films, and it involves murder. Therefore, it ended up on this list. Two words: Winona Ryder. Streaming on Netflix.
The Addams Family
The staple film for Halloween costumes. How many Wednesday Addams costumes do you see each year? Streaming on Netflix. 
The Little Vampire
I have always loved this movie since I was a little kid (and also wanted a vampire bestie, which probably explains my love for The Vampire Diaries too). Available for purchase on Amazon Prime.
Paranormal Activity
This one is pretty self-explanatory. A horror film with jump scares is always a great Halloween film. Available for purchase on Amazon Prime.
Girl vs. Monster
Two Words: Luke Benward. I will never stop watching this movie every Halloween season, sorry not sorry. The songs are also some good old Disney Channel bops. Streaming on Disney Plus. 
Us
You want scary? Here you go, do not watch it alone. Someone please tell me why I walked around for two weeks scared that I had an evil doppelganger. Streaming on HBO Max.
Psycho
I did a film analysis on this movie for my high school English class, and it is on my list of all time favorite movies. It has murder; therefore, it constitues as a spooky film. Available for purchase on Amazon Prime.
My Spooky Snack Suggestions:
Candy Corn (or Candy Pumpkins): Halloween staples, you just cannot go wrong with these.
Pillsbury Pumpkin Sugar Cookies: These are heavenly, sugary goodness. That's all you need to know. These can be eaten raw (salmonella warning though) or cooked, both are great options.
Halloween Oreos: I do not really have a reason other than, the orange food coloring just tastes better.
Reese's Cups: Also a Halloween staple, you can go for the regular shaped, or if you are looking to be festive, get the pumpkin shaped ones.
Sour Patch Kids: aka my favorite candy. Sorry, I am biased and had to add these to the list
Caramel Apple Pops: These are the best lollipops to ever be created, please do not argue with me, because there is a wrong answer.
Pumpkin Ice Cream: Well, I could not make a Halloween food list and not put something pumpkin-flavored, so grab your favorite pint (or tub) of pumpkin ice cream and enjoy the film.
Hot Chocolate (flavor of your choice): Personally, I am a salted caramel hot chocolate kind of girl, but whatever floats your boat. Hot chocolate is an essential treat.