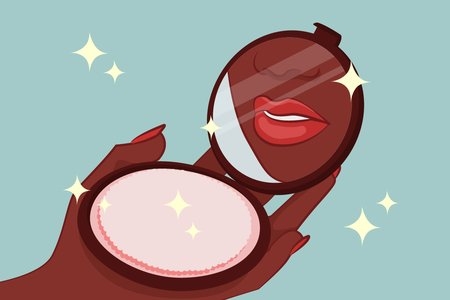 Adebusola Abujade / Her Campus Media
College Beauty Addict: The Truth About Glossier
If you love fresh-faced beauty, glowing skincare, and aesthetic packaging, I am sure you've heard of Glossier. In the past few years, the popularity of the brand has skyrocketed and gained a cult following. As a skincare and beauty lover myself, I was drawn to the brand a while back and have accumulated many of their products over time. While I haven't got to try every Glossier item, I think I have tried enough to have a solid opinion on the brand. With that being said, if you've been eyeing some of their perfect-looking products, I hope my insights inspire you to either buy or pass on Glossier.
Skincare:
Balm Dotcom

Glossier's Balm Dotcom in Rose was one of the first Glossier products I purchased! The brand describes it as a "universal skin salve" that nourishes and hydrates dry lips, skin, and cuticles. I tend to only use the balm on my lips, but I have no doubt that it would aid in nourishing other dry areas, as well. In my opinion, I think this balm is a great one and is one of my favorite lip treatments. It performs exactly how you would expect a good lip balm to and comes in eight different flavors! I currently own Rose and Mango, which are both amazing. I definitely prefer the Mango, but I don't think you can go wrong with any flavor you choose! Birthday, Berry, and Coconut are definitely the next balms I plan on picking up!
Do I recommend?: Yes!

Futuredew

Futuredew is one of Glossier's latest releases and is my latest purchase from the brand. Described as an "oil serum hybrid", the product is supposed to hydrate, prime, and leave skin looking like you just finished your skincare routine. Glossier also claims that the continual use of Futuredew will make skin look brighter over time. With all of these amazing claims, and my parched skin, I decided that I needed to try Futuredew. After using the product many times now, I have decided that I really do like it! The way your skin looks after using Futuredew is like no other primer I've used before. My skin looks so glassy and radiant; it really does look like you just did your skincare routine! I also think that Futuredew is able to shine through my face products and help make my skin look healthy. In terms of use, I think that any skin type could use this, as I don't think it is greasy or overly hydrating. If you obscenely oily, then maybe I would skip over this guy. But I honestly think that anyone can give it a shot.
Do I recommend? Yes!
Makeup:
Lip Gloss

If you love high shine, glass-like lips, then look no further, because Glossier's lip glosses will become your next favorite formula. The glosses come in three shades: Clear, Red, and Holographic. I own the Red and Holographic glosses, and let me just say that they are two of my favorite glosses ever! The formula is smooth, pillowy, and feels hydrating on the lips. While the Red and Holographic shades may seem a bit intimidating, please don't be afraid of them! Holographic is definitely my favorite and can be worn alone or over any lip color. It's a stunning clear gloss with subtle shimmer that makes your lips look voluminous. The Red shade is a sheer wash of red/pink that is very wearable for every day.
Do I recommend? Yes, I do. I think these are so beautiful!

Haloscope

Toward the beginning of this year, my love for beaming, icy highlights faded out fast. I was no longer into the "blinding" effect and was interested in finding the perfect natural-looking glow. Glossier Haloscope in Quartz was the first cream highlight that made my heart swoon. It was love at first use and has become a staple product in my day-to-day makeup routine. Haloscope is balmy and subtle, yet still incredibly beautiful. It has just enough gleam to make your skin look radiant and glassy, without ever looking heavy. If you like cream products or are looking for a highlight that will make your skin look fresh, then Glossier Haloscope will be your new best friend.
Do I recommend? Yes, absolutely.

Brow Flick

Brow Flick was a product I was incredibly excited about. The concept of an ink pen for your brows was astounding to me. I loved the concept that you could draw individual, realistic hairs for a more natural and full brow look. For a few months before Brow Flick dropped, I was searching for a product just like it, but could never find good results. When Glossier dropped the news about their own brow pen, I knew I had to get my hands on it immediately. I purchased the pen when at the Glossier Flagship store in New York City this past July, and my life has never been the same. I truly adore this product and will never be without it. I have even purchased two backups! It helps my already full brows look even fuller by filling in the sparse little areas. I will say that using Brow Flick does have a bit of a learning curve in the beginning, but after working with the product and getting the hang of the angles, it becomes an effortless experience.
Do I recommend? Yes, yes, yes!

Boy Brow

I remember hearing about Boy Brow years ago in old-school Youtube beauty videos. Glossier was a brand that was unfamiliar to me, as it was definitely not as popular and present as it is today. The concept of a tinted, pomade-like brow gel was interesting to me, but wasn't something I was absolutely dying to have. Over time, I learned that I don't love using brow gels on my brows. Every once in a while, I'll put on a little bit of clear gel to give the hairs a bit of hold, but I honestly don't use it regularly. This year, I purchased the tinted and clear versions of Boy Brow. For my preferences, honestly, I don't love them. I really want to, but I am just not a gel girl. I also found them to leave the brows kind of matte, which I don't love because they look a little heavier. The other clear brow gel I use doesn't have this issue, so I prefer that one. But if you really love brow gel, clear and tinted, you would probably enjoy this product.
Do I recommend? If you don't really like or use gels, then no. But if you regularly use and love brow gels, then I would give it a shot.

Cloud Paint

Cloud Paint was one of the first Glossier items that really drew me in. I kept seeing videos and posts about the pretty cream blushes in the little "paint" tubes, and I just thought they were absolutely adorable. Until about a year ago though, I wasn't really interested in cream products, so I didn't go out of my way to buy Cloud Paint. In 2019, I got really into cream products like bronzers, blushes, highlights, and eyeshadows. Cloud Paint in Dusk was one of the first cream blushes I bought, and it's so pretty! I have since purchased Dawn, Haze, and Beam. The Glossier Cloud Paint formula is super lightweight and pigmented. A little really does go a long way though, so be careful not to squeeze out too much from the tube! Although I still prefer my powder blushes, I really do enjoy the Glossier Cloud Paints, and they are a beautiful formula.
Do I recommend? Yeeeeeesss!

Generation G

Generation G lipsticks were Glossier products I always thought were cute, but felt that I didn't need in my collection. I sort of wanted one, but not enough to purchase it, untillllll a couple months ago. I put in a decently large Glossier order and decided that it was time I try a Gen G. I ended up getting the shade "Leo" for two reasons: 1. I am a Leo (my zodiac sign, duh), and 2. I love brown-toned nude lipsticks. When my order arrived and I first swiped Leo on my lips, it was as if the angels were singing. I never knew how much I needed Leo in my life until that moment, and I have never turned back since. I wear my Gen G almost every day! It's the perfect wash of a warm, caramely nude that makes your lips look healthy and amazing. It is also extremely lightweight and comfortable. I usually wear a gloss over it because I live for glossy lips, but it really is nice and comfortable on its own. I am already planning to pick up another Generation G shade in a future purchase!
Do I recommend? Yes!! Please get this!

Stretch Concealer

For a while, I was intrigued by the Stretch Concealer, but was afraid I wasn't going to like it. I was thinking that it would maybe be too light of coverage and too dewy for my skin. I also purchased this a couple months ago, and I do like it. I will say that I don't love it, but it is a nice lighter-coverage concealer. In my opinion, I think of this concealer as a light to medium coverage. It is super creamy, so I feel like even if I didn't always set my face, I would have to set it  just because I feel like the concealer could move around or melt off. But for a natural face, this concealer will cover minor imperfections and dark circles.
Do I recommend? This is not a bad concealer; it's good! But I just love other ones more, so no, I don't.

Lidstar

Lidstar was something I was so excited to pick up! The liquid shadows come in several gorgeous shades and are packaged in an aesthetic "test-tube"-like container. I purchased the shade Cub, which was my favorite from the bunch. After using Cub a number of times, I realize that I have a love-hate relationship with this product. I want to love it so much because I love cream shadows and the color looks stunning in the tube, but the formula is just kind of off. It is an oily formula, so when you blend out the shadow, it nearly sheers out completely. In order to get even a light application of the shade on your lid, you have to build it up several times. Personally, I feel like I shouldn't have to work that hard to make a product work, and I'd rather use a more pigmented shadow that will easily sheer out. From time to time, I will still use my Lidstar, but I tend to overlook it due to this issue.
Do I recommend? No. This is so painful for me to say, but I can't recommend it. There are so many other liquid shadows out there that perform better, in my opinion.

Wowder

A few months ago, I was on the hunt for a new setting powder. I wanted something sheer and that set my face, but kept my skin looking radiant. I ended up finding two incredible powders that are now my holy grails; Glossier Wowder is one of them. I really, truly love this powder...like a lot. It makes my skin look super smooth and fresh while setting it in place. I am a person who can never not set my face, but I also hate a matte, dry, powdery look. This powder does everything I want it to, and more! The only downside to this product is the price per ounce ratio. You don't get a ton of product, really, for the price you pay… But I really like this powder so I might just continue buying it.
Do I recommend? Yes!
Fragrance:
Glossier You Perfume

For as long as I've known about Glossier You, I have not heard one negative review about the fragrance. This factor alone intrigued me to the product, and I was sure to put it on my Christmas list this past year. On Christmas Day, I was happy to find the pink and red bottle under the tree (thanks Mom!!). This perfume is so unique and good smelling on the skin. It really just adapts to your own skin and smells a bit different on everyone. In other words, it smells like a clean, fresh, spicier version of "you". It isn't overpowering or super "perfumey", it is just "you" heightened. The main notes in this fragrance are: ambrette, ambrox, musk, iris root, and pink pepper. Another major factor that is drawing me to this perfume is that it is the longest lasting scent I have ever used. I mean EVER. I have applied this perfume in the morning before class, gone through an entire school day (with long sleeves and a coat, I might add!), and gone to bed late at night and I can STILL smell this fragrance on myself. It's absolutely nuts. Even more crazy is that the next day, if I put my nose up to my skin, I can still smell a hint of You. This has never happened to me with any fragrance before, so it's safe to say that this perfume is pretty special.
Do I recommend? Totally. Yes. Absolutely. Especially if you like the notes in the fragrance.
FINAL VERDICT: I highly recommend most of Glossier's products and I fully support the brand! I have grown to love Glossier so much, and I can't wait to see what new products they release next! Now go get some Glossier, gals! You'll thank me later:)