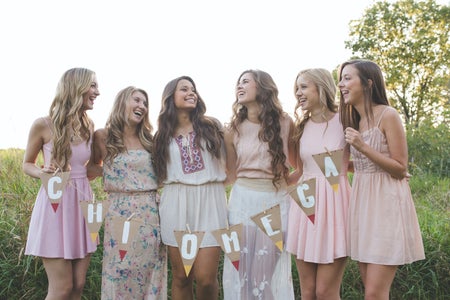 Cassie Howard / Her Campus
My Experience in a Sorority at a Small School
Manhattan College only has about 4,000 students, and we are located in the city. Therefore, Greek life really isn't a huge thing here. We only have one sorority, and two fraternities. I am part of that one sorority: Sigma Delta Tau. A big question that a lot of people ask me is why I'm even in a sorority if there's only one at my school, and if Greek life here really isn't a big deal. Well, my answer is probably the same as many other girls who joined a sorority. Freshman year in college can be REALLY hard to make friends, and I was no exception. I wanted to find other girls who wanted to be involved in school, and I myself wanted to become more involved. In high school, I was highly involved in drama and those people were my family. My first semester of freshman year, something was definitely missing from my college experience, and that family aspect was it. It's not for everyone, and it's certainly not the only way to make friends, but I can confidently say that most of my close friends, and all of my roommates that I've had to date have been from the sorority. 
The second part of my answer is probably not as common. I think that a big reason I joined my sorority is because of the fact I am at a small school. In the beginning, I was on the fence about going through recruitment, because of what I knew happened at other schools with hazing and endless drama. That wasn't something I wanted to be a part of. But I had met a few sisters, and they really convinced me to go out for it. I think that being at a small school makes us less of a typical sorority. My new member process included absolutely no hazing, and we feel very strongly about this. Nobody is at any point pressured to look or act a certain way. Our recruitment period isn't very intense, it's very laid back, unlike a lot of schools. Do we still party? Yes, but people are most likely going to party in college, whether in a sorority or not. I also think that because I am at a small school, it has allowed me to have much better relationships with almost all the girls in my sororities. At big schools, sororities usually have about 200 girls. However, my sorority is only about 60 girls total. That has just made me feel so much more comfortable around everyone. I also think that it has given me better leadership and community service opportunities, as well as campus relationships. Professors know about the good work we do as a chapter, and I actually feel as though I am looked higher upon because of that. 
Again, being in a sorority isn't for everyone. To be honest, I probably would not have joined if I had gone to a big school, but I'm glad I did here. If executed right, sororities can be amazing opportunities, and produce lifelong friendships.