Five Teen Shows That Will Take You Right Back To High School
We get the best of both worlds when it comes to high school television shows. We get to relive those teenage moments while skipping over the not-so-good parts. Whether you are in the mood for some drama or just a sitcom, Hulu has it all! 
Here is a list of five teen shows that will take you right back to high school! 
The Fosters is my absolute favorite show! The characters and the storylining of it all are just amazing and I highly recommend watching this show. 

The Fosters is about a blended family with two moms raising their biological, adopted, and fostered children. One of the moms is the school principal for the middle and high school, and the other is a police officer. The show not only features in high school but also shows their lives as teenagers who deal with love, traumas of the past, and more. Luckily for this modern blended family, they have each other during those tough teenage times. 

I am obsessed with this show, it is the best show out of all the shows I've watched, and trust me I've seen it all! One Tree Hill is a typical drama about two half-brothers and their family drama, and their friends growing up in a small town called "Tree Hill". 

The show takes you through the lives of each character during those high school years and after into adulthood. We see each character grow into their own as they face new obstacles and challenges. When I say One Tree Hill is the best show ever I truly mean it! I wish I could go back as if I was watching it for the first time!  

3.

The Secret Life Of The American Teenager

Another great show following the lives of teenagers in high school. The Secret Life Of The American Teenager starts with a shy band geek Amy who finds out she is pregnant after a summer party with the school's most popular guy. 

The show also features the other students at the school "Grant High" as they deal with family drama, love triangles, concerns about college, and more! If you want to feel like you are back in high school this show is definitely the one!  

Another show that I just love! A teen drama classic: a story of a group of friends who go to a prestigious Beverly Hills high school. 

The show walks through the lives of each character as they deal with peer pressure, sexuality, and more! The show is 10 seasons long but those first few seasons that feature the lives in high school are the most iconic memorable moments! 

This is one of my favorite 90s sitcoms; I can watch this show whenever and never get bored! I recommend this if you wanna a good laugh. 

The show is about a group of friends who navigate life while being in high school at Bayside High in SoCal. Saved By The Bell of course has its drama moments but also gives off some teachable moments. This is another great show to watch if you wanna feel like you're living those high school days again.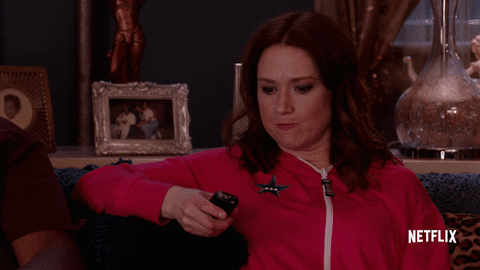 Netflix / Giphy If you love relaxing and watching TV then these shows will do it! The list of shows I have provided will take you back to the nostalgia of being in high school. Lucky for you, all the shows that are listed are all on Hulu so all you need is an account and to start watching!  
Check my article to get amazing discounts signing up for Hulu!