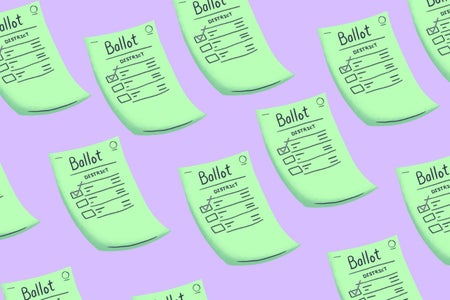 Getting to Know Nikki Wieman: LUM SGA President 2020-2021
A couple of weeks ago, I had the pleasure of sitting down (via Zoom) with our Student Body President and a friend of mine, Nikki Wieman to do a profile on her. Nikki is from Long Island, New York, and is currently Student Body President, but she has also been an Evergreen, a member of Loyola's Dance Company, a Greyhound Ambassador, and a lifeguard at the FAC.
She's made the most of her 3 years and counting at Loyola, and we wanted to hear from her about how her role has changed, what she's been up to, and who she is!
Her Campus: What made you want to join SGA and continue with it up to this point? 
Nikki: When I came to Loyola, I had this idea in my head that I was going to have the next four years to create the best version of myself that I possibly could. Of course, I went to the activities fair and made myself a list of goals for the year. One of the goals was joining SGA, the other goal was becoming an Evergreen, and the last goal was making friends.
HC: Done, done, and done! You're three for three in terms of goals.
Nikki: Yes! So, when elections came around, I saw it as a way to become involved in the greater Loyola community and start making connections. I ran for Senate (three members from each class year) and thought that'd be a really great way for me to learn from upperclassmen. When I was campaigning, I got to meet so many first-year students - it was the most amazing experience just knocking on people's doors. So, I joined SGA just with the prospects of becoming deeper engaged in the community and doing something with my voice.
HC: How have you been handling having the beginning of your senior year online along with juggling your responsibilities outside of classes?
Nikki: I think a lot of what I've had to do to process not being on campus and losing a part of our senior year is just thinking of all the experiences and positives I have had on campus and just to be as optimistic as ever and grateful for the things I already possess. But it's definitely been absolutely terrible! I think it's been terrible for everyone with the feedback that we've been getting. But I just think about the future when I'm like 87 and I have grandkids and I get to tell them "Your grandmother was the (SGA) president during the pandemic!" and I think that's kind of cool. We're living in a very historical time and I think what we do now is very telling of who we are and who we're supposed to become. But I do hate it… I am not organized. I have a whiteboard over my desk and I just write on it different notes and things that I have to do and then never look at it again. 
HC: I feel like we're all just trying our best all the time, right?
Nikki: That's all you can do! And you have to give yourself so much grace because there's so much room for error.
HC: How has the online semester changed your role as president and how you're implementing the OUR Loyola initiatives?
Nikki: When we all ran, we had no idea that COVID was going to happen. We had all of our goals set for what we used to know Loyola to be like. But I think that with everything happening, it's given us time to sit down and reflect and talk to administrators, SGA members, and students to really get an idea about what is needed when we return to campus. So we've still been implementing the OUR Loyola campaign (Outreach to Baltimore, Understanding Stories, and Representation for all). We've helped set up the Diversity Advisory Board with Dr. Cheryl Moore Thomas, and that office is going to be doing amazing work. In terms of outreach to Baltimore, we donated internet routers to twenty families in the Govans community so they could have good internet access for their classes. We also made an anti-racist book club, while also realizing that systemic racism isn't going to be fixed by a book club! We've been doing a lot this semester, but I feel like it's been kind of hidden, which is fine. We've had time to discern and now it's just preparation for what Loyola will be like when we go back, and it hasn't been the same but we're staying optimistic. 
HC: And how has it been working with your fellow big three members, Francisco (Echaniz) and Hannah (Christou), and the rest of your team virtually?
Nikki: Francisco and Hannah are my two best friends- they literally are. Francisco was the first person I met at Loyola at Summer Orientation and Hannah is one of the people that I met campaigning in Butler my first year, and they have been amazing through all of this. And my executive board members have been so so good. There is so much work that they're doing, it's so much. They're putting up with me and going to meetings every week still- like God bless them they are really so amazing. They're inspiring me to continue doing what I'm doing because there are definitely some days where I'm like "why am I doing this?" because the presidency started the second I got elected and it's taken time to get used to. 
HC: It really makes it so much easier when you're so close with the people that you're working with
Nikki: It's like a whole different level of trust along with the convenience of knowing you have a friend and an advocate in everything that you're doing. 
HC: It can be stressful, but that sounds like you have a great support system. Speaking of, what have been your biggest quarantine/online school stress relievers?
Nikki: I really like being outside and I'm really grateful that so far all of this has happened in the fall and summer when the weather is so beautiful and we can get outside. If I get overwhelmed or stressed, I just love to take walks in nature - like mindfulness walks, it sounds so cheesy, but they are literally the most amazing things ever. I also love to sing. I'm not like, a good singer but I'll just throw on show tunes or literally any song and run with it for a while. I also really like ice cream - my all-time go-to flavor would have to be cookies and cream, but it's mood specific.
HC: It definitely is mood specific, I totally vibe with that. To finish us off, what would you say is something you want people to know about you?
Nikki: I just want people to know that they can talk to me. I'm pretty freakin' nice, I definitely try to be. I also want people to know that I'm a student. Just because I'm student body president, that doesn't elevate me and I'm going through the exact same things as everybody else. I forget things, I mess up… all the time, and I am doing my best all the time. I'm always trying to make myself into a better human being and if there's anything that I'm proud of myself for being, it's that I'm a pretty unconditionally loving human and a pretty resilient human.